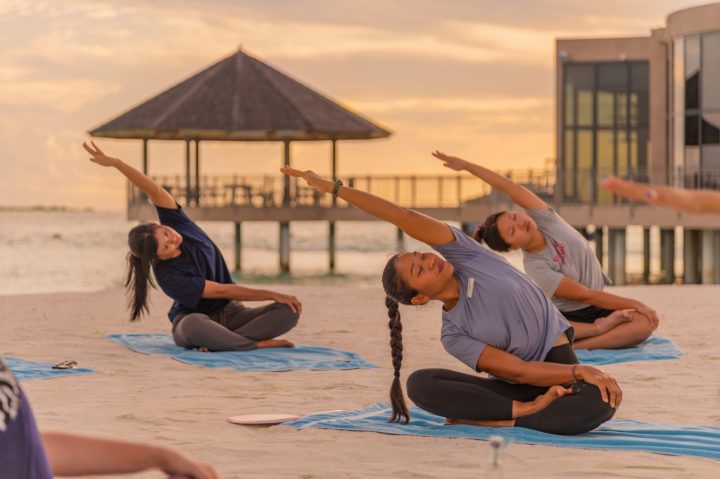 Captivating wellness experiences take centre stage at Marriott Bonvoy resorts in Maldives
Located in the azure waters of the Indian Ocean, the Maldives has long been renowned as a tropical paradise, offering pristine white-sand beaches, crystal-clear turquoise waters, and breathtaking natural beauty. Beyond its idyllic scenery, the Maldives has emerged as a leading destination and hub for wellness activities, drawing travellers from around the world seeking rejuvenation, relaxation, and holistic experiences. With its serene atmosphere and luxurious resorts, the Maldives provides the perfect backdrop for embracing a healthy lifestyle.
In celebration of Global Wellness Day 2023, Marriott Bonvoy's portfolio of resorts in the Maldives curated an exceptional lineup of wellness-focused activities and experiences, promising guests an unforgettable journey towards physical and mental well-being. From energising workouts to serene yoga sessions and insightful mindfulness talks, guests were immersed in a world of wellness, leaving them feeling refreshed and revitalised.
The St. Regis Maldives Vommuli Resort embraced the #DanceMagenta theme, offering guests an invigorating program that included a morning warm-up exercise, island jogging, and a vibrant Dance Magenta session. Dr. Vishnu's thought-provoking talk on the Wellness Wheel provided valuable insights into holistic well-being.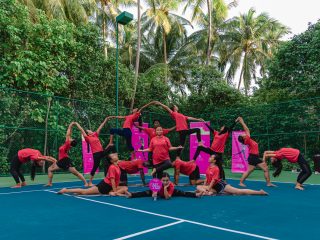 At The Ritz-Carlton Maldives, Fari Islands, guests enjoyed a range of enriching activities, starting with the soothing Sun Salutation Yoga and the vibrant rhythm of Magenta Dance. The Gua Sha Masterclass and Mindfulness Painting sessions provided opportunities for self-care and creative expression. The day concluded with a peaceful Sunset Breathwork and Meditation session on the beach.
JW Marriott Maldives Resort & Spa provided a seamless wellness experience, featuring aqua fitness at Pool 18 and guided meditation sessions amidst serene surroundings. Guests indulged in tailored spa treatments at the overwater Spa by JW and savoured nutritious dining options sourced from the JW Garden. The private pool and sun-drenched decks of the villas allowed guests to immerse themselves in the natural beauty of the Maldives while experiencing holistic well-being.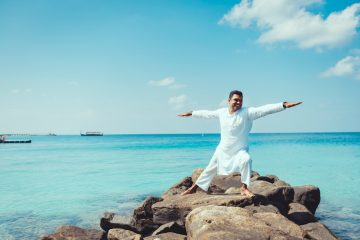 W Maldives enchanted guests with an enchanting wellness sojourn led by India's renowned yogi, Sarvesh Shashi. Aqua Yoga sessions at the WET Pool, Sunrise Yoga on the overwater deck at AWAY Spa, and Sunset Yoga aboard the private yacht provided transformative experiences amidst the breathtaking Maldivian backdrop.
The Westin Maldives Miriandhoo Resort offered a full day of immersive wellness activities, including a rejuvenating yoga session, refreshing body scrub, and a guided meditation session with breathtaking ocean views. Earlier in the week on Global Running Day, guests also had the opportunity to join the Run Westin event, led by esteemed Maldivian expert trainer Kai, promoting a healthy and active lifestyle, tying into overall wellbeing.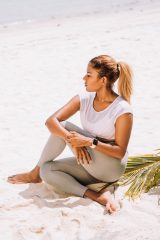 Le Meridien Maldives Resort & Spa kicked off the wellness festivities with a guided island cycle tour on World Bicycle Day, and for Global Wellness Day held a Mixology Class featuring healthy drinks made with ingredients from their in-house hydroponic garden. Guests then enjoyed a Mindful Sunset Yoga and Meditation session at Riviera Beach, accompanied by soothing sound healing. Aqua Aerobics in the morning provided a fun and invigorating workout in the swimming pool.
Sheraton Maldives Full Moon Resort & Spa offered a special mindfulness event, where guests enjoyed an insightful talk by Dr. Abhi on the importance of mental health and being present. Breathing exercises and meditation allowed guests to cultivate a sense of calm, while healthy and sustainable light bites nourished the body and mind.