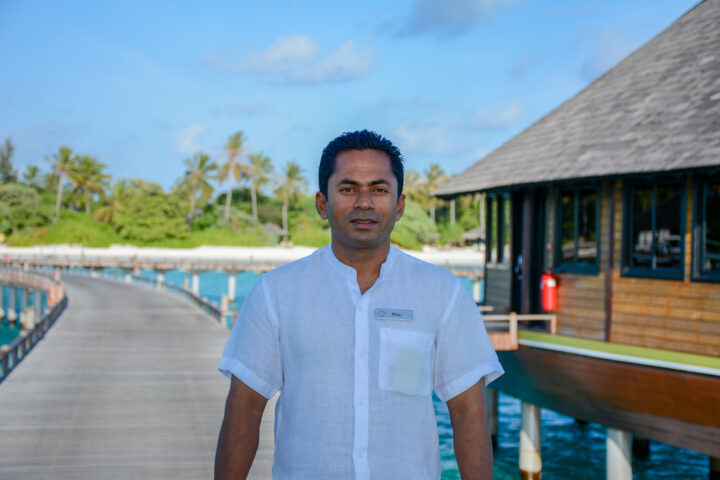 Careers: Ahmed Rifau, Director of Operations, The Sun Siyam Iru Fushi
Hotelier Maldives sat down with Ahmed Rifau for a chat about his 23 years in the hospitality industry. Starting at the bottom rung, Rifau's passion for the industry and his thirst for knowledge coupled with hard work has helped him rise to the position of Operations Director at the Sun Siyam Iru Fushi.
"Growing up in Huvadhu atoll, we didn't see many tourists. In my island, they were referred to as 'kendu hingaa meehun' (people who walked on the sea), so I imagined them coming out from the sea, and was always curious to see them. And whenever they visited, everyone would come out to see them," reflects Ahmed Rifau, looking back at the beginning of his career over two decades ago.
It wasn't his childhood curiosity about European visitors, however, that drew Rifau to his first job at the age of 19.
"At that time I didn't know what working at a resort entailed. All I knew was that everyone who worked at the resorts had dollars," he recalls.
"A friend of mine told me I should come work with him at the resort. So I applied for a housekeeping job at Paradise Island Resort. The interviewer asked me just one question; 'how do you greet guests in the morning?' so I answered 'Good morning', and that was it."
The first challenge he faced in his new surroundings was deciphering foreign accents.
"It was different back then. We didn't have TVs, so we didn't get to see English movies or TV shows, and so I found it hard to understand different accents, like Australian and British."
To remedy this, Rifau started attending weekly training classes held at the resort.
"We trained under Dr Mausoom. At that time, he was the only person in the country who had studied tourism."
Four years later, Rifau found there was nothing more to learn in housekeeping. It did not offer much career prospects either.
"So I wanted to transfer to another department. We didn't have inter-department transfers back then. So I asked the F&B Manager if it was possible."
Fortunately for him, the manger obliged and Rifau spent 6 months working at the resort's restaurant as a waiter.
However, he found the new job tiring and equally devoid of opportunities for advancement.
"I didn't want to be a waiter forever, and restaurant supervisors had very little manual work. I thought that if I wanted to advance in the industry, I would have to study."
The F&B Manager this time offered to sponsor Rifau's studies but he turned it down. Instead he secured a placement at the hotel school in Male' and paid his course fees with tips.
He took the staff ferry to Male' 4 times a week, attended classes, and then went back to work the night shift at the restaurant.
He finished top of his class.
"After all these years, I don't know if I'll recognise my lecturers and instructors at the hotel school, and I don't even have their contacts, but they played a very important role in my career," he says.
One of the early highlights of his career came during a special cricket event hosted by the hotel school.
Rifau was the emcee and personally served President Maumoon Abdul Gayoom and Sri Lankan cricketer Sanath Jayasuriya.
After hotel school, Rifau aspired to work for an international hotel chain to put his newfound knowledge to use and hone his skills.
"I thought I needed more knowledge of the industry, and when my best friend who was working at the Four Seasons suggested applying there, I thought I would try it."
And this time, the interview consisted of more than one question.
"I was interviewed 5 times, by the Restaurant Manager, HR Manager, and the General Manager. I realised that hiring good staff was very important in the industry," he says.
"The quality of the service offered depends on the staff and that's what makes hotel chains successful."
With years of experience in his belt, bolstered now by a hotel school certificate, Rifau was a shoo-in for the post. In 2000, he joined Four Seasons Maldives at Kuda Huraa as a waiter.
"I wanted to be promoted to a higher position so I asked for extra work."
"Back then everything was done manually. I had to make a sales report every night, and one at the end of every month. I had to enter the numbers, one after the other on an excel sheet, and it took three days to complete it."
Though tedious, his hard work and dedication soon paid off. He was quickly selected to Restaurant Supervisor, and then selected to work on the Four seasons Explorer.
In 2004, the resort was shut down after the Indian Ocean tsunami. In the downtime, Rifau sought an opportunity to get cross-training at one of the chain's hotels.
"Mr Armando Kraenzlin, who's responsible for training a lot of local staff as well as the apprenticeship program, selected a team from the resort to go to Singapore, and I was there for 6 months.
"I owe a lot to the Four Seasons group for reaching where I am in my career."
After returning home, Rifau shared what he learned with his team at the resort by conducting regular training sessions for staff in different areas, such as customer care, Food and Beverage, as well as the students of the apprenticeship programme.
"In 2006, I got the chance to go to Four Seasons Dallas for one-year training. I got job offers there, but I wanted to come back to the Maldives, so I came back for the opening of four seasons Landaa Giraavaru."
After his stint at Four Seasons, in 2007, Rifau accepted an offer from the Resident Manager at Manafaru resort in the Maldives' northernmost atoll, where he worked for two years as Assistant F&B Manager.
"I wanted to learn and share my knowledge with others, instead of just limiting it to one hotel chain. Hospitality industry is the backbone of our country and our future, and so we have to try to develop the industry as a whole."
But after two years, homesickness prompted him to look for opportunities closer to his native island in the south.
"I applied for a lower position as Restaurant Manager at Shangri La's Villingili Resort & Spa, and this time the General Manager asked me one question; 'what can you do for this resort', and I told him that I could say a lot of things but that they would have to judge based on the quality of my work."
Rifau proved his worth during his three years as Restaurant Manager at Shangri La.
"We had a guest comment survey, and our breakfast comments were the lowest of all properties. So I worked really hard in training my staff, and by December that year, we got first place among all Shangri La properties."
During his career, Rifau also received many awards, the most prestigious one being Trainer of the Year from Shangri-La in the year 2011.
"I got selected for the award out of Shanri La's group of 74 properties in the world, so it was an honour."
After one year as Training Manager, he got the opportunity to attend the Shangri La Academy in China.
"In 2014, I got the opportunity to work at Iru Fushi. Since I had worked at Manafaru I had a good relationship with the company. And it's a local company. I was sorry to leave Manafaru, but I didn't want to stay there after it was sold."
He was hired as the Operations Manager at the Sun Siyam Iru Fushi. Soon after, he was promoted to Director of Operations, and he has not looked back since.
Rifau is busy from morning to night. He makes sure that he is there to greet guests upon arrival at the jetty and to say goodbye at departure.
"I always make sure that I go the extra mile to make the guests happy."
It is a lot of responsibility, he says. "I'm next in line to the General Manager, and he's very busy. And when he's away, it's up to me to make the final decision. And you have to consider the consequences and make sure that it's the best decision."
Working at the top has its rewards as well as challenges, he says.
Transporting perishable supplies and finding skilled employees are some of them.
"Good locals are still hard to find. We can get expatriates, but the hiring process is long, and the procedure is very strict in some countries."
He also aims to have a good relationship with his staff, he says.
"There's a chain of command, the line staff go to their supervisors with their issues, but someone might not be comfortable to talk to his supervisor or department head, and so if any of the staff want to talk to me about something, I always make sure I listen to their concerns and help them."
Despite reaching the top, Rifau isn't resting on his laurels.
"Learning and developing are always a priority. There's no end to learning. I always aim to advance my career and climb up to the next level," he says.
"I want to share my experience and everything I've learnt with others, and be a good leader for my colleagues, clients and the management. I want to do something for my country by doing my part in developing the hospitality industry and maintain it for future generations."
Unsurprisingly, Rifau is a workaholic.
"I don't take many days off. Usually I take a couple of days off, if I take too long a holiday, I get bored and want to come back," he laughs.
"For me it's not a job, it's a lifestyle."