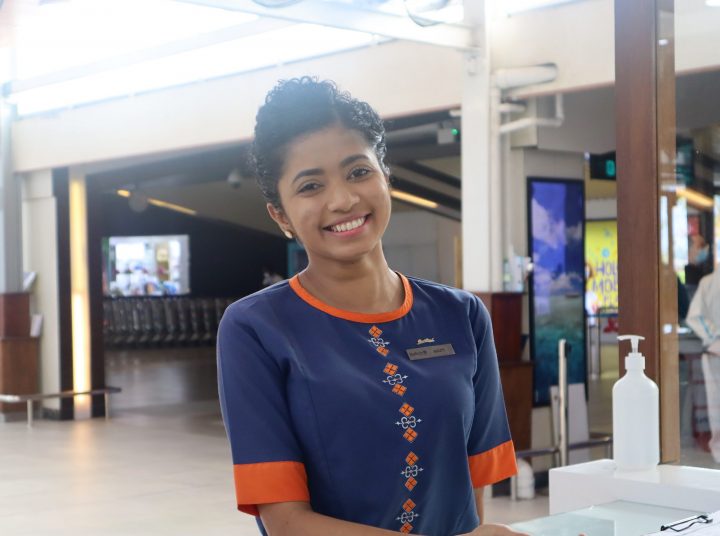 Careers: Mariyam Nazeeha, Airport Team Leader at Radisson Blu Maldives
Maziyam 'Nazy' Nazeeha is the airport team leader at Radisson Blu Maldives. Her high standards and regard for guests rest on working together as a team. As a woman hotelier in hospitality, she has gained confidence. She hopes her story will inspire other women in the Maldives to aspire for a career in this sector. She believes in Michelle Obama's words: "There is no limit to what we as women can achieve".
Hotelier Maldives (HM): How were you introduced to the travel and hospitality industry? What is it about this field that attracted you?
I came from a family of seven and the three eldest members of the family worked in the tourism sector. Watching them work so diligently with passion has motivated me to continue the tradition and keep the family legacy in this industry. I was attracted towards this industry by the freedom, friendly environment, and interactions with people from all over the world with various backgrounds and cultures and to be able to explore the tiny archipelago like never before. It has helped me move across various international brands and learn right here in my own country about tourism and hospitality.
HM: As a woman in hospitality, what has been the biggest highlight of your journey so far? What do you consider as your most remarkable achievement?
As a woman in the hospitality industry, the experience, self-confidence, and selfworth I have gained from the last 11 years of working in the industry is the greatest highlight of this journey. I am proud to say that this decision has been the most important decision and I hope my story will inspire other women in our country to aspire for a career in this beautiful sector.
HM: What are your duties at Radisson Blu? Could you explain the responsibilities and the skills required to be a successful airport team leader?
I was part of the pre-opening team, and I am currently handling the airport operations for Radisson Blu Resort Maldives. As an airport team leader, my duties are different than the usual hospitality environment. Our shifts depend on the earliest arrival or departure. As Radisson Blu Resort Maldives is located in Alifu Dhaalu Atoll, the transfer between resort and the airport are mostly by seaplane.
When the guests arrive, we welcome them to Maldives, continue with check-in process, and assist their leaving the airport to get to the resort. I make sure that every need of our guests is taken care of and they are made to feel welcome.
Both skills and responsibilities go hand in hand, I would say. The most important responsibility is punctuality and knowing that you are representing the brand. Since we are the first point of contact for the guest, we must ensure that we exceed our guest expectations, which is only possible when we work together as a team. The second most essential skill that we need to have is communication so that we can deliver the right information and it is well received by the guest to ensure a seamless airport experience for our guests.
On a personal front, I have learnt that managing oneself and keeping a cool head by being able to control emotions and stress levels go along the way in ensuring that we do not falter on our duty to assist our guests. I do not allow my personal feelings to come in the way of my work. When I put on my uniform – I am a professional and I represent the resort.
HM: What do you enjoy the most about your current role and what are the challenges that you have to face?
It allows me to enjoy my job every single day. I love every bit of everything – meeting guests from different countries, making sure their requests are taken care of however small it is, communicating with my teams and ensuring everything is taken care of. Every single day we really do not know how things will pan out – the flights get delayed, the guests have had a long flight and are tired, the seaplane might get cancelled, the luggage gets bumped – and many more surprises keep springing up, but we are always prepared and arrange everything in the most convenient way for our guests. After facing all the challenges, it makes me feel proud when I see the smile on the guests' face and my name being mentioned in social media like Tripadvisor or booking.com. It only reiterates that I have made the right career choice.
HM: What are your career goals and future plans?
I believe in what Michelle Obama said: "There is no limit to what we as women can achieve".
When I decided to join the hospitality industry, it was out of my free will and support of my mom, who believed in me and has been a pillar of support throughout my career. She made no distinctions and has always been there whenever I went through difficult times. I dream that one day, I will be able to fulfil my dreams of reaching the pinnacle of my career, making use of my full God given potential so that other aspiring women in the country can look up to me and say – "I want to be like Nazy".