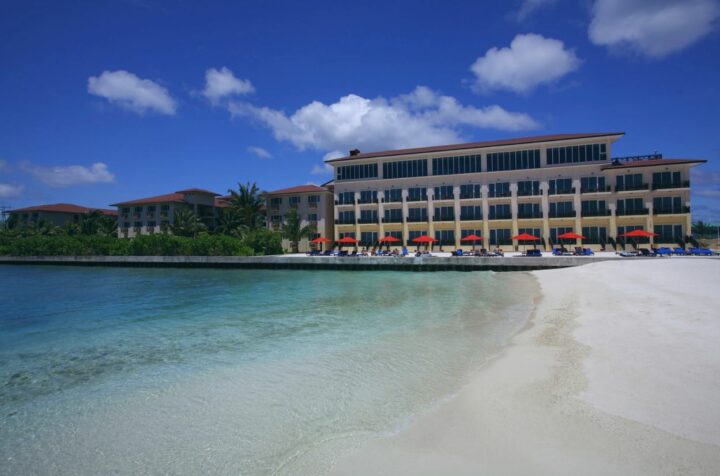 Careers: Meet a team of professional women from the Hulhule Island Hotel
In the Maldivian tourism sector, women make up only 8% of the workforce and of which only 3% are Maldivian women. For this instalment of Hotelier Maldives' Careers segment we bring you a team of young, energetic and dedicated professional women from the Hulhule Island Hotel (HIH).Aminath Nuha, General Manager's Secretary
Even at a very young age, Aminath Nuha wanted to do something by which she can help other people and at the same time enjoy herself and she found the hospitality industry to be the ideal arena. Nuha developed an interest in the travel and tourism field while she was receiving her secondary education and upon the completion of her secondary education, Nuha went on to complete a diploma in the same field. While Nuha was studying for her Diploma and right afterwards, she had interned for several travel agencies. Nuha has also previously worked at the international airport, an experience which she describes as an eye opening one."I believe that making it here, where I am today is a great accomplishment. Also all the interesting personalities I get to meet in this field are tiny milestones along the way. The team I work with itself is an accomplishment as I get to work with some very dynamic, ambitious and independent personalities. The General Manager of HIH, Mr. Utkarsh Faujdar and CFM Mr. Muneesh Kapoor in particular are mentors I have been fortunate enough to get to work with," says Nuha while describing her current position.
Nuha sees herself as a constant learner who is driven to do her best at whatever she does and for the future, she envisions herself working at a place where there is ample opportunity to develop her skills as well as develop the skills of others.Lamath Ali, Food and Beverage Clerk
"I have always been a people's person and I love meeting and getting to know people and the hospitality industry seemed perfect for this," says Lamath Ali.Lamath is a newcomer to the hospitality industry and working as a Food and Beverage Clerk at the Hulhule Island Hotel is her first experience working within the sector. "I found it particularly difficult at the beginning to work away from home for such a long period of the day and having only the evenings for my family life, although I learned how to juggle that now and am as happy as I could be," says Lamath.According to Lamath, the hospitality industry has instilled valuable personal values in her and she sees every work lesson as a life lesson as well. "I would definitely love to be moving on to new challenges, ultimately even assuming managerial responsibilities. But most importantly I would like to have built a colourful career in the industry that is worth having people inspired by," she says while speaking about her future.
Arunya Somchai, Chef-de-Cuisine
"My passion for Thai cuisine, culinary arts and interacting with guests inspired me to carve a career in hospitality industry," says Arunya Somachai.Since 2006, Arunya has been working at the Hulhule Island Hotel as Thai Chef de Cuisine. Prior to this, Arunya has worked as a Commis at Sodexho Service Bangkok and Majestic Grand Hotel Bangkok and early on in her career Arunya has also worked at a Thai restaurant in Ireland. Arunya has a diploma in hospitality as well as a secondary language English diploma.
"Working at HIH for the past 10 years, growing in ranks and stature and winning medals are my biggest accomplishments," says Arunya while reflecting on her time working for the HIH.
Starr Bautista, Food and Beverage Hostess
Starr Bautista chose a career in hospitality because it gives one room to grow. According to her, the industry allows her to not only improve her professional skills but also contributes to her communication skills by putting her in contact with a multitude of nationalities.Starr holds a Bachelor's degree in Hotel and Restaurant and since she is at the early days of her career, her current focus is on learning more so that it would help her in her future career. Being in a male dominated industry, Starr describes the biggest challenge to be balancing professional and personal commitments. Starr sees her biggest achievement so far to be the good relationships she has established with her co-workers as well as guests. Starr also envisions a future where she holds a managerial position.Chhavi Prabhakar, Guest Services Assistant – Front Office
"It's the diversity that one experiences in our lovely industry, whether it be the guests that we meet or the team that we work with is the most interesting factor that pulled me towards hospitality," says Chhavi Prabhakar.
Chhavi is a graduate from a reputed school in New Delhi, India, and one of her achievements is taking first place from her batch in hotel school. She has previously had the opportunity to train with JW Marriott, New Delhi. However, Chhavi describes working with HIH to be her most valuable experience.According to Chhavi, in the modern era, being a woman in the field of hospitality has changed and she believes in some areas of the industry, women are preferred over men. "There is no short cut to success especially with our industry becoming technologically advanced hence each and every aspect can be easily quantified, analysed and compared," Chavvi says while offering words of advice to young women looking to enter the hospitality field.
Laisa Ahmed, Trainee – Front Office
Right after finishing her O'Levels in 2014, Laisa joined Clique College where she has been studying Hospitality Management until now. Her first experience in the industry was in 2015 when she completed an internship at Bandos Maldives in the resort's Recreation and Events department. Laisa joined HIH as a Front Office Trainee just this year.Being at an early stage of her career, Laisa believes her greatest accomplishment to be the confidence she had gained in dealing with and conversing with people. "As a person with quite an introverted personality, I found it difficult to converse and approach people. Working in hospitality industry has broken down this barrier and given me the confidence to express myself," she says.
Laisa's career in the hospitality sector is an extension of an interest she developed in her childhood for travelling, meeting people and exploring and in the future, Laisa hopes to hold the position of Guest Relations Manager or a position even higher.