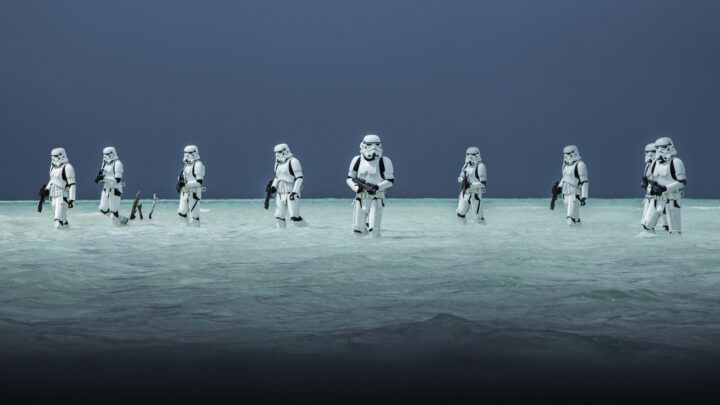 Star Wars and the Maldives: What a blockbuster can do for a destination
The shooting of the iconic sci-fi film series Star Wars' forthcoming spinoff film, Rogue One, in the Maldives has spurred discussion of its impact on local tourism.
The film, shot in Laamu Atoll and slated for release in December this year, will feature several scenes of the Maldives' virgin island landscape. Rogue One's first poster depicts a skirmish between Stormtroopers and rebels with the Maldives' lush topography serving as a backdrop. Stormtroopers striding through a crystalline lagoon has already become a stand-out scene of the upcoming film.
"It does look incredible, though, those storm troopers wading through the most beautiful water," said actress Gwendoline Christie, who plays Captain Phasma in Star Wars (and Brienne of Tarth in Game of Thrones). "I think that's what I found so arresting. It's a new image for us."
Rogue One director Gareth Edwards explained at a Star Wars convention that the scene takes place on Scarif, a paradise world.
Depictions of the Maldives as a paradise could help reinforce the country's persona in the world of travel. Experts believe that films are powerful tools to shape perceptions; they also come into play in creating new ones and supporting the old.
Case studies have shown that films affect travellers' choice of destination, impacting visitor inflows. They also have a knock-on effect on the revenues of interconnected businesses such as tour agencies and souvenir shops.
Research has further shown that films work as 'virtual brochures', creating demand for particular destinations. The wider the reach of a film, the greater the effect. Experts believe a popular blockbuster franchise such as the Star Wars will have a significant impact on travellers' demand for the Maldives.
"This takes the Maldives to an entirely new level in the international arena," said local production coordinator for the film, Mohamed Ibrahim (Kudu). "I can't even conceive of how this will play out, the impact of this. But one thing's for certain. The Maldives will get exposure like never before."