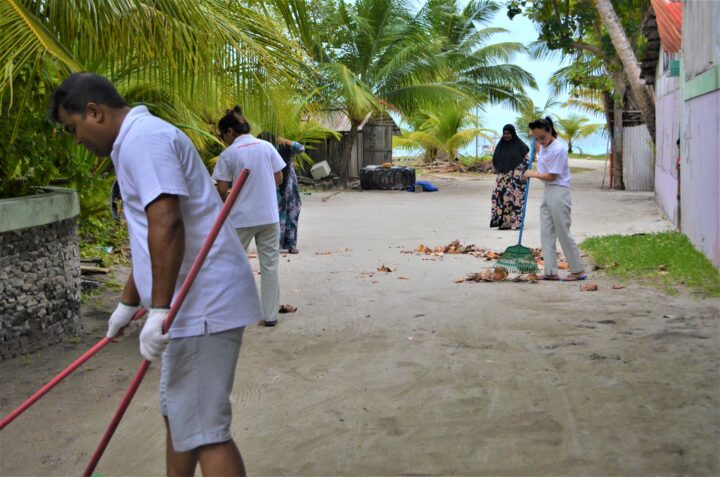 Centara Grand holds event in Mandhoo as part of environmental initiative
A team from Centara Grand Island Resort and Spa Maldives carries out a cleaning event in Mandhoo Island of Alifu Dhaalu Atoll. The cleaning programme, held under the banner 'Environmental Trip to Local Island', was conducted as part of its Corporate Social Responsibility and Green Activities programme.
"We at Centara Grand believe it is our duty to protect and preserve the environment and show our support to local communities," Kenneth Rocha, Quality & Training Manager at Centara Grand Island Resort & Spa Maldives, told Hotelier Maldives. "We are always seeking ways to increase awareness within the local communities about the importance of maintaining a clean and green environment for sustainable tourism."
As part of the programme a management team of the resort visited the island and partnered with the local community, especially school students, and cleared up public spaces, earlier designated with the cooperation from the Island Council. "Such activities improve our relationship with the local communities," Rocha said. "This shows our commitment and the local communities appreciate and accord their full support to our programmes."
Centara Grand's initiatives takes its team to nearby islands every 2 to 3 months, and have already seen clean-up events held in Dhangethi, Fenfushi, Dhigurah and Maamigili. The programme also include special awareness sessions of school students conducted by the resorts Training Manager.
As part of the initiative, Centara Grand conducts several environment related programmes including coral farming, cleaning programmes in the lagoon, reef and the island, monthly-Earth Hour and tree plantation. For its work to protect and preserve the environment, it has been awarded the UNEP's Green Fins certificate and the EarthCheck Silver Certification. The resort also works closely with the local communities and provides apprenticeship programmes for local students and STEP programme, financial assistance to community-based developmental projects, transportation assistance for local students in addition to offering special prizes for high achieving students.
Centara Grand is a five-star property delivering barefoot luxury, with a range of dining experiences and exciting activities. It is a preferred destination by honeymooners and families and offers 112 beach-front suites and overwater villas, six restaurants and bars with a myriad of dining experiences, and the Centara Grand Ultimate All-Inclusive Plan delivering a carefree holiday experience.