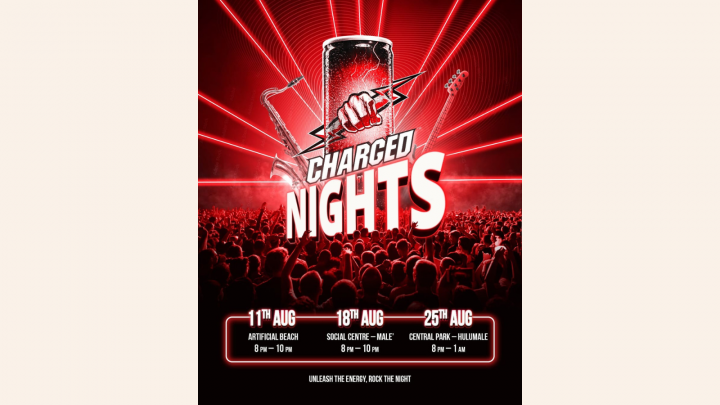 Charged Nights music shows promises energising beats, thrilling vibes
Prepare for an electrifying experience that will leave you buzzing with excitement! Charged, the revolutionary addition to Coca-Cola Maldives' beverage portfolio, has announced a series of music shows that will redefine your entertainment expectations. Introducing Charged Nights – a captivating fusion of music, energy, and unforgettable moments.
Mark your calendars for an unforgettable August as Charged Nights takes over three incredible venues, transforming them into hubs of pulsating energy and rhythm.
August 11 – Artificial Beach
An evening of pure magic awaits as we kick off the Charged Nights' extravaganza at Artificial Beach. Get ready to groove to the rhythms of Habeys Boduberu, and Falih Adam and Band. And keep the dance floor alive with the beats of our electrifying DJ!
August 18 – Social Centre
The energy continues to surge at Social Centre with another thrilling 'Charged Nights' show. Get ready to be captivated by the performances of Habeys Boduberu, and Falih Adam and Band. And let loose as our DJ spins tracks that'll keep you moving all night long!
August 25 – Central Park, Hulhumale
Wrap up August with an explosion of music and excitement at Central Park, Hulhumale. Brace yourself for the talents of Raveo, Equatic Vibe, and Sky Rock. And let our DJ elevate your spirits with beats that resonate with your soul!
But that's not all – each venue will feature Charged drink stalls, ensuring you stay energized and immersed in the action throughout the show.
Whether you're a music enthusiast, a dance lover, or simply seeking an extraordinary night out, 'Charged Nights' promises an unparalleled blend of entertainment that will leave you craving for more. Join us in this spectacular celebration of music, camaraderie, and the exhilarating spirit of Charged!
The Charged Nights series complements the ongoing 'Get Charged and Win'! The exhilaration of winning incredible prizes, like more Benelli motorbikes, helmets, and drink cases, is within your reach. Participating is easy – simply grab your favourite Charged caffeinated beverage, ask for a scratch card, and send the hidden code on the scratch card to 2626 via SMS. Who knows, you might be the next name to light up the screen as a proud winner in our upcoming draws on 19, and September 2 and 16 – all taking place live at 9:30pm on the nation's favourite channel, Television Maldives (TVM).
Charged, an addition to Coca-Cola Maldives' beverage portfolio, is available in 250 ml, in 100% recyclable aluminium cans, in line with our packaging strategy to use 100% recyclable packaging material. The caffeinated beverage is now widely available at major retail outlets, hotels, restaurants, and cafes throughout the Maldives.