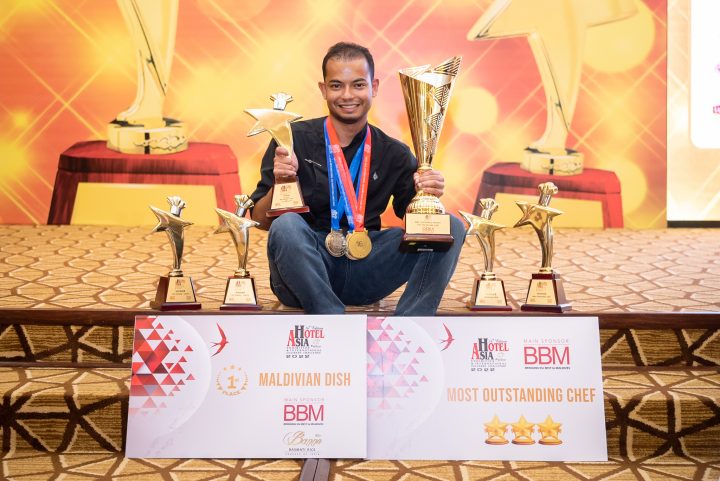 Chef Ahmed Mazim Claims Two Prestigious Culinary Titles at Hotel Asia 2022
The 16th Edition of Hotel Asia and The International Culinary Competition concluded on Wednesday 12th October after a fervent four days which saw 450 participants from sixty establishments compete in twenty categories.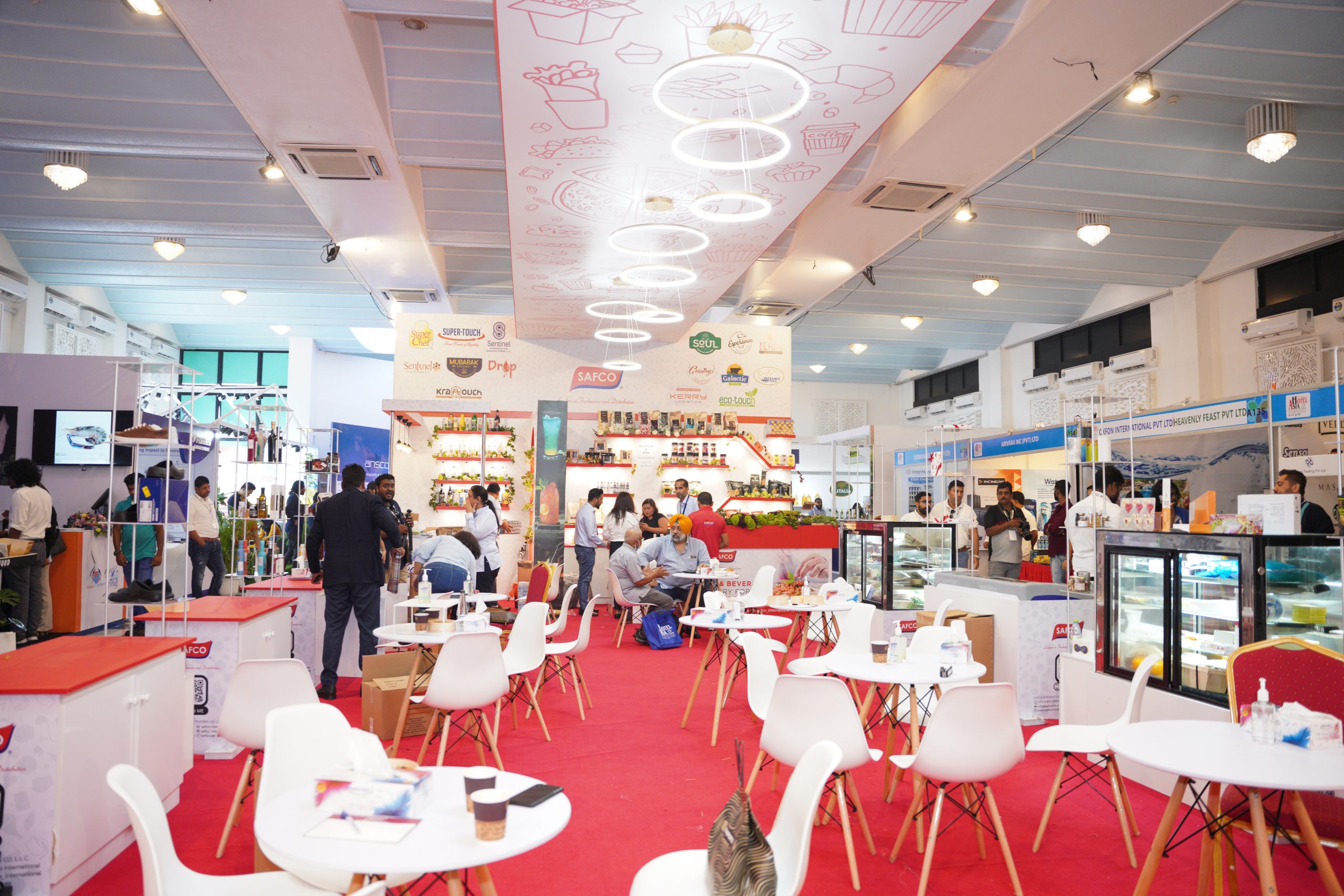 Since 2002 the event has grown from 40 entries to 658 entries, attracting participants from resorts, guest houses, local businesses, and restaurants. Organized by the Maldives Exhibition and Conference Services (MECS), it is the longest running expo for hotel and resort suppliers from the region and perhaps the only culinary competition held with regularity for chefs working in the Maldives tourism industry.
The competition provides a platform for Chefs, Cooks, Bartenders, Culinary Apprentices and Students to showcase their talents, in front of a panel comprising World Chefs approved certified International Judges, industry professionals and a group of 10 World chefs aspiring rookie judges, gaining invaluable knowledge and inspiration to help them progress on their culinary journey. The number of Maldivians among the Judges is a testament to the success the competition has had over the years to encourage local chefs and support them with opportunities to gain further overseas experience.
With developing culinary talent at the core of the competition, the Faculty of Hospitality and Tourism Studies (FHTS) of Maldives National University (MNU) was a fitting venue, providing students with a first hand glimpse into the culinary world and dovetailing with celebrations of the 50th year of tourism.
Bad weather, flooded streets, and last-minute venue changes had no effect on the enthusiasm, hard work and dedication that was poured into each and every dish, dessert, mocktail and showpiece during an intense four days of competition.
The logistics of getting ingredients, equipment, freshly made breads, pastries, desserts, stocks, and sauces from resorts, with seaplane weight restrictions and rough seas, to the actual venue via boat, pick up and trolley was a challenging start to each day of the competition, with participants often working into the early hours to get everything ready.
The 4th floor of FHTS was filled with ever growing piles of boxes as competitors waited in anticipation for their number to be called. Tantalizing aromas filled the air and the display section was filed with an array of fresh breads and pastries presented against imaginative themed backdrops. Intricate showpieces that had taken hours of painstaking work to perfect were unboxed and placed on stands ready for the finishing touches, whilst Pumpkins and Watermelons were carved in front of watchful eyes as they were transformed into faces, flowers, and Indian chieftains. All in readiness for the intense scrutiny of the judges.
Two hot kitchens operated throughout the four days as beef, lamb, seafood, chicken, salads, and noodles were transformed into appetizing dishes, with a seemingly endless stream of plates heading into the judging room. The pastry kitchen was equally busy, with cakes and desserts prepared, decorated and plated with flair and finesse into delectable artistic delicacies to tingle the judges' taste buds and entice their discerning eyes.
Daily results showed who had earned themselves an invitation to the awards ceremony at Kurumba, and the chance to claim a coveted trophy. The event held at Kurumba on Wednesday evening was packed to capacity with excitement and anticipation palpable.
Opening remarks were made by Project Director Alan Palmer, before tokens of appreciation were awarded to the 11 International World Chef Judges and the 10 rookie judges. As the awards progressed, the chink of metal grew louder until only the top awards were left.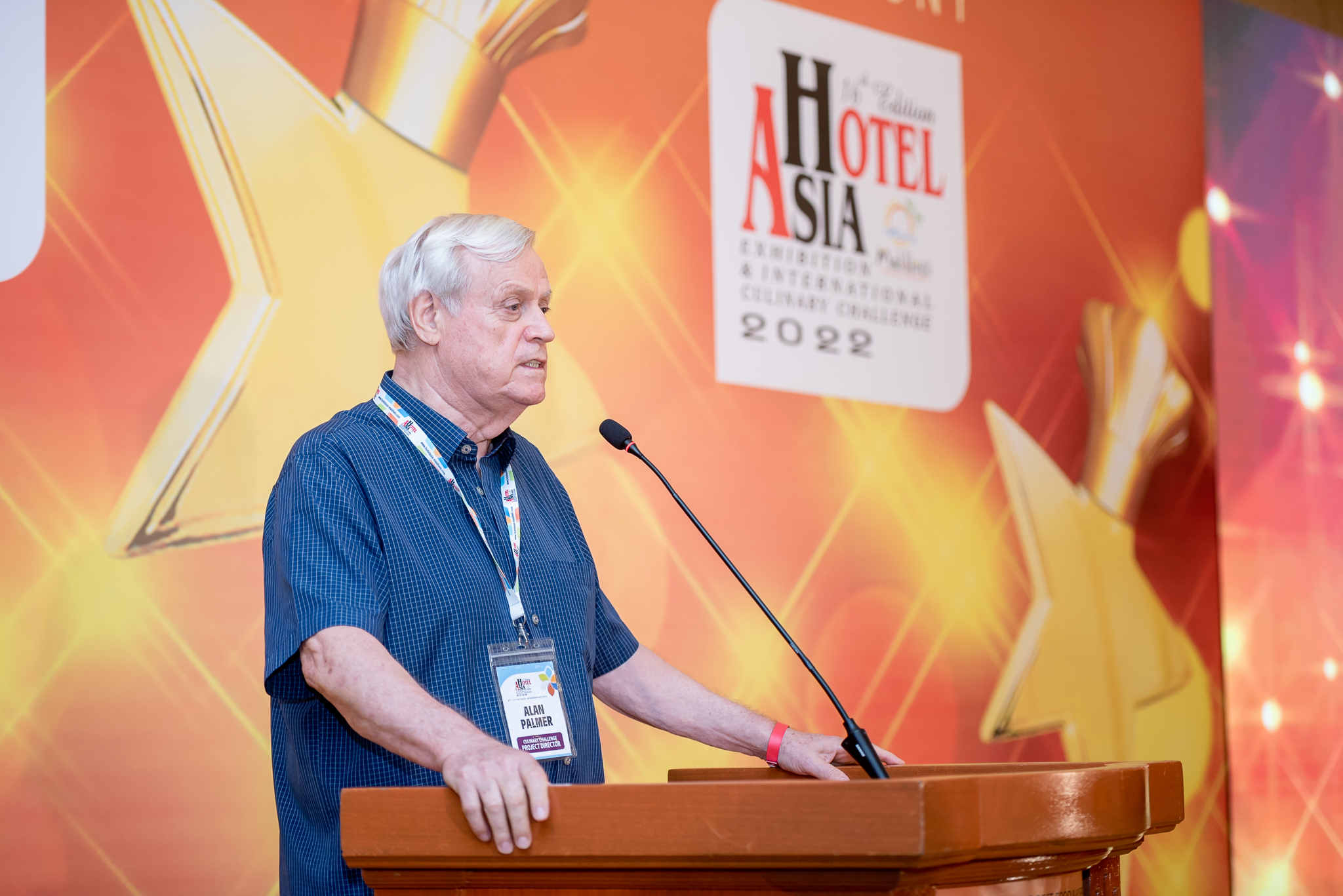 Presented by Chief Guest, Vice President Faisal Naseem, "Best Artist" went to Indika Priyankara from Bandos Maldives, "Most Outstanding Pastry Chef" was won by Manju Manaram from Dhigali Maldives, whilst "Most Promising Young Maldivian Chef" went to  Ismail Thahseen from Huvafenfushi.
The accolade of "Top Maldivian Chef" augmented by the establishment of the "BBM Chairman's Trophy" had two nominations; Mohamed Adhil and his brother Ahmed Mazim, who lifted the trophy to become its first recipient. With jubilation still ringing, Ahmed Mazim was named as a nominee and awarded the prestigious title of "Most Outstanding Chef" to rapturous applause, achieving a Culinary Double!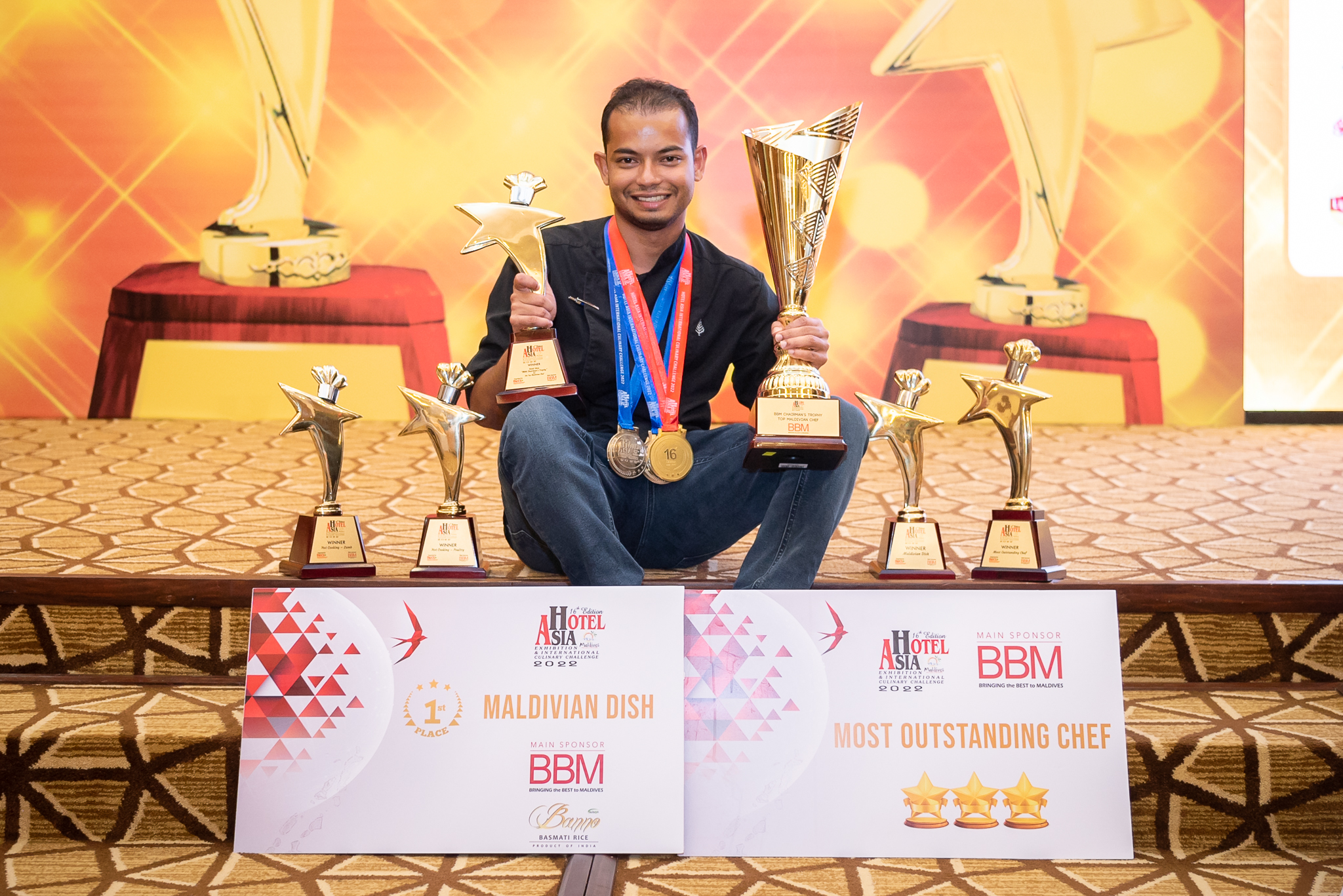 Title of "Best Culinary Establishment" – "Alan Palmer Challenge Trophy" was claimed by Baros Maldives making it theirs for a third time, scooping top spot in 5 categories, plus an impressive medal haul.
The event's success illustrates the depth and calibre within the Maldivian hospitality and tourism sector and highlights the growth of Maldivian Chefs as both educators and judges.
Featured Images: Hotel Asia Exhibition 2022