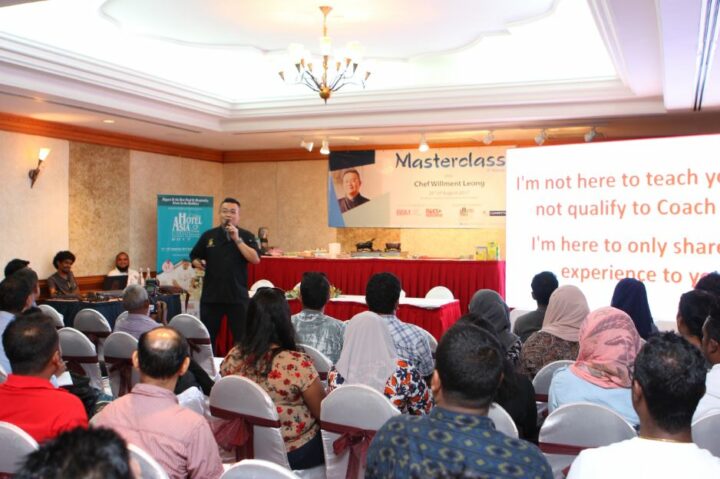 Chef Willment Leong hosts Masterclass ahead of Hotel Asia Culinary Challenge
A masterclass featuring star Singaporean chef Willment Leong was held at the Hulhulé Island Hotel's Ras Maalam ballroom on Saturday, 26 August. The class, now in its fifth edition, was hosted by Bestbuy Maldives (BBM) and Maldives Exhibition and Conference Services (MECS) and saw close to a hundred participants, most of whom will be taking part in the Hotel Asia Culinary Challenge in September this year.
Swiss chef Alan Palmer, chief judge and moderator of the Culinary Challenge, introduced Leong to the audience. Leong is based in Thailand, and was with the Raffles Group of hotels for twenty years, holding the position of the culinary director before he decided to become a freelance consultant.
"I don't have a degree, I just finished high school," said Leong. "I'm not here to educate you, just think of it as me sharing my experiences with you guys."
In his presentation, Chef Leong instructed extensively on various aspects of the culinary arts, including cooking methods, characteristics of different cuisines, and ways to prepare for the competition ahead. He also shared some tips and tricks. "If you have a choice between fresh versus expensive, it's better to go with fresh," he said. "Fresh sea bass is better than frozen halibut, though the latter is more expensive."
"If you want to be successful, you need to sacrifice your comfort," he said towards the end of the presentation. "You need to venture out of your comfort zone. Also, you need to make use of 'sharing' to market yourself, rather than using your 'ego'. Hopefully, this workshop will not only help you in the culinary world but also in achieving your life goals."
The masterclass saw HOFEX silver medal winners, the Maldivian chefs Ahmed Fatheen and Ismail Naseer showcase their talents, while chefs Leong and Palmer analysed their work. Chef Palmer explained how judges awarded points, while Leong offered constructive feedback on the performance of the two local chefs.
Chef Leong held a cooking demonstration where he put into practice some of the ideas that had been discussed. "In a competition, use wide pans instead of shallow ones for reduction," he instructed. "Wide pans have more surface area so the liquid evaporates quickly."
At the end of the class, Leong added: "It's great to be here in the Maldives. I thought the audience was quite enthusiastic, in terms of their willingness to learn. I saw them take a lot of notes. It took me a few months to prepare the slides for this workshop, 160 slides are a lot, and I've tried to share as much as possible. I'm very happy with how it went today and I think I've achieved what I wanted."
A competitor, wishing to remain anonymous said: "I was kept on my toes throughout chef Leong's presentation and demonstration. There was so much to learn, he'd packed so much into the little time he had. I think I've learnt more from his presentation than I ever have through many cooking demonstrations. This class has certainly given me a lot of food for thought."
The Culinary Challenge will be seeing record 600 participants this year and the competition will be adjudicated by 21 judges.
The main sponsor of the event, BBM's CEO Mohamed Mazloom said: "At BBM, we believe in enriching the knowledge of those working in the hospitality industry, especially in F&B. So we conduct training programmes from time to time in diversified sectors within F&B, sometimes hosting chefs to travel abroad for training. Such programmes will enhance the industry and help it be on a par with the best in the world."
Husnie Rauf, General Manager of MECS said: "This year, with over 600 entries we have created history at Hotel Asia with a record number of participants. The Exhibition is also being sold out with 175 stalls represented by over 2,000 brands, showcasing their products and services. This is all due to 17 years of combined efforts by all our stakeholders which we started in the year 2000."
The Hotel Asia International Culinary Challenge is divided into 22 categories. Its main awards are Most Outstanding Chef, Most outstanding Pastry Chef, Top Maldivian Chef, Best Culinary Establishment, and The Alan Palmer Challenge Trophy.
The culinary competition will be held from September 17 to 20 this year. For more information about Hotel Asia 2017, please visit hotelasia-maldives.com.