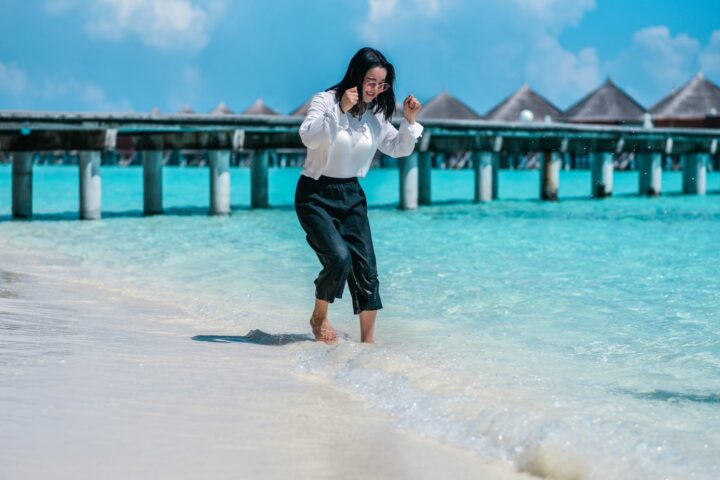 What best suits Chinese visitors to the Maldives?
Around 300,000 Chinese tourists visited the Maldives in 2018, representing around 0.02 per cent of all the 162 million trips originating from Mainland China. These travellers are divided into two groups; big package tour groups spilling out of coach buses for sightseeing, shopping and endless selfies, and small groups of self-organised tourists, mostly younger, English-speaking and more interested in the local culture and cuisine.
Recently, a third group has evolved: The "customised tour group." Small groups of Chinese travellers still use a tour operator, but the itinerary will be tailor-made according to their wishes.
Dr Andreas Reibring, Head of Research of the Swedish company Kairos reported earlier this month at the ITB China Fair in Shanghai that according to a survey among 300 Chinese tour operators, "Customisation" is the main trend in 2019. Bryan Xiao, the CEO of QYER, the biggest Chinese travel portal said, "75 per cent of QYER users are stating that the main purpose of visit for them is to follow their personal interests."
The reason for this change is explained by Professor Dr Wolfgang Georg Arlt, director of China Outbound Tourism Research Institute (COTRI) in Hamburg, Germany. He said, "After a decade of growing outbound tourism, more and more Chinese have not only the money but also the experience that enables them to clearly say what they want to do while travelling with their friends, family or colleagues.
Ctrip, the largest online travel agency in China, which started in 2016 offering customised tours with itineraries according to specific interests, forecasts a split of the market into three segments of roughly equal size: package tours, customised tours, and individual travel. Jonathan Xie, General Manager of Ctrip Customised Travel Business, introduced a new joint report by Ctrip and COTRI during ITB China, which shows that especially for the high-end market, highly personalised trips with top-quality services and the exclusive offer of services, resources and experiences that are high-quality, unique and niche. These can include helicopter tours, fine dining, attendance of special sporting events or health services. In 2018, the business for such offer increased by 180 per cent.
This new wave of sophisticated demand from China offers new opportunities for the Maldives as a destination and tourism service providers. However, it also comes with the need for a deeper understanding of the Chinese outbound tourism market. At the ITB China, a new online training programme called CTT China Tourism Training, which provides such knowledge was launched by COTRI together with the Hong Kong Polytechnic University, School of Hotel and Tourism Management (SHTM). The programme ends with a university certificate from the SHTM.
For the Maldives, the significance of the new opportunities to attract Chinese travellers lies not just in increasing the number of arrivals, but in keeping the previous level of income. In many regions of the Maldives, the amount of spending per traveller per day is declining, as shopping has become less important and new tailor-made products and services have not been developed in the Maldives in sufficient numbers. Many Chinese guests would be able and willing to spend more money in the Maldives if they could find adequate specific activities for families, older travellers, art or nature lovers. That is also true for hotel guests.
Offering customised travel services based on better knowledge can help to disperse visitors into different regions, attract them outside of the main season and have them stay longer and spend more money. COTRI forecasts 400 million outbound trips starting in China for 2030, and urged for better preparation for the next waves of Chinese visitors.
COTRI, an affiliated member of the United Nations World Tourism Organisation (UNWTO), is the world's leading independent research institute for training, quality assessment, research and consulting on the Chinese outbound tourism market.
Featured image: Courtesy of xiyaan maldives.