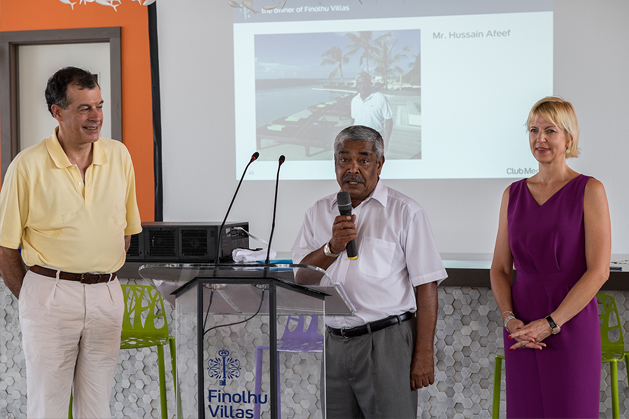 Club Med showcases Finolhu Villas to international media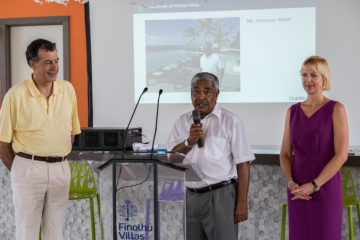 Club Med unveiled its flagship luxury resort to travel journalists from across the globe at a pre-opening event on January 23.
More than 50 journalists from major travel, leisure and lifestyle publications, such as Vogue and Elle, attended the event on Friday.
In his opening remarks, Club Med CEO and Chairman Henri Giscard d'Estaing said he was "extremely happy" to welcome the international journalists to "celebrate the birth" of the new high-end resort.
Giscard d'Estaing sketched a brief history of the French corporation from its origins 65 years ago.
Former Belgian water polo champion Gerard Blitz and French entrepreneur Gilbert Trigano founded Club Med in the early 1950s.
The vision for Club Med was born out of a simple idea, Giscard d'Estaing said, which was: "Bring happiness to our guests and bring happiness to our teams."
Club Med invented the "premium all-inclusive holiday" concept or "the idea of a hassle-free holiday," Giscard d'Estaing noted.
A diverse team of GOs (Gentil Organisateurs) "represent the wonderful spirit of Club Med," he added.
The GO teams in Club Med's Kani and Finolhu Villas in the Maldives are made up of 27 different nationalities, Giscard d'Estaing observed.
In 2004, he continued, Club Med embarked on a new "upscale strategy" of transitioning to an upper-market, high-end brand.
In 2006, Club Med reopened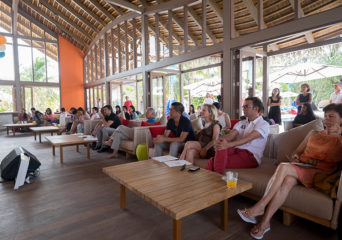 the Cancun Yucatan Village in Mexico, upgraded to 4 Tridents, and the Kani Village in the Maldives.
In the next year, Club Med opened its first 5 trident village, the La Plantation d'Albion, in Mauritius.
"What we're trying to do is to discover the best places in the world and offer to our customers possibilities of experiencing ," Giscard d'Estaing explained.
Club Med currently operates up-market hotels and resorts in more than 60 countries, he added.
Finolhu Villas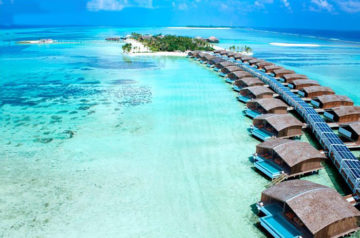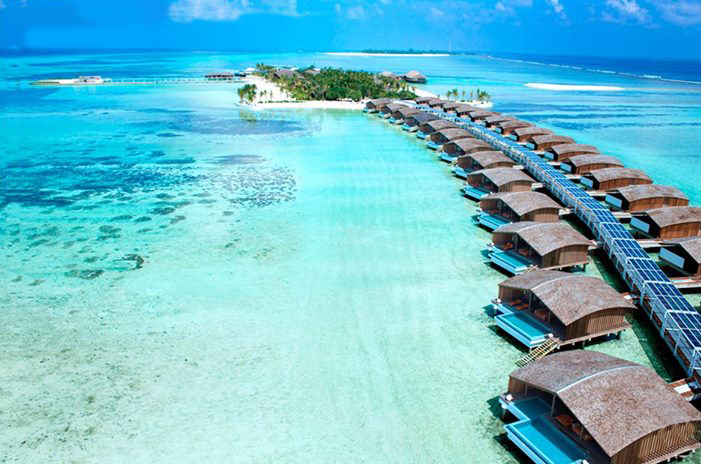 The chairman's remarks were followed by a video presentation exhibiting spectacular aerial view drone photography of Finolhu Villas.
The official opening of the resort is scheduled for January 31, said Club Med CEO for East South Asia Pacific Heidi Kunkel.
The resort features 52 luxury villas, with a choice of sunrise or sunset villas, Kunkel noted.
Each villa is between 1,625 and 1,800 square feet with its own pool, private terrace, and dedicated butler.
Finolhu Villas is a combination of modern luxury and chic with eco-friendly design, she explained.
The landmark resort is 100% solar powered with an environment-friendly waste management system, Kunkel stressed.
"The target for Finolhu is couples and honeymooners," she revealed.
While 70% of Club Med customers bring children on their holidays, Kunkel explained that Finolhu would be exclusively reserved for adults.
As Club Med's Kani Resort is five minutes away from Finolhu, Kunkel said guests would have the option of switching the exclusivity of the latter for the activities, festive ambience and conviviality of the former.
Kunkel went on to praise the resort's Maldivian owner, tourism magnate 'Champa' Hussain Afeef, whom she called a "legend".
"He is a wonderful partner and we're very proud and pleased to work with Afeef," Kunkel said of the tourism pioneer.
In his remarks, Afeef explained that the island used to be called Gasfinolhu.
"This island was a sandbank with two coconut trees when we first saw it," he recalled.
Following the decision to redevelop a resort on the island, Afeef said he wanted to create "something special" and "find somebody special to manage it."
Afeef expressed gratitude to the Club Med team, his partner Ibrahim Nooradeen, the team from nearby Meeru Resort, and the architect Yuji Yamazaki.
"I am very proud of the product and I'm also very proud of the managers," he said.