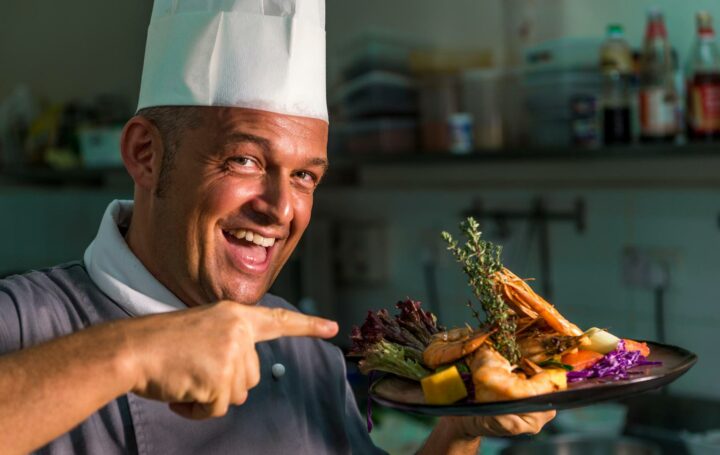 Cocoon Maldives' year-long Gourmet Week programme
Cocoon Maldives, over the course of 2018, is bringing the great names of Italian and international cuisine to the Maldives. Throughout the year, guests will take part in various week-long exclusive cooking shows in the resort's restaurants, during which the visiting chefs will showcase their culinary art. For lovers of gourmet experiences, this will be a real show, a combination of food and design for a real a multi-sensory experience.
The programme was kicked off in February by Italian chef Simone Zambon of MoMa in Sesto Calende, Italy. Simone's passion for the culinary arts was ignited when as a child, he would spy on his grandmother while she cooked. Simone spent seven years cooking for a well-known Milanese industrial family where he learned to appreciate and respect the simplest and most ordinary dishes. Afterwards, Simone took a courageous leap of faith where, at a time when many restaurants were closing, he opened his restaurant MoMa in Sesto Calende. In 2014, Simone was awarded the Corona Radiosa by the Critica Golosa Guide and his restaurant now has two Michelin forks.
April saw culinary arts presented by Davide Steffanini. Davide started working in his first year of hotel school. He has worked in the world famous Milanese restaurant Al Peck, the renowned Buosi di Vedano pastry shop and the kitchen of the Luce restaurant at Villa Pansa. In 2012, Davide started his own pastry shop/cafeteria – Dolce Mente, where the artisanal confectionery is dedicated to revisiting the great classics. The restaurant is now considered a landmark in the city of Varese.
May will feature Matteo Vigotti. Formerly of the famous Novecento Restaurant at Lake Maggiore, Matteo Vigotti now practice his art at the world-famous Ristorante Al Peck. Matteo has a reputation for creating sophisticated and innovative Italian food, which is daring, to say the least as Italy is a country where food as a whole is deeply rooted in tradition. Pick a dish from any region in Italy and you will discover a history that goes back hundreds of years.
There is often a strongly perceived "right way" to make each dish, and variation from that method is not often appreciated. In such a traditional food culture, you may not necessarily expect to see much success for a restaurant that wants to try something different. However, both Ristorante Al Peck and Peck Italian Bar have certainly done well under Matteo Vigotti's guidance.
The Truffle Man cometh June. Massimo Vidoni has made a name for himself on the restaurant scene, selling fresh truffles directly to restaurants, as well as truffle products (oils, salts, and even a variety of acacia honey with black truffle pieces and 23-carat gold flakes) from his company Italtouch. Massimo's life in truffles began in New York, where he was studying sales and marketing in the early 1990s while working as a bus boy in an Italian restaurant.
Closing the festivities in October is Riccardo La Perna, of the two Michelin Star restaurant 8 ½ Otto e Mezzo in Shanghai. Hailing from Sicily, Chef Riccardo comes with a baggage of impressive cooperation with top Michelin-starred chefs such as Ciccio Sultano – an artist of the Sicilian cuisine; and Claudio Sadler for whom he worked both in Milan and in Beijing, together with important experiences in five-star hotels and prestigious fine dining restaurants in Italy and abroad.
Cocoon Maldives is located in Lhaviani Atoll and was designed inspired by the concept of lightness. Cocoon blends the best of Italian design with the Maldives' stunning natural beauty, all set against the backdrop of the azure Indian Ocean.
The resort offers guests both privacy and a place to socialise if they wish, in the island's clubs, restaurants and bars. Guest accommodation includes Beach Villas, Beach Suites, Family Beach Villas, Beach Suites with Pools, Lagoon Villas, Lagoon Suites, Lagoon Suites with Pools and a Cocoon Suite. The resort boasts a variety of restaurants and bars, offering a wide array of food and drinks, surrounded by beautiful tropical greenery and the stunning turquoise lagoon. For more information about Cocoon Maldives, please visit cocoonmaldives.com.