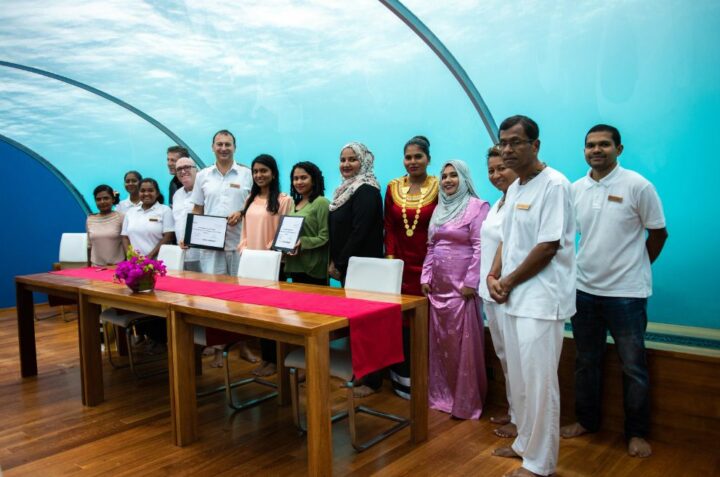 Conrad Maldives Rangali Island marks annual Hilton Worldwide Global Week of Service
More than 50 volunteers from Conrad Maldives Rangali Island have, in celebration of Hilton Worldwide's annual Global Week of Service, participated in two projects which are part of Hilton's week-long celebration of the company's year-round commitment to serving and enriching the communities where they live and work.
To kick-off Hilton Worldwide's annual Global Week of Service, Conrad Maldives Rangali Island signed a Memorandum of Understanding with the Ministry of Gender and Family to offer two annual internships for young girls in state care. Conrad Maldives stated that they hope the project will amplify their commitment towards gender equality and women's empowerment.
The signing took place at a ceremony hosted by Mr Stefano Ruzza, General Manager of Conrad Maldives Rangali Island and Mr Daniel Welk, Vice President Luxury and Lifestyle, Asia Pacific for Hilton. The event was also attended by Hon. Zenysha Zaki, Minister of Gender and Family along with Ms Leesha Mohamed, Deputy Minister and Ms Jala Zuhury, Head of Institutions Management and Coordination.
Applicants will be interviewed by the Ministry of Gender and Family as well as the resort in order to determine two recipients. Both interns will then embark on a twelve-month internship which includes both classroom training as well as inter-departmental placements within the resort.The second event was in part to complete a mission the team started in 2017 when they were able to do much-needed repair work in the local school from painting, titling, ac installation, to installation of a safe drinking water tank. Although these essential items were needed to make the school safe for children, the resort says they felt that the environment needed to be made conducive for learning with the basic equipment and materials.This past week the team helped inaugurate a newly refurbished library at Dhidhdhoo School. This included painting, the installation of shelves, comfortable reading spaces, and the installation of an air-conditioner, two Kindles and over 500 books.
"Fostering youth, career development and investing in women and girls in the Maldives through education, training and professional development remains top of mind for Conrad Maldives Rangali Island", said Conrad Maldives Rangali Island general manager, Stefano Ruzza.
"Our Team Members want to inspire young people by supporting them by providing educational opportunities that are vital to succeed" he added.
Global Week of Service is Hilton Worldwide's largest annual community service initiative and mobilizes hundreds of thousands of Team Members from every region to engage in numerous volunteer events and activities happening around the world.
Located in the Maldives' best diving and snorkelling spots, Conrad Maldives Rangali Island has created a space that invites and inspires with a distinctive design that flows harmoniously with the natural environment. The resort features purposefully designed villas and suites, 12 award-winning restaurants and bars, two spas and a selection of culturally inspired experiences set against the awe-inspiring Maldivian surroundings.