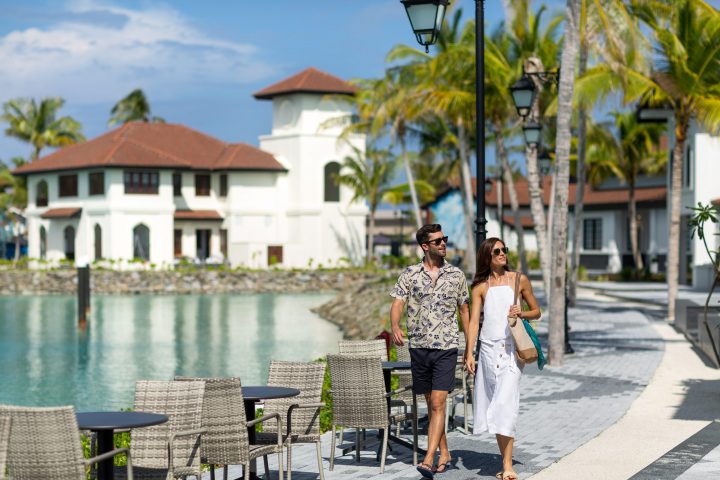 Crossroads Maldives welcomes opening of Delco Mart
Crossroads Maldives, the leading integrated leisure destination in the Maldives, has announced the opening of Delco Mini Mart, a mini supermarket that will transform the visitor experience by offering a one-stop shop for their shopping needs.
Crossroads Maldives has always been dedicated to enhancing the visitor experience, and Delco Mini Mart is the latest addition to their commitment to convenience and customer satisfaction. Delco Mart will be open daily from 11:00 am to 11:00 pm, providing visitors with a convenient and hassle-free shopping experience.
Crossroads Maldives is already known for its diverse range of leisure and dining options, including an eloquent beach club at SAii Lagoon Maldives, the iconic Hard Rock Cafe, the signature Lén Be Well Spa, and the star studded line up of restaurants ranging from the Ministry of Crab, Carne Diem Grill, Nihonbashi Blue, Kebab & Curry, Jiao Wu, Kinkao, Kalhu Odi to One Waan. Well-known international brands such as Rip Curl are popular crowd choices and the destination is also complete with, jewelry stores, a photography studio, indoor and outdoor event spaces, a fully-fledged yacht marina and ATM facilities. In addition, visitors can enjoy the services of Best Dives Maldives for diving and watersports excursions and the Maldives Discovery Center for interactive cultural immersion.
Delco Mart's introduction at Crossroads Maldives underscores the commitment to providing a seamless and enjoyable experience for all guests. Whether you need groceries, snacks, beverages, or any other convenience items, Delco Mini Mart is here to cater to your needs, making sure you have everything you require.
"We are thrilled to introduce Delco Mini Mart to Crossroads Maldives, adding a touch of convenience and variety to our visitors. Our aim is to ensure that every guest's stay is as comfortable and enjoyable as possible, and Delco Mini Mart is another step toward achieving that goal," said Yashfa Hassaan — Director of Retail – The Marina at Crossroads Maldives.
Crossroads Maldives continues to bring luxury and leisure experiences closer to the local guests as well as the guests staying at SAii Lagoon Maldives, and Hard Rock Hotel Maldives. Delco Mart is the latest milestone in the ongoing journey to exceed the expectations of their guests. The doors of Delco Mart are now open, so come and experience the convenience and ease it brings to your stay at Crossroads Maldives.
One of the key advantages of Crossroads Maldives is its daily scheduled ferry services from Male and Hulhumale, which operate several times a day. This makes it easy for visitors to access this remarkable destination, with ferry bookings available online or through the concierge service.
For more information on Crossroads Maldives, please visit the website at crossroadsmaldives.com.