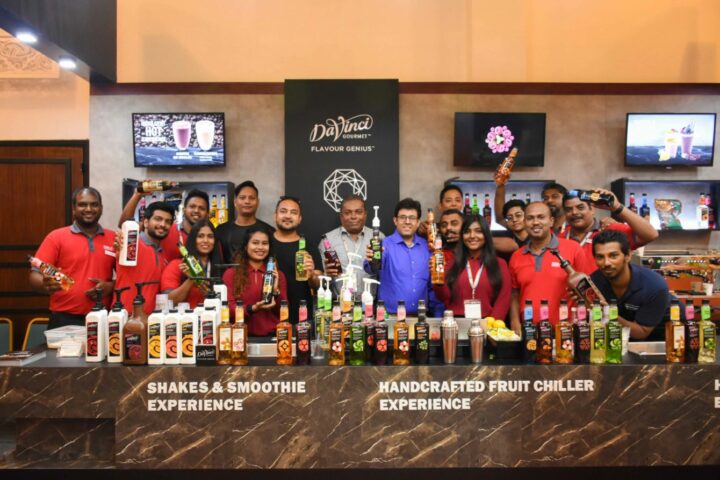 DaVinci Gourmet: The latest premium addition to BBM's portfolio
Bestbuy Maldives (BBM) has unveiled another premium brand, DaVinci Gourmet, to its portfolio of high-quality products. DaVinci Gourmet, a brand owned by Ireland based Kerry Group, supplies premium range of beverage solutions for the hospitality industry across the world. DaVinci Gourmet beverage solutions were introduced to the Maldivian market during the recently held Hotel Asia Exhibition and Culinary Challenge 2018. BBM was the main sponsor of the annual event.
DaVinci Gourmet launched their operations in South West Asia region around three years ago beginning with India market and then spreading its operations to the entire SWA region like the Maldives, Nepal, Sri Lanka, Bangladesh, Pakistan and Bhutan.
"We are confident of having a strong penetration into the market and provide quality beverage solutions to leading resorts in the Maldives with the support of our partner BBM," said Somesh Kumar, Head HORECA – South West Asia for DaVinci Gourmet.
"DaVinci Gourmet understands that baristas and mixologists are real artists. Guided by this belief, we combine craft, science, and art to provide an amazing palette of flavours that empower drink makers to create their masterpieces. We follow a philosophy of co-creation, crafting each new product and recipe with real baristas and mixologists, using sensory science to help create a deeper connection with consumers. This is what we like to call Flavour Genius."Combining art, craft and science to enable baristas to create theatrical recipes without limitation, DaVinci Gourmet brings a unique palette of flavours to your traditional offering of speciality beverages. Now available in over 60 countries, DaVinci Gourmet is dedicated to helping grow your business to meet the needs of the ever-expanding beverage industry.
"It is an absolute pleasure introducing to the market such premium brand as DaVinci Gourmet, that we believe can become a ground-breaking product in revolutionising the beverage industry in the Maldives, with its extensive range of implementations when it comes to creating incredible beverages," said Mohamed Mazloom, CEO and Director at BBM.
"In addition, we believe that the mixology demonstrations and the skilled display of beverage innovation by the team at DaVinci Gourmet will greatly enhance the mixologists residing in the Maldives."
With DaVinci Gourmet partnership with BBM, and with its unique position, the brand is looking to reach out to the resort market in the Maldives. Team BBM will have a local Mixologist/ Barista based in the Maldives to cater to the customer need to beverage innovations and trials.
BBM has established itself as one of the largest wholesale and retail companies in the Maldives with a wide range of brands under one roof. BBM also remains as one of the few companies which take the ownership of imparting knowledge in the hospitality industry in the Maldives. For more information, visit www.bb-mld.com and www.apac.davincigourmet.com.