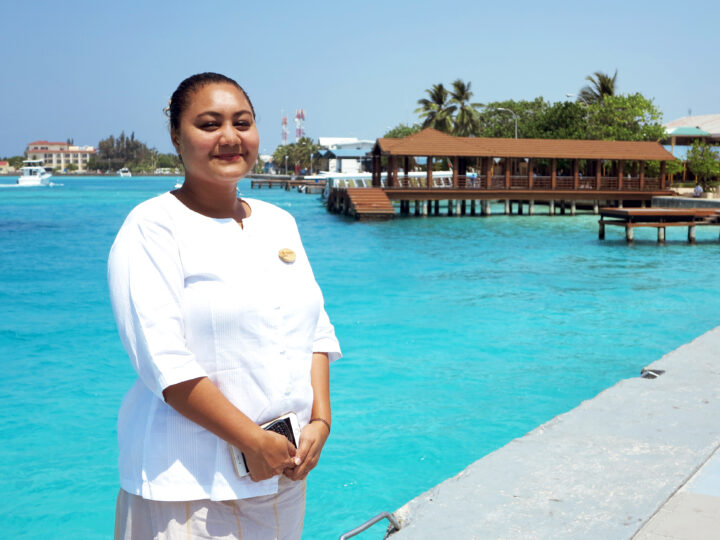 A Day in the Life of: Juwayria Yoosuf
Sporting a gleeful smile and with her mind set on providing the best of hospitality, Juwayria (Juway) Yoosuf is the star of this edition's Day in the Life segment. She is the Senior Lounge Hostess at the Coco Palm Dhuni Kolhu Lounge at Velana International Airport. Having worked at the lounge for the past nine years, every day is something she looks forward to, with the opportunity to welcome new faces and meet new people.
0500 hrs – The day begins early at the Coco Palm Lounge. I have to wake up at least an hour earlier, and get to the airport on the 0445 transfer. Guests will begin arriving at the lounge as early as 0515, and meeting them is the biggest thrill of my job, and I always make it a point of looking my best before I meet them.
0700 hrs – My job is to ensure our guests have the most comfortable and hassle-free stay, while they await their transfer. Once the guests arrive at our lounge, I serve them face towels and take their refreshment orders. I also take time for a chat; to get to know them is one of simple pleasures of my job. I brief them about their transfer and about our resort. To ensure that our guests have the most comfortable stay with us, we complete the check-in procedures before their seaplane transfer, and issue them registration cards. We can then usher them directly to their rooms, without any hassle at the resort's reception.
0900 hrs – On a normal day we handle between 5 and 7 seaplane transfers. And on more hectic occasions, we have catered to something over 60 guests at a time. It can be an extremely demanding job at the Coco Palm Lounge, as some days go by with only 30-minutes for break. Sometimes we might have back-to-back transfers too. The Coco Palm Lounge is staffed by 3 hostesses, and it can be real frantic when one is off-duty or is on leave.
1100 hrs – New stock requests are usually delivered in the morning. Our airport representative's team will transfer the goods, and it will be our job to collect it at the TMA seaplane base, carry them up to the lounge and make sure they are stacked and ready. I also have to be in constant contact with the TMA team to check on flight schedule updates.
1300 hrs – Afternoons are usually very occupying. When I receive the guest arrival schedule in the afternoon, it is time to begin preparations for the next day, to make sure our guests are accorded the best of service we have to offer. It is also time to check if we have run out of any items in stock, and send in new requests.
1500 hrs – The most rewarding part of my job is getting to meet new people. Serving people from all corners of the globe; being in their service is very gratifying. Having to meet repeat guests is the most exciting thing; I may not be able to remember each and every face, but when a repeat guest comes up and says hi, it's a very special feeling.
1700 hrs– A typical workday ends in the evening. It is time to head home to unwind and spend some time with the family. But this is not a luxury we have every day. Sometimes we have to handle late departures which would usually be around 1815hrs – which means I'll only be able to close shop at around 1900.
2100 hrs – After taking a break at home, it is time to make final preparations for the following day. I get the memo for the next day in the evenings, and it is my job to make the staff duty roster, and inform my staff of the upcoming day's highlights. But I usually look up TMA flight schedules earlier in the day and try to make duty arrangements and inform my staff as early as possible. I also have to file monthly statistics reports. Apart from the delight to serve our guests, I am particularly content with the Coco team, who are all very appreciative of my services.
Juwayria earlier worked at the Duty Free Shop, where her love to work with guests flourished, and finally decided on a career at the Coco Palm Dhuni Kolhu Lounge. Counting her tenth year at the establishment, she excels in providing the best of Maldivian hospitality there is to offer.