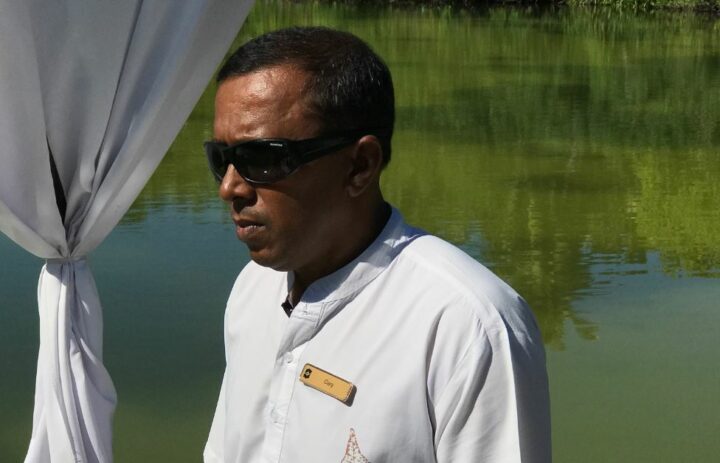 A Day in the Life of Mohamed 'Gary' Kamil
Mohamed 'Gary' Kamil has been working in the hospitality industry for over 35 years, of which the past eight years have been in Shangri-La's Villingili Resort & Spa. Originally from Meedhoo in Addu City, Gary is a passionate soul when it comes to taking care of guests.
As the Housekeeping Supervisor, he is in charge of handling all amenities at the five-star luxury property. Gary (as he is known by friends and colleagues) bears enormous responsibilities on his shoulders and oversees the duties of two other staff.
0645 hrs. – I wake up early for Fajr prayer. Since I live in the neighbouring Island of Meedhoo, I have to catch the ferry to the resort at 06:45 a.m.
0900 hrs. – My duty starts at 09:00 a.m. with a department briefing, followed by a supervisor's meeting. Afterwards, I ensure that amenities bags have been prepared for the Villa Attendants. I also check the arrival/departure schedule to see if any guests require any special arrangements; guests travelling with families require additional beds, baby cots, etc. for their villas.
1000 hrs. – I take a drive around the island to make sure all pantries located across the island are fully stocked. There are seven pantries, and we try to restock two to three pantries every day. Since some guests like to try out the different villa categories, we also have to move any extra beds, baby cots, etc. when the guests move villas.
1200 hrs. – I take a short lunch break and return to the store to relieve my staff for lunch. I work on stock management and get some paperwork done. I have to put in new orders for any items that we are running low on.1500 hrs. – We have separate stock rooms for beds, pillows, and other amenities. My staff and I dust and clean the stock rooms every day. After that, we visit the main store and collect new stock.
1630 hrs. – I check the arrival schedule for the next day to see if any special arrangements have to be made prior to the arrival of new guests. If there are any requirements, we make them in the evening.
On average, we have to arrange around 12 extra beds each day. During the holiday season, sometimes we run out of our stock of extra beds and baby cots.
1700 hrs. – I make rounds to the pantries again to remove any additional items. Then we prepare amenities bags for the Villa Attendants for the next day.
1800 hrs. – My duty ends at 6 p.m. and prior to that, I do one final check to ensure everything is in order for the next day. Then I catch the ferry at 6:15 p.m. and head home for some family time.