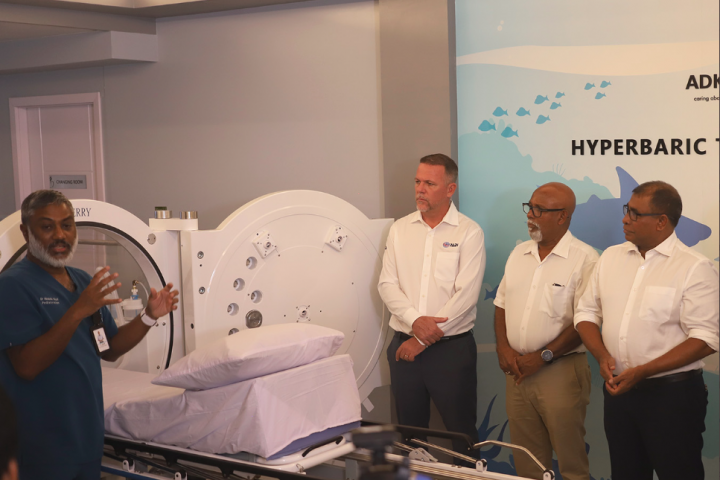 Decompression Chamber Opens in Maldives Capital
ADK Hospital is the Maldives' first medical facility to open a Hyperbaric Treatment Unit, or decompression chamber. On January 10, 2023, ADK's Chief Medical Officer Dr. Abdulla Niyaf inaugurated the unit. The unit can be used for treating non-healing wounds, burns, infections, and decompression sickness.
Decompression sickness is a condition associated with SCUBA diving accidents. With proper precautions, decompression sickness is rare among recreational divers. According to PADI Adventures, the incidence rate is estimated to be only 3 out of every 10,000 dives. Yet, the opening of a chamber in the capital, Malé, provides relief and peace of mind to the diving community in case an accident should occur. Previously, decompression chambers have only been available in four island resorts.
Minister of Tourism Dr. Abdulla Mausoom, the chief guest of the inauguration ceremony, commented that the unit will relieve to the growing demands of the tourism industry. Dive safety must be a priority, as Maldives is one of the world's leading diving destinations.
Three doctors from ADK have received specialized training in Singapore to operate the Hyperbaric Treatment Unit. Nurse and support staff have also been trained.