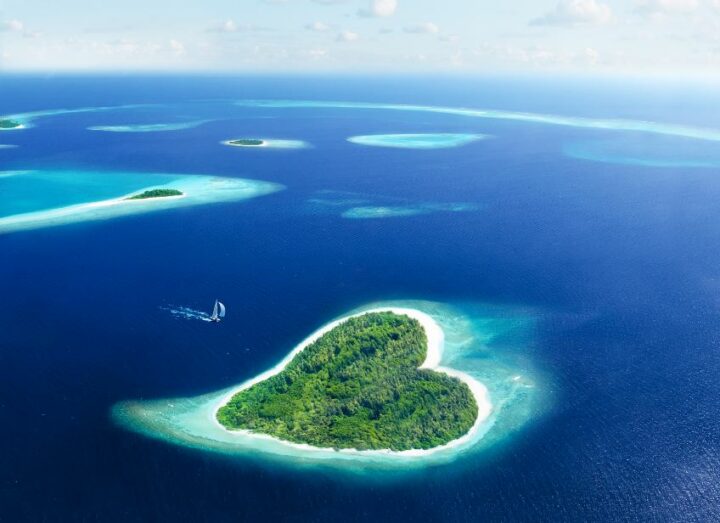 Five trends that will drive Maldives' hospitality industry
When an ultra-luxurious destination rapidly evolves, will a destination marketing presence equate to a positive image, and an increase in tourism to the country? In the cover story for issue #30, Hotelier Maldives takes this question to the Maldives' hospitality industry. With insight from industry experts at the Hotelier Maldives GM Forum 2018, we look at five trends that will drive Maldives' hospitality industry
With the bulk of development packed into the past 20 years alone, the country's achievements are astonishing. The consensus is that the Maldives will continue to develop, its hospitality sector will become increasingly dynamic. This may be true, but for me, it begs one question. Is it not a little odd to be celebrating the development of a country yet discussing tourism in terms of individual resorts? Fast forward to the 46th anniversary of the tourism industry; wouldn't it be wonderful to celebrate Maldives hospitality in its entirety?
Considering the views of over 150 delegates from 40 hospitality brands who attended the Hotelier Maldives GM Forum 2018, you may agree. I was wonderfully surprised to learn that attendees overwhelmingly agreed the Maldives should be marketed as one destination. I appreciate that the Maldives has a strong reputation as a luxury destination largely due to its abundance of beautiful beaches and unparalleled privacy for visitors. However, bearing in mind the current battering the Maldives is taking in the international media—which in headlines rarely distinguishes the geographical nature of the country, political instability in the Maldives being the perfect example—I am inclined to believe that a dedicated destination marketing campaign might wield significant weight.
Five trends that will drive destination marketing
In his Destination Marketing report, produced for the forum, on April 18, 2018, at Kurumba Maldives, Abdulla Ghiyas, President of the Maldives Association of Travel Agents and Tour Operators (MATATO) and 2018 Pacific Asia Travel Association (PATA) Face of the Future named five trends which can drive the promotion of Maldives as a destination; videos, influencer marketing, mobiles, understanding the impact of fake news and storytelling. Ghiyas identified these trends based on key evolutions of hospitality technology. The trends were also based on extensive research and data from various tourism promotion bodies of Asian and Middle East countries.
Ghiyas said: "The number one trend that everybody agreed upon was videos. Videos are expected to represent 82 per cent of all IP traffic by 2021. Videos are one medium that is able to get the attention of the viewers and make a true connection between a brand and its product. As a destination marketer, we need to figure out our video strategy.""We need to start planning and researching on different types of videos such as 360-degree videos, virtual reality, augmented reality videos, and 3D and figure out what would work for the destination. While the video strategy will take a lot of time and effort, at least get a B-roll footage out," he added."If it wasn't for videos, the guests wouldn't be able to share their real-time experiences. In today's world, videos receive the maximum engagement as they are not only compiled with experiences but enhanced with technology that connects them to their community. The Maldives is different for everyone who visits, as it is captured from their vision and experience that's unique and different," said Mark Hehir, CEO and Curator of The Small Maldives Island Co. (TSMIC), who spoke with Hotelier Maldives regarding destination marketing trends.
The second, influencer marketing involves getting influential people from the target markets rather than directly targeting the whole market. These include celebrities, travel bloggers and also content creators on social media. At the Bank of Maldives Hotelier Summit, which was part of the inaugural Travel Trade Maldives event in July 2017, Suresh Dissanayake, Corporate General Manager – Sales and Marketing, Adaaran Resorts Maldives, opined that the Maldives should explore "organising international sporting events and entertainment events as well as using international celebrities" to promote the destination.
The third, mobile responsive websites and integrated smartphone apps are also tipped to be highly influential. "Mobile responsive websites should be the number one priority of any business today. There are about 2.5 billion smartphones around the world today and research indicates that the Millennials are comfortable to plan and book their entire vacation using a mobile device. 50 per cent of all the videos today are expected to happen on mobile devices," he added.
Integrated smartphone apps have already been popularised by Hilton with its Hilton Honours app which brings the Honours experience to your smartphone and provides innovative mobile concierge services to guests. The chain has also pioneered Hilton Honours Access in the Asia Pacific region, a first of its kind guest service in the Maldives that allows guests to go on an 'A Maldives Island Adventure', a new holiday experience that can be redeemed using Hilton HHonors Points at the HHonors Auction Platform.In the Maldives, innovative island resorts such as Amilla Fushi and Kudadoo Maldives Private Island by Hurawalhi (set to open late 2018) are some of the first to introduce in-room iPads for guests to do everything from book dinner to make a personalised island experience itineraries. The use of iPads can help to increase in-room spending through promotions sent directly to guests.In addition, understanding the effects of fake news websites and getting guests to effectively avoid them is also expected to increase the popularity of the Maldives as a destination. This is due to the sustained popularity of news and image led websites which may feature a remote location such as the Maldives, in its entirety, in a negative light. Ghiyas added: "Fake news websites affect all types of businesses today, and tourism is no exception."
Lastly, storytelling is a strategy that brands utilise in order to help their target audience form an emotional connection that will lead them to remain loyal to the brand. "As a destination, if we need to distinguish ourselves from the competition we need to start telling stories," said Ghiyas.
"Each one of us has a story to tell from our experiences, what we had in the past, what is there in the present and what we want to build in the future. If someone shares that with me, like a story, they have my attention," said Mark."Likewise, our guests share their stories on social platforms based on their experiences in our resorts. Our aim is to ensure that each guest leaves the resorts with memories that are stories that can be shared with their close ones as well as on their social channels building on the word of mouth."Ghiyas highlighted on the work of Pacific Asia Travel Association (PATA) who held an interactive and intensive training programme in the Maldives in July 2017. The event, with the theme 'Exploring the Art of Storytelling', has since enabled travel industry professionals in the Maldives to promote this idyllic destination effectively. Ghiyas concluded his speech with a short tourism promotional video by the Tourism Authority of Thailand (TAT). TAT launched a new destination marketing campaign globally titled 'Amazing Thailand Discover Amazing Stories', which explores Thailand through the history of its most popular go-to dish Pad Thai.
The video recreates Thailand's amazing history and culture and allows people to engage with the destination in a new and innovative way. While the Maldives has a rich history of welcoming global travellers, storytelling techniques similar to those used by Thailand's' tourism authorities provide the opportunity to continue building on that. With an ever-evolving destination proposition, there is more and more for global travellers to experience, whether first timers or regulars, which can be brought alive with such campaigns.Similarly, to make the Maldives a top of mind destination for international visitors, the Maldives Marketing and PR Corporation (MMPRC) in February launched an integrated marketing campaign, Story of Maldives, for 2017 and 2018.The campaign focuses on emerging trends such as experiential travel, food, cultural tourism and ecotourism, placing a huge emphasis on utilising the internet and social media to tech-savvy millennials.
Maximising Marketing
One of the main opportunities besides traditional marketing through the travel and PR agencies, according to Jean-Christophe Nager, General Manager of Huvafensfushi–who represented the TSMIC at the Hotelier Maldives GM Forum 2018–are marketing using social media and promoting the property in the way of an experience, while at the same time finding the balance between individual promotion and Maldives promotion as a whole.
Jean Christophe highlighted a marketing plan for Baa Atoll as a regional destination. Since then, six resorts, all located in the central Baa Atoll, have come together ahead of summer holidays to host a joint promotional event to promote the atoll as a single destination.
"We are now taking the complete guest experience to the next level and are confident that this concept will set a trend within the Maldives as being the first Atoll to promote the destination," suggested Jean."Imagine a guest staying in one of the six resorts and getting the opportunity to visit the other resorts for a dining experience during this festival. We are providing not only that but more, with marine biologists' engagement, two-week of activities for the entire family and the experience to travel between the resorts via a short boat ride."The right balance should be sought between differentiating the resort islands and the local islands, as resort islands must still be promoted as a luxury because so much capital, time and effort had gone into developing the resort properties.
Furthermore, according to a destination marketing article in the travel trade gazette, TTG Asia, the "affordable luxury" strategy has proven successful for Plumeria Maldives Hotel, a guest house, in attracting millennial and student travellers, especially the Asian markets as well as the growing price-sensitive markets from Eastern Europe.
Airlift to the destination will also receive a significant boost with the US$800 million project to expand and upgrade the Maldives' main entry point Velana International Airport, also diversifying the type of tourist arrivals to the Maldives through increased numbers of new airlines in the market—such as Alitalia's flights from Rome and Air France's services from Charles de Gaulle Airport in Paris. Airlines such as AirAsia, Scoot, flydubai and SpiceJet flying into Malé, when combined with the shift in accommodation policy, have started attracting midmarket and budget travellers as the destination become more affordable.
With regards to the type of marketing tactics employable, Adam Saleem, Managing Director of Crown & Champa Resorts makes an interesting observation that the one thing that the Maldives offer over any other destination is absolute privacy and the significance of this message to visitors.One of the main challenges, according to Ibrahim Asim, Director of MMPRC who spoke at the Bank of Maldives Hotelier Summit 2017, is on the Maldives exploring organising international sporting events and entertainment events as well as using international celebrities to promote the destination.He said the approach was difficult largely due to the logistical challenges that organising large events would pose to small islands. He added island resorts also face constraints in limited hotel capacity and transport options to cope with large visitor influx.
Andrew Ashmore, Chief Commercial Officer, Coco Collection Hotels and Resorts, who spoke with Hotelier Maldives on destination marketing trends said that the destination marketing in the Maldives is still in its infancy. He added: "It's a cohesive and collective effort. Destination marketing cannot be done by resorts and hotels alone and we have to come together, in working with tourism authorities to elevate it. Good case examples are Egypt, Dubai, Indonesian and Thai Tourism strategies, where hefty budgets are allocated."
Besides the logistical challenge of accommodating a large influx of visitors, Jean-Christophe points out that there's a risk of over-tourism associated with destination tourism marketing. "We have seen many destinations in Asia which have become victims of their own success. Phuket and Bali went to such an extent that they have seen pollution and traffic become major issues in those areas. I think a fabulous advantage we have is the one island-one resort model and we should keep capitalizing on that," he added. Such is the case with Maya Bay in Thailand, a strong contender for the world's most celebrated beach, which is presently closing to tourists for four months in a bid to reverse damage to the surrounding coral reef.