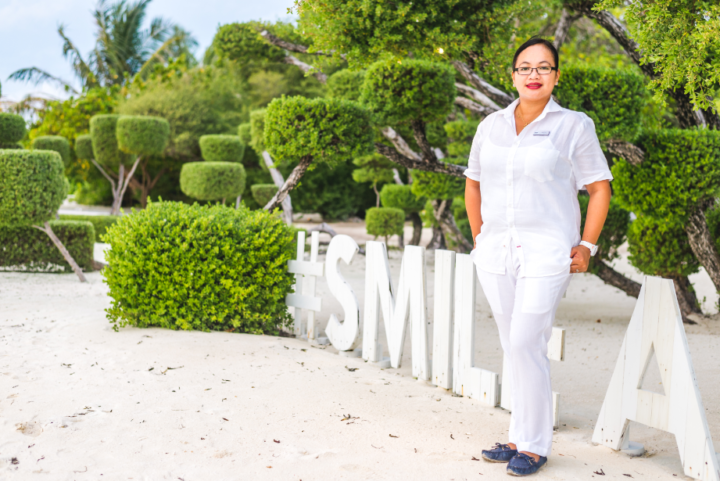 Women in Hospitality: Cherry Cruz, Regional Human Resources Director at LUX* South Ari Atoll and LUX* North Male' Atoll, Maldives
For our latest feature in Women in Hospitality, we speak to Cherry Santos Cruz, the Regional Human Resources Director at LUX* South Ari Atoll and LUX* North Male' Atoll, Maldives. Cherry is someone who has reached and achieved numerous milestones with her career only because of her dedication, commitment and the habit of never giving up.
She is highly skilled in modern Human Resources Administration, pro in Compensation and Benefits, a World Class Recruiter and an HR Strategist.  Her creative ideas and continuous improvement process have assisted LUX* South Ari Atoll to become an employer of choice when it comes to Employee Engagement and Employee Relations.
HM: How did your career begin?
CC: Many of us reach a point in our lives when we cannot figure out what we're passionate about.  When I landed my first job in 2006, I was undecided as to whether pursuing a career in Human Resources was right for me.I was hired as Executive Assistant to the General Manager of One&Only Reethi Rah Resort, a member of the "World's Leading Hotels", then later moved to Human Resources.  I delivered as expected to keep my job, and eventually, I wasn't just working to keep my job.  I started to become more enthusiastic about my job.Alongside my aim to grow, I started to enjoy communicating with people and simply listening to their concerns.
I was happy with my work and with my Team, but I was also desirous of new opportunities. Until today, I must say that good fate always favours me. Eventually, I got a call from an employment agency in the Philippines and was offered the role of HR & Training Manager at Kuredu Island Resorts & Spa, Maldives.
I took the opportunity to work at Kuredu Island Resort and Spa as HR and Training Manager.  That was the beginning. I then moved onto become the Training and Quality Assurance Manager at The Beach House at Manafaru, Training Manager with the pre-opening team for Constance Ephelia Resort in Seychelles, Learning and Development Manager at Taj Exotica Resort and Spa, Human Resources Manager at Velassaru, Maldives.
The biggest challenge and most fulfilling career opportunity came in August 2012 – Director for Human Resources at LUX* South Ari Atoll. In April 2016, I was promoted to Regional Human Resources Director to expand my responsibilities to encompass the two LUX* properties in the Maldives, namely; LUX* South Ari Atoll and LUX* North Male' Atoll.  In February 2017, I hit another career milestone when I was nominated in World HRD Congress as 100 Most Influential Global HR Professionals. I was very thankful for this recognition as I was the very first Filipino in the Maldives who has received this prestigious honour.
HM: You've been with LUX* Hotels and Resorts for nearly six years now, but you were appointed to your position as a regional human resources director in April 2016. Is this what you've been working towards for so long?CC:  I believe my career experience and transitions represent my boundless desire for big challenges.  But honestly, in my six years of working with LUX* Resorts & Hotels, my first position was quite challenging and fulfilling. It was only when the opportunity arose, that I realized that my work has been noticed by the upper management. They entrusted the new position to me.  The Regional Human Resources Director's role has clearly defined my career niche.HM: What are the challenges to rising women leadership in the Asia Pacific, particularly in the hospitality industry?
CC: Imagine a boardroom wherein there are ten men in suits and ties and one woman in a skirt and a blazer.  The scenario itself naturally gives jitters to the woman who then perceives that the winning presentation inside that boardroom is gender-defined.
The lack of diversity, flexibility and versatility in talent development in a company is what keeps women leadership on the sidelines.  Added to this is not much development and training programs are geared towards building women's self-confidence, opening opportunities to widen network connections, stirring critical thinking and practising decision-making.
HM: Tell us more about the hospitality industry management in the Asia Pacific and HR management practices peculiar to the industry?CC: The term should not be "peculiar" but "significant"?  The argument on whether HR practices contribute to organizational performance, specifically in the hospitality industry continues to exist. A hospitality company's strength is founded on its people as its main investment because the company sells high level of services to its guests.Given this, the investment being the employees, they should be well taken care of, trained, developed and kept happy and satisfied.
This is when HR practices come in.  I believe then that there should not be any peculiarity nor insignificance of the HR practices to the organizational performance in any industry, not just in the hospitality industry.
HM: How can HR Managers promote gender diversity and women leadership in an organization?
CC:  LUX* Resorts & Hotels is growing and expanding, and along with this growth, HR's approach to talent development and management is driven by diversity, flexibility, and versatility.  We are currently determining areas in the operations and corporate office where women leadership will contribute to the overall company's objectives.Along with the determination of positions for women, we are likewise developing programs that will touch on confidence building, decision-making, critical thinking, leadership, and networking. With the upcoming opening of LUX* North Male' Atoll, there is a large number of new management positions to be filled and women who are prepared to take on leader roles are definitely encouraged.HM: One of your key criteria is finding an employee with the best attitude at work and strong personality in life. How does this impact the way you hire people?
CC: I have always believed that emotional intelligence overpowers technical skills.  Technical skills are significant, but when it is matched by immaturity and negativity in the workplace, it becomes irrelevant.  A technically skilled employee with a bad attitude will always have issues learning and contributing, while an average-skilled worker whose is open-minded and determined has better chances of learning. In the hospitality industry especially, working well with a team is crucial.  People with the right attitude at work and confidence in themselves will always contribute to good team retention and spirit.
HM: So much for hiring the right people. But how do you build the right team?
CC:  By building a LUX* Culture – Helping People Celebrate Life.  Keeping employees' happy makes a good team.
HM: What are the reward and recognition programs put up in place at LUX* to make employees feel valued, appreciated and motivated for their contributions?
CC:  So much an to name a few, major ones – Monthly LUX* Ambassador Recognition, Staging LUX* Shining Programme, Department Incentive Scheme, Star Card and ongoing tailored made training in our resort as well as various activities we conduct at LUX* South Ari Atoll.
HM: What sort of strategic issues do you focus on?CC: My focus has always been on attracting and retaining a diverse talented workforce.  In the hospitality service industry, efficiency in selecting, recruiting and developing people is the greatest investment. We serve guests; therefore we are banking highly on manpower and facilities to sell our service. Therefore, strengthening and modernizing talent acquisition is the main focus.HM: How do you pass on your experience to your team?
CC:  By creating my own cycle of success for the team, and one day, a successor.  LUX* Resorts & Hotels opened big possibilities for me with all confidence and trust, and I owe my people the same trust and confidence for them to have the key to those possibilities as well.  I train them the way I was trained – delegation, follow-ups, review. I set my expectations and give them the liberty to execute the tasks after. If they fail, I sit down with them and discuss.
What are your plans for the future?
CC:  I am looking forward to coming home for good and establishing an HR Consultancy in the Philippines.  While employment has conferred on me financial solutions and career growth, I am also dreaming of becoming my own boss and developing leaders among my future employees.