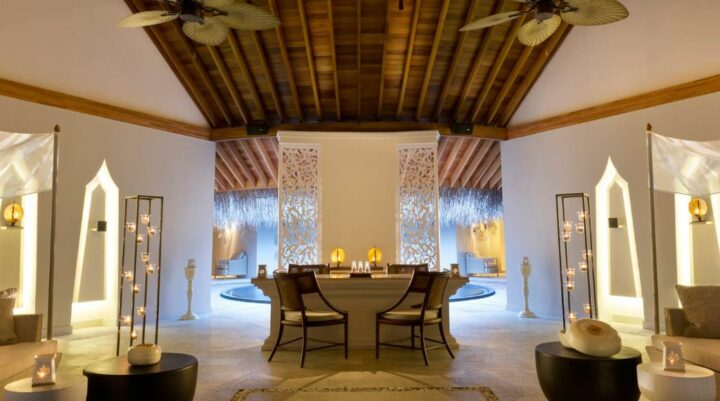 Devarana Spa announces Thai-inspired 'Tamrab' spa packages
Devarana Spa at Dusit Hotels & Resorts worldwide has announced a new programme of spa packages featuring six distinctive treatments conducted using premium ingredients traditionally used in Thai recipes and medicines. Dusit Hotels and Resorts operates Dusit Thani Maldives, a 94 villa luxury property in Mudhdhoo Island of Baa Atoll – Maldives' first UNESCO Biosphere Reserve.
Collectively called "Tamrab", which is the Thai word given to premium, age-old recipes, Devarana Spa reflects this word in all of its treatments by using only the finest products available in a range of massages, facials, herbal baths and more wellness treatments, according to Devarana Spa. This February, Devarana Spa celebrated Valentine's Day and the month of love by offering the "Devarana Sweet Tamrab for Love" package. Inspired by exotic Thai desserts, this treatment is designed to leave the body and mind totally relaxed.
From March to April 2018, the "Devarana Ngmab Tamrab Essence" package will help to refresh any dull summer complexion with its unique mixture of Aloe vera, Thai White Clay and Thai Ngmab – water blended with smoked incense and rare Thai flowers, according to the spa brand. During May to July 2018, the "Devarana Herb Tamrab for Monsoon" will help people prepare for the upcoming rainy season with a herb-infused treatment designed to energize the body and mind.
According to the spa brand, August will see the "Devarana Tamrab for Rejuvenation" package, which, specially arranged to celebrate Mother's Day, is inspired by traditional hot stone treatments given to new mothers in Thailand.  From September to November 2018, anyone who likes to exercise regularly outdoors will benefit from the "Athlete Reviver Devarana Tamrab" package, which is artfully crafted to promote muscle relaxation, prevent injury, and rejuvenate skin after excessive exposure to the sun.
In December, Devarana Spa will draw the year to a sweet finish with a distinctive treatment inspired by auspicious Thai desserts – "Gold Delight Devarana Tamrab." The nutritional and therapeutic benefits of egg yolks, palm sugar, mung bean, and gold leaves are infused with coconut milk and natural exfoliating grains to deep cleanse and nourish the skin, removing dry and dull surface cells too. An aromatic oil massage adds to the relaxation, says the spa brand.
"Tamrab" treatments have been carefully crafted to beautify the skin and bring the body and mind back into balance, according to Dhevarana Spa. They are available at all Devarana Spas in Thailand, Philippines, Maldives, Nairobi, Guam and Cairo. To learn more about Dusit Thani Maldives, please visit dusit.com/dusitthani/maldives.