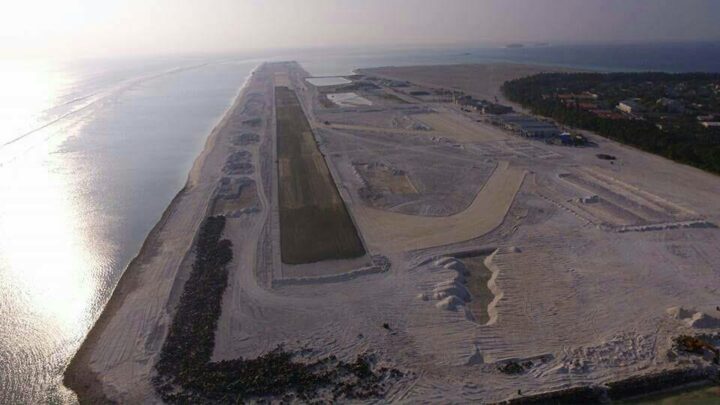 Dhaalu Airport set to begin test flights in April
The Regional Airports office has informed local media that Dhaalu Airport, constructed at Kudahuvadhoo, is set to begin test flights this April. According to the office, test flights are to be conducted before the end of the month though no date has been set for the opening of the airport.
The airport with a runway of 1800 meters is being developed by the Riolo Group and will be operated by Dhaalu Airport Holdings Company.
The airport was developed by reclaiming 64 hectares of land from the Dhaalu Kudahuvadhoo lagoon and according to local news sources, approximately USD 20 million were invested in the project.
Riolo notes that the airport will be much more spacious compared to the other domestic airports in the country. In addition to the airport being spacious, the design of the airport is also said to be substantially different from the other airports in the country.
The most costly portion of the development process is reported to be the land reclamation, and according to the group, the delay in the airport's opening was caused by some aspects of the runway construction not being fully completed.
The new airport is proving to be an employment opportunity for those living in Dhaalu Atoll. A large number of employees have already been recruited in time for the opening with more than 60 of them being selected from Kudahuvadhoo itself.
In addition to creating jobs, the airport will also help in easing tourist transport related challenges in the region. The new airport is yet another addition to the series of air connectivity developments taking place all over the Maldives during the last couple of months.
Additional reporting by Hotelier Maldives' Mariyam Athiza Athif.