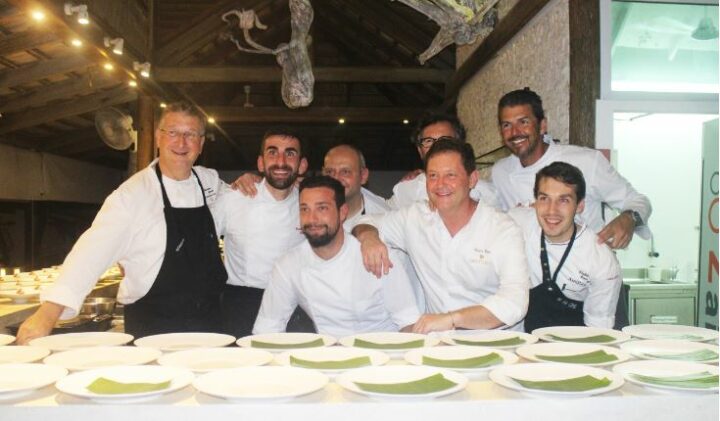 Diamonds Athuruga and Thudufushi host an unforgettable Six Hands Dinner with 3 Michelin Star Chefs
Special guest Michelin Star Chefs Andrea Berton, Carlo Cracco and Enrico Cerea were hosted at the Six-hands dinners at Diamonds Athuruga and Diamonds Thudufushi on January 5th which left the attendees of the dinners dazzled at the marvellous skills of these highly accomplished masters in their craft. These dinners saw the chefs present their signature world famous dishes alongside the Executive chef of Athuruga and Thudufushi Giacomo Gaspari.
An amazing opportunity to witness and marvel at the true quality of Michelin star chefs and why they are so revered in the industry, guests at the resorts were left truly impressed with what they saw and tasted. The three renowned Italian chefs performed in front of the gathered crowd in collaboration, showing off their skills, techniques and different procedures of how they create their works of art.
Starting off with Andrea Berton, he presented food in the elaborate traditional Italian style he is well known for. One of Milan's most decorated chefs he is also the owner of Ristorante Berton and Berton al Lago. Chef Berton prepared the Aperitif with different bread specialities and the first course scallops combined with carrots, almonds and purple popcorn among other ingredients. He also made delightful guinea-fowl tortellini with saffron sauce pasta as his first course.
Chef Enrico Cerea is a name well known as a mark of excellence in the industry. He is also the owner of Da Vittorio restaurant in Brusaporto. Chef Cerea held nothing back as he enchanted the guests with different aperitifs and the main course brisket with American potato cream and pepper gnocchi. He also served a special dessert Midori avocado, coconut, horseradish and yoghurt.
Chef Carlo Cracco, the owner of Ristorante Cracco in Milan, is a leader of the new generation of progressive Italian cuisine. He has garnered worldwide attention at his restaurant in Milan for creative takes on classic pasta made of cuttlefish and pureed salad encrusted in caramelized sugar. During the Six Hands Dinner, he prepared dates with Taleggio cheese and Wasabi.The executive chef of Athuruga and Thudufushi, Giacomo Gaspari also delighted the public with the colourful dessert Craquelin with red fruits mousse.