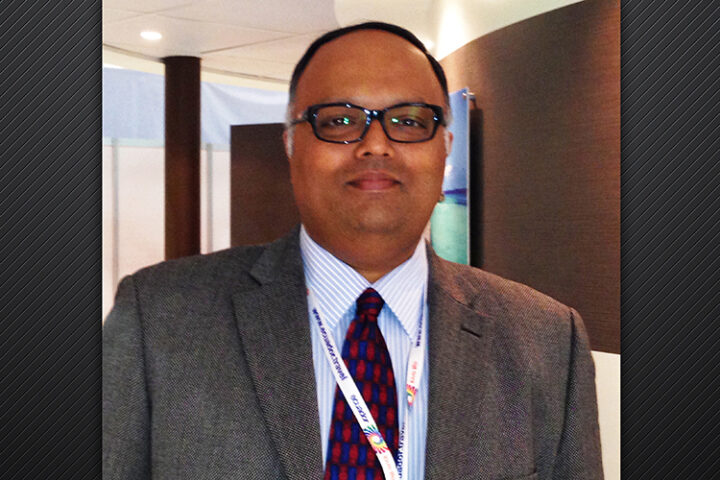 Exclusive: Dinesh Bhaskar, Director of Sales and Marketing at Atmosphere Hotels & Resorts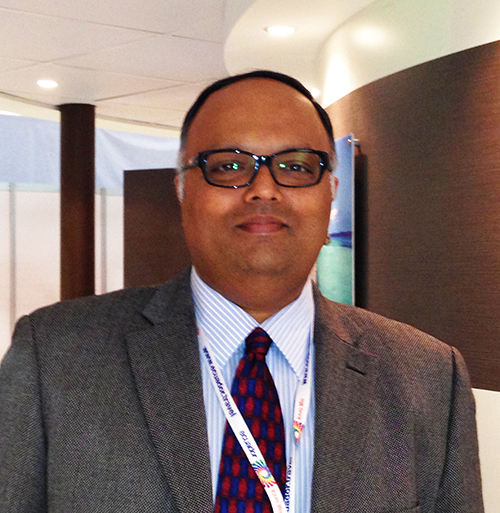 Dinesh Bhaskar – Director of Sales and Marketing at Atmosphere Hotels & Resorts, has been involved with the Maldivian Tourism Industry for the past 21 years. Although his engagement in the Tourism industry has been a lengthy one, his background is in Economics and some of his passions include people management and taking on new challenges. Within the time frame between his arrival in the Maldives as an employee of American Express International and his current position at Atmosphere Hotels & Resorts, Dinesh Bhaskar has worked within the various segments of the tourism industry and these varied experiences has equipped Dinesh Bhaskar with a unique set of expertise and insights. He has served as the Director of Sales & Marketing at Shangri-La's Villingili Resort & Spa, Taj Exotica Resort & Spa and General Manager-Sales & Marketing at Turquoise Experience (Island Hideaway & Lily Beach), as well as the Ground Operations Manager at Maldivian Air Taxi.
Hotelier Maldives: How did you develop an interest in sales and marketing?
Dinesh Bhaskar: It all started off while I was just trying to come up in life. I had finished my graduation in Economics. I was very good in my academics and everybody insisted that I should continue with my Post Graduation, but I decided that it was time for me to work. I am from South India and I just took a train without the permission from my parents and went to Bombay and started off selling various products from the very next day! Within six months, I sold bubble-gum, tea, paints, books; different kinds of products to various market segments. And all these varied experiences, inspired me to become something bigger and stronger. It also gave me the opportunity to grow fast. It all started in 1985 and it's been an amazing journey since.
HM: So what made you come to the Maldives and how did your engagement in the Maldivian tourism industry begin?
DB: In 1989 I joined American Express India to oversee South India Sales and thereafter, moved to Bombay. I was responsible for the entire western region (of India) for selling American Express Credit Cards and Travellers cheques. In 1994, there was this Internal Vacancy Notification for setting up American Express Sales & Operations in the Maldives! I was one of the youngest managers in American Express to apply for this position. There were 19 seniors of mine applying for the same position and I was the 20th. The Management was looking for someone with an absolutely hard-core sales focus along with general management experience and they believed that I was the guy, given my past high performance. So I was recruited as the first formal American Express Employee for the Maldives in 1994 to set up American Express operations in the Maldives. Universal (Enterprises) was the agency at that point of time. The job had its own challenges and opportunities but it was truly an amazing learning curve. After two years I was promoted and transferred to Colombo.
Universal Resorts, who owned and operated ten resorts at that point in time offered me an opportunity to join them, to head the Sales & Marketing team and take things forward. It was certainly a challenge not being from the hotel industry. But thanks to Universal Management and thanks to the Maldives, it has been a great and rewarding journey there after…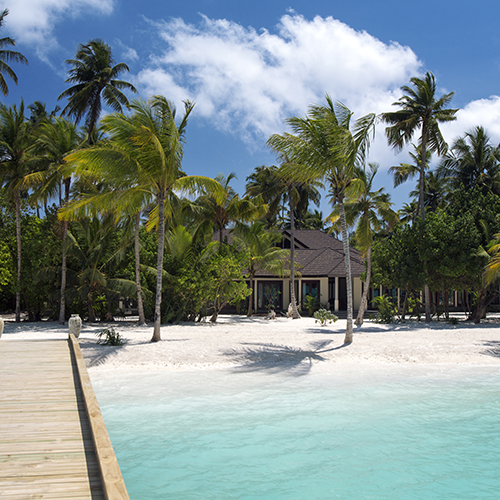 HM: Could you tell us a bit more about your current role at Atmosphere Hotels & Resorts?
DB: I've been involved since the inception of the brand, from a Sales & Marketing perspective. Atmosphere Hotels & Resorts, an Indian Ocean Hospitality brand was launched on 26th February 2013. When we launched the brand, Kanifushi Island was 80% constructed and they were looking for an Operating Manager. We decided to take over the entire operations of Kanifushi and re-branded the resort as Atmosphere Kanifushi Maldives. The resort opened its doors on 15th December 2013 as a premium All-Inclusive resort and within a year, has established itself worldwide as a wonderful unique offering within the Maldives! We are a fast growing, focused and extremely customer friendly Indian Ocean brand, offering genuine value.
HM: One notable feature of Atmosphere Kanifushi is the all-inclusive Platinum Plus package. Could you tell us a bit more about that?
DB: For me, when a customer comes to the Maldives, they are basically stuck on an island. They don't have the alternative to go elsewhere, to another island for dining or otherwise, as it's all very expensive. So, when they are captive to the island, why not excel that experience or elevate the entire holiday experience to a higher level. And this can be done if they don't have to be stressed at all about any kind of additional payments. So what we did was, we worked backwards. We calculated about 90% of the total expense, of what a customer would spend money on, when they are on a holiday in the Maldives. Thus Platinum Plus was created.
In fact, I was responsible for introducing Platinum Plan at Lily Beach when we re-launched Lily Beach about four years back. It was an absolute success because customers love to come to the Maldives and enjoy that hassle-free experience without being worried about that additional expenses. It's very common that when you go to a five star resort, they might charge $7 for a beer, $10 for a coke, $22 for a pizza, $18 for a burger etc. and all this becomes extremely expensive for the customer. Especially when the customer cannot have the option of going to another hotel or restaurant for dining, like in Sri Lanka, Mauritius or elsewhere. So I believe Platinum Plus has really scored points, because of the genuine value being offered.
HM: And what are the main markets that enjoy the Platinum Plus package at Atmosphere Kanifushi?
DB: We believe that there are two specific, different market segments worldwide. One is the growing Chinese customer segment of course and the second critical market segment is the source market who actually dreams of Maldives – Europe. It's a passion or a once in a lifetime experience for Europeans to visit the Maldives. They love the nature, the environment, the goodness of the Maldives. We truly believe that our entire positioning, profiling, the core values of the entire brand caters to the critical needs of the European market. That does not mean that we do not entertain the Asian market at all. Of course we do. But our primary focus will continue to be Europe because they come to the Maldives for a particular reason and we love to encourage this wonderful romantic journey.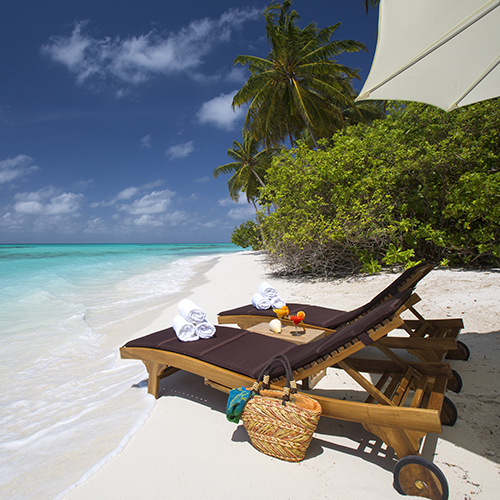 HM: You've mentioned that Atmosphere is launching two more products. Please tell us a bit more about this?
DB: Normally, when we launch a Hospitality brand, it takes time for the brand to settle down and the products within the brand portfolio takes further time to establish itself. However, not only has Atmosphere Hotels & Resorts been successful in positioning & profiling itself correctly in a very short span of time as a respected Indian Ocean brand, but has also been successful in positioning Atmosphere Kanifushi as a popular resort product offering fantastic value, within a year of operations! A journalist has described the resort as "Luxurious and Affordable!". This is precisely the positioning that we wanted to achieve for Atmosphere Kanifushi Maldives and it is a huge potential market segment world-wide.
Given the fact that we have settled in quite fast, we are now launching our first sub-brand under Atmosphere Hotels & Resorts – OBLU by Atmosphere and the first product under this sub-brand portfolio, would be a 4 star superior product at Helengeli Island in North Male' Atoll. This resort will open in November 2015. We are also launching our Luxury sub-brand – OZEN by Atmosphere and all products under this sub-brand portfolio would be a Lifestyle Luxury resort. The first resort under the OZEN by Atmosphere sub-brand would come up in Maadhoo island, South Male' Atoll and will open in Easter 2016. These sub-brands will have their own intrinsic unique values and will also embrace the core values of the mother brand – Atmosphere Hotels & Resorts.
HM: And what would those core values be?
DB: Genuine value, the Joy of Giving. This clearly comes down from the board, the ownership. Everybody involved with Atmosphere Hotels & Resorts have got a common objective: 'Let's not cheat the customer'; 'Let's put our best foot forward in whatever we do and offer maximum value'. Of course Maldives is a premiere destination and of course customers will have to pay a premium price to come to the Maldives, but we will do our best to extend that additional value in whatever way that we can, so as to better the overall experience. For example, last night we had the New Year eve Gala dinner for 400 customers on Atmosphere Kanifushi. It is a well-known fact that every resort in the Maldives charges a surcharge for the Gala dinner ranging from $180-500++ per person. We did not charge a Single Dollar additional! Every customer enjoyed a wonderful night of celebration with fireworks, exotic dances, live music and a fantastic culinary display at absolutely NO extra cost. That's the Joy of Giving at Atmosphere Hotels & Resorts!
HM: So, how big a role would you say sales and marketing plays in a tourist resort?
DB: Sales and marketing has been taken very lightly. Frankly speaking, in the last 7 years I have been very disappointed with some of the new products that have come up in the Maldives. Yes it is beautiful to own a resort or operate a resort. But if you don't know what the customer is actually looking for, it doesn't help at all. Sales and marketing is the core and is your backbone. Without effective market reach & penetration, there is absolutely no point in spending millions of dollars creating a resort, which is not exactly what the discerning customer is looking for. And it's all about positioning. If you do not position your brand & product correctly, it will just not work. I would say from a Local ownership perspective, Universal Resorts and Sunland Hotels, are extremely good in positioning their resorts worldwide effectively, from a sales and marketing perspective. And international brands such as Four Seasons and Conrad I would say have got that fantastic strength in positioning their respective products effectively.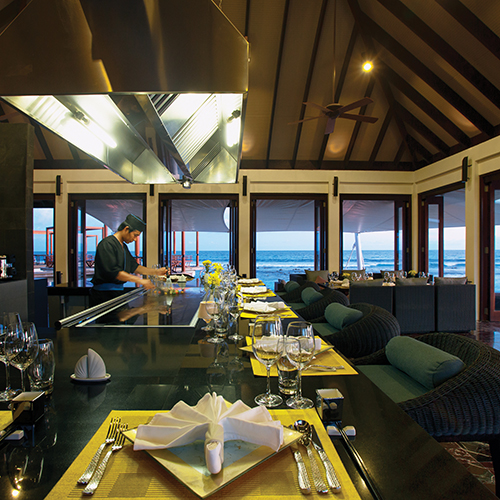 HM: How would you describe the tourism related sales and marketing trends you've observed over the years here in the Maldives?
DB: Maldives, today is an established and highly respected premium destination in the world. From 1996 to 1998, is when the first trend of luxury resorts came up in the Maldives, with the introduction of Four Seasons Kuda Huraa and Soneva Gili, there was a clear new inventory segmentation that came up in the Maldives – Five Star LUXURY resorts. This was a critical game changer in establishing Maldives as a Premium destination and post this, One & Only Reethirah, Sonevafushi, Huvafenfushi were fantastic trend setters. There are many key people who come to mind, who played a key role in creating these wonderful products within the Luxury segment. To name a few, Mr. Sonu Shivdasani ably supported by Mr. Salil Panigrahi by creating the unique Sonevagili & the bare-foot wonder Sonevafushi; then Mr.Kerzner of the One & Only group in designing & investing big money in the ultra-modern & chic One & Only Reethirah; Mr.Tom Mcloughlin along with Universal Resorts management in creating the contemporary & classy Huvafenfushi. I truly believe that these Hospitality experts really helped push the Maldives into a brand new high, from a destination positioning & profiling perspective, worldwide.
And now it is all about sustainability. Making sure that Maldives as a country is politically stable, ensuring that there is not an over-supply situation of resorts and making sure that we continue to be environmentally extremely conscious, would help in a big way in strengthening the premium destination positioning that Maldives has successfully achieved till date. If we are very careful and sensitive regarding these matters, then we should continue to surge forward as a destination – both from a yield as well as Tourist Arrivals perspectives, for years to come. The biggest strength of the Maldives is that 50% of the selling proposition is done upfront from a Sales & Marketing perspective, because of the natural beauty and uniqueness of the Maldives. Stand-alone islands, 365 days Sun with average temperature of 32 degrees, very little inclement weather, great flight connectivity are all fantastic bonuses in ensuring that Maldives is always within the top Beach holiday segment of Tourism worldwide . These aspects are so difficult for many other destinations. The balance 50% why Maldives does well is because of the superior customer service, very high quality of cuisine vis a vis competing destinations like Sri Lanka, India, Mauritius, Seychelles. Maldives can be truly proud of the amazing positioning & profiling, it has achieved over the years.
HM: What would be your assessment of the Maldivian tourist industry in general?
DB: For me, every person who have been involved in the tourism industry has actually done something very integral to make sure that the foundation of the Maldives Tourism Development is fundamentally very strong. If you look at the region – India, Sri Lanka there is always turmoil. One year it is 1.x million (in tourist arrivals), the next year it is 500,000 or 600,000. Sustaining the Tourism development is a big concern for these countries, due to various reasons and most importantly, the country not fully appreciating why it is important to respect, embrace tourism fully. Here is one country – The Maldives, where everyone knows what tourism brings to the country. All critical players play a key role in ensuring that the focus is never lost and that we continue to excel in whatever we do.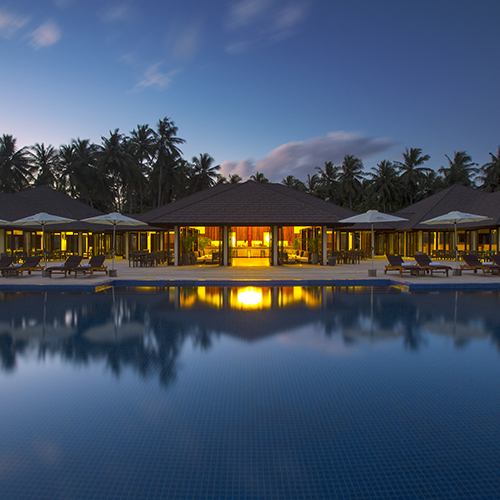 The government brings in the critical political stability; the pioneers & entrepreneurs such as Mr. MU Maniku, Dr.Maniku, Mr.Afeef, Mr.Deen brings in the wisdom of ensuring that the right advise and creative inputs are given to critical decision makers at all times; the local community & expats alike continue to put their best foot forward in ensuring Guest Service Excellence and overall product delivery.
The locally owned resorts as well as International brands have played a critical role in ensuring that new heights are achieved consistently & progressively. Also, Maldives is a destination that most of the famous International brands would love to have within their portfolio, if given a chance and this is a great recognition & positioning for Maldives that many other destinations can only dream of!
I am truly privileged and honoured to have represented the Maldives successfully, from a Sales and Marketing perspective for the past 21 years!