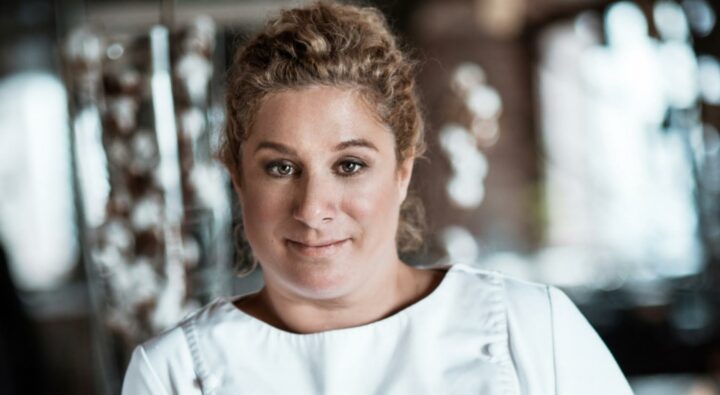 Dining with the Stars – Ana Ros's scintillating performance at Diamonds Thundufushi
Ana Ros, winner of this year's World's Best Female Chef award, delivered a scintillating performance at Diamonds Thundufushi, where some 70 guests were treated to her six-course menu at the resort's overwater restaurant.
The gala dinner saw expectant guests listening intently as the star Slovenian chef explained the menu items in rapid Italian.
The menu was inspired by local and regional flavours, and, characteristically, instead of playing it safe, Ana experimented with local produce and fish to deliver a sumptuous gastronomic experience.
"It would be pointless bringing in Mediterranean or European fare to the table here," she said. "Why not try something more exciting with what's available locally?" Consequently, meat was not featured in any of the courses.
The first item was eggplant and mint salad, with tomato soaked old bread and fermented cottage cheese. It was savoury and tangy, the eggplant acting as a delicious meat substitute, the fermented cheese giving the dish a bite, and the charred bread rounding up the flavours, adding a hint of bitterness and zest.
Another notable item was the grouper, served with daikon, pumpkin mayo and fermented cabbage water. The umami flavour of the grouper was counterbalanced by daikon, with the pumpkin oil mayonnaise adding an earthy note to the dish.
The red snapper with caramelised peanuts, curry leaves, pak choy and local fish dashi was a stunner that nodded to the Maldives through its use of ingredients. The broth was reminiscent of miso but more robust, the peanuts provided delectable sweet notes, and the snapper was deliciously supple.
The dinner concluded with an Aambul banana with Sri Lankan spices and dulce chocolate, sweet and tart, with hints of cinnamon.
Dining with the Stars is a Plan Hotels Group initiative to create an emotional, memorable and unique experience for holidaymakers at their properties, which include Diamonds Thundufushi and Athuruga in the Maldives. The Group is a leading management company specialised in resorts in the Indian Ocean. This year's event is the third in their series of delivering outstanding gastronomic experiences to guests.