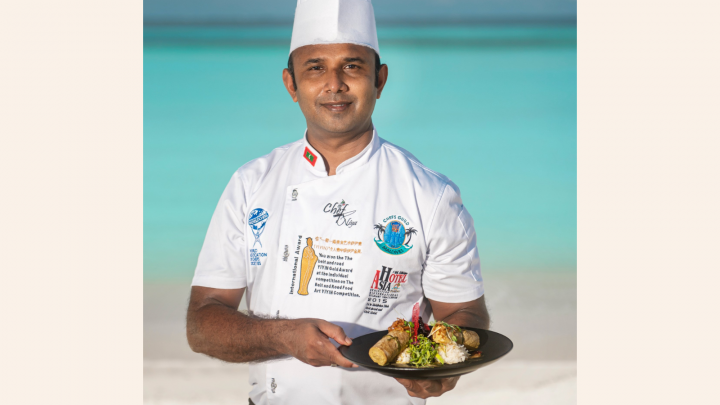 VARU By Atmosphere's Chef Mohamed Niyaz on celebrating authentic Maldivian flavours
Chef Mohamed Niyaz is the Maldivian Chef who has breathed life into VARU By Atmosphere's signature restaurant – Kaagé. In this interview, he speaks about his love for local cuisine and his inspiration. He also shares words of wisdom for budding chefs in the Maldives.
Where are you from?
I was born and raised in the beautiful island of Ha. Dhihdhoo, in the Haa Alif Atoll, Maldives.
When did you first fall in love with cooking?
Even when I was a kid, I used to spend a lot of time in the kitchen with my mom. I was so intrigued by her amazing cooking skills and how she would prepare all sorts of delicious dishes. I would eagerly watch and learn from her every time she cooked. That's what inspired me to become a chef myself.
What motivates you?
Ever since I was a child, I've had a deep passion for both art and cooking. My mother, who is incredibly creative, would whip up imaginative meals. I would often tell her that one day, when I grew up, I would become a chef and cook a special meal just for her. I'm proud to say that I've fulfilled that dream.
Tell us a little bit about your journey in the hospitality industry.
In 2002, I had the chance to embark on my journey in the tourism industry when I began working as a Commis at Hulhule Island Hotel. Over 16 years, I climbed the ranks and eventually held the position of Chef De Partie at the same hotel. Then, in 2019, an exciting opportunity came my way as I joined VARU by Atmosphere as a Sous Chef. Currently, I am honoured to be working as a Maldivian Chef at the renowned Kaagé restaurant, which is the first of its kind in Atmosphere Core.
What are some of your achievements and awards?
Throughout my 20-year career, I have had the privilege of receiving nominations and winning various awards in different competitions and ceremonies. The most recent and special achievement was when I was honoured with the CGM Chefs Award for Outstanding Achievement in 2022. The year 2016 proved to be another successful year, I achieved remarkable accomplishments in international competitions. Securing second place in the Team Challenge and first place in the Foreign Team Challenge at the Chinese Foreign Hotel's cooking competition, CCTV 'The Greatest Chefs.' In addition, I have been participating in the Hotel Asia Culinary Challenge from 2012 to 2022 and have received 12 gold, silver, and bronze awards over the years.
Can you describe Kaagé restaurant for us?
Kaagé is the signature Maldivian restaurant at VARU By Atmosphere. The restaurant is designed as a traditional Maldivian house adorned by heritage photographs and video storytelling. Guests can relish local flavours presented with a progressive twist. We use traditional home cooking methods to ensure the food is fresh, aromatic, and flavourful.
As a chef, what are your preferred local ingredients?
Coconut, pandan leaves, Maldivian chilli, and curry leaves hold a special place in my culinary repertoire.
Which dish would you highly recommend to all guests at Kaage?
There are a variety of local dishes on our menu. I would recommend guests try Gulha, a deep-fried pastry ball filled with smoked tuna or vegetables and flavoured with finely chopped onion, grated coconut, and chilli. And Kandu Kukhulu, our renowned Maldivian tuna curry, stands out as the most exceptional and beloved dish. It is one of our signature specialties and the rich flavours are sure to leave a lasting impression on our valued guests.
What are your plans for the future?
At present, Maldivian cuisine is exclusively available in restaurants within our nation. My aspiration is to present Maldivian specialty cuisine on a global scale.
What guidance would you offer aspiring Maldivian chefs?
To the younger generation, I would like to emphasize that Maldivian Cuisine is truly distinctive, and with unwavering dedication and perseverance, you can achieve remarkable heights. In line with a Maldivian saying, "Fass enburi nubala abadhuves hih varaa eku kuriyah dhaan masahkaeh kuraashey, ehves masahkathaky hadi masahkatheh nooney" (loosely translated as, always strive to move forward with courage, without dwelling on the past, as no task is ever considered insignificant).