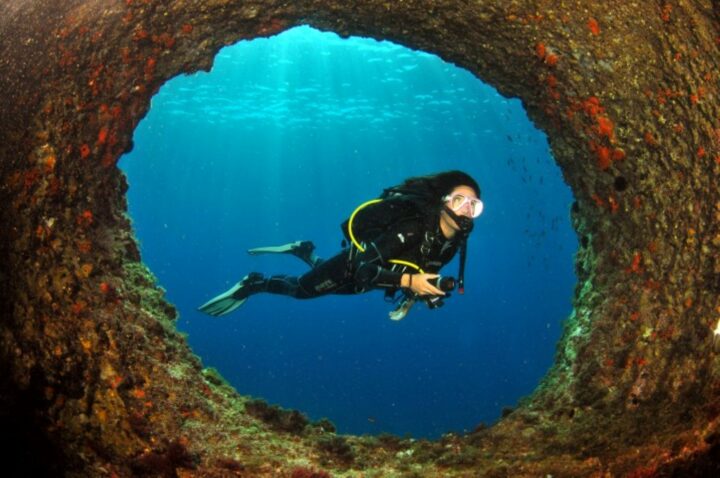 Diving: The Experts' View
Mariyam Athiza Athif
High under water visibility, abundance of fish, and ideal temperatures are just some of the numerous reasons that make the Maldives one of the world's premier scuba diving destinations. All of the tourist resorts in the Maldives offer diving facilities to their guests, and ever since tourists first started arriving in the country, diving has always been an integral part of its tourism industry. Diving is also the third most popular reason for attracting visitors to the country and rated by visitors as the second most enjoyed activity according to the Maldives Visitor Survey published in October 2013 by the Ministry of Tourism. In order to take a closer look at this essential component of the Maldivian tourism industry, Hotelier Maldives met with some experienced professionals from the dive sector. What follows are their thoughts, experiences and forecasts regarding this ever evolving industry.
Role of the Industry
We will begin by exploring their thoughts on why the dive industry plays such an integral role in attracting tourists to the Maldives. Alexis Vincent, Managing Director of Dive Butler International offered a short yet comprehensive analogy: "The mountain tops of the Maldives are underwater", he said. We also spoke with Marta Giannini, Operational Manager at Best Dives Centara Ras Fushi, who has worked here in the Maldives for 17 years. According to her, "when someone starts a diving course they always envision the beautiful aquarium that you have here in the Maldives. So, almost everyone comes here with that dream".
According to Kai Hromadko, Regional Operations Manager of Euro-Divers Maldives, "diving as a part of the tourism industry is the most essential and it offers diversity to the Maldives as a tourist destination. And also the underwater world is unique and special". Dive industry veteran Giuseppe D'Amato, Managing Director of TGI Maldives offered an additional perspective. "Maldives does not allow many activities above the water. Therefore 70-80% of the activities that the people do are based around the diving centre", he says. "People come here and they want something to do. It's not true that everyone would want to sit on the beach and read for 8 hours a day", he added.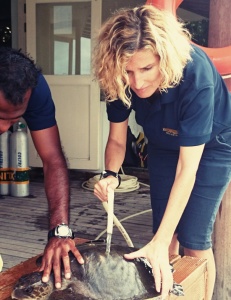 So how does diving in the Maldives compare with the other dive destinations of the world? "Diving in the Maldives is not only unique when it comes to the variety of dive sites and marine life, the arrangement of the resorts set on individual islands and each of them operating a dive centre makes it special for divers. There is not much traffic and a high customer service is provided to create a relaxing diver's holiday. And also due to the high number of different dive sites, the dive spots are usually not very crowded compared to many other destinations", explained Kai. According to Marta, the biggest characteristic of diving in the Maldives is the sea current. "The first time I came here I realised that it was very different to the other countries and also to Italy (where she is from). I know the condition of the water in Italy, colder and darker, and only a few places do have a strong current. Here, one of the main characteristic of the sea is current. The current can create wonderful dives. But we also have to prepare the guests in a way that they will have fun and enjoy the dive, while maintaining a high level of safety with very well trained staff".
Early Days
We are now going to take a look at the early days of the industry and how it has evolved over the years.  According to Giuseppe, when he started off his business 30 years ago, things were very different to what they are now. The resorts and dive operations were open for only about six months a year and electricity was available for just two hours a day.
"At that stage, the dive industry here was at its infancy", said Giuseppe, who also described the scenario back then as being "at the limit of the jungle".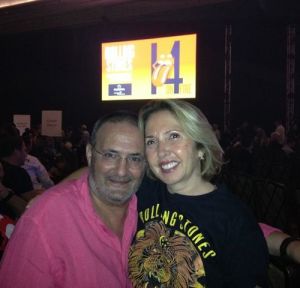 According to Alexis, the entire setting was different, since now most of the uninhabited islands in the more touristic atolls are occupied with tourist resorts, while before, many of them were deserted. "The places we went were really far and the only way to get there were by dhoni, to go somewhere by dhoni would take 6 to 7 hours and we had no possibility of coming to Male' frequently", explained Giuseppe. According to him, running a dive operation now in the Maldives is not something that can be improvised although a lot of improvisations took place during the early years. "We were the pioneers of the industry so things were not established yet. There was no benchmark to work up to", said Alexis. And because of this "it was much easier to put together something that's totally new" added Giuseppe. Marta noted one of the challenges faced during the early days. "All of the equipment was bought from Europe and sent here. And it also took a long time for any spare parts to arrive. Now it's completely different and very, very easy. The biggest companies who sell compressors are here and we can do maintenance very easily", she said.
Giuseppe explained how over the years things got better but also more complicated. According to him, previously, those who ran dive operations would not even think of coming to Male' where else now, it is absolutely a must to have an office in Male'. "With the GST, licensing, paperwork, and all the other things involved it's a full time job. And of course we now need accountants and lawyers and so on", he explained.
According to Alexis, the administrative procedures have grown and now it's more time consuming and more demanding. "They think that to run a dive operation you only need a boat, equipment and an instructor. But that's not true. An instructor today is a doctor, a brother, a parent, a psychologist and an accountant. And yet the interaction with the guest is now getting more and more complicated because the guests now want to be more engaged, they want to be more connected", he said. According to Alexis, earlier, guests carried and took care of their own equipment. "Now it's a standard at five star resorts that all equipment are provided to them, washed for them, taken care of and so on ", he said.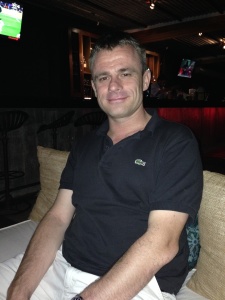 He also noted that the earlier guests wanted to do three to four dives during a day while now, guests most of the time, prefer to do a combination of snorkelling, jet skiing, diving and other water sports during a single day. According to Giuseppe, the type of customers who are hard core divers, are now choosing to go on liveaboards rather than staying at resorts. Giuseppe also noted another major difference. "Earlier when we talk about diving centres, we talk about diving only. Now, diving is a part of it. Because nowadays we do snorkelling, we do water sports and introduction to diving and swimming", he said. Kai noted some relevant changes that came about to the level of service and trends. "Now there is more comfort on dive boats, and not only traditional dhonis are used, but more and more speed boats are being used. There is also a trend to more private diving when compared with many years back".
Everyone who was interviewed agreed on one thing; the change in the market. "The first divers who arrived here were from Europe and they were experienced divers. For this reason, they wanted to see more and more and go deeper and deeper", explained Marta. "Now the guests are mostly from Asia and they are not too experienced. So the work has changed, they start their first approach to diving here in Maldives". Everyone who was interviewed also agreed that a large portion of the current challenges faced by dive operators is due to this change. According to Kai, "the present is a challenging time due to the shift in the market since the new market is not so much at ease with water. We are introducing new pre-diving courses (swimming and snorkelling training modules) to safely bring those new consumers to enjoy diving one day. In parallel, we have to employ new staff who are able to communicate with all new nationalities and adapt our activities to match their demands.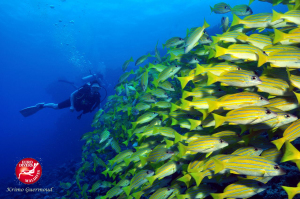 It is important for us to improve communication skills with these new markets and keep competitive offers with the current economic situation in Europe". According to Alexis, one solution for these challenges is constant innovation. "We have to constantly innovate both the hardware and services, and of course the training", he said. Giuseppe noted an additional challenge he is currently facing. "At the moment, the huge problem is importing materials because we are not allowed to have an import license. Every year we need to import something and I have to go to someone else and of course they charge me extra for the things that I am buying", he explained.
The Future
With these changes and challenges, how do these experienced dive operators foresee the future of the dive industry of the Maldives? Marta predicts the future to be focused on the Asian market. "It will be a big operation for training new divers. When they are fascinated with diving they will come back. Many people have already started with the discover scuba diving and they say that the next time they would do the course". Giuseppe makes a different prediction. "With the way the industry is evolving, I think diving will end up being an activity for the safari dhonis, and we will be left with snorkelling, water sports, and introduction to diving courses. I think the hard core diving will keep moving more and more out of the resorts", he said.
In addition to providing a vital service to the tourists who come to the Maldives, according to Kai and Marta, dive centres also play a huge role in protecting the underwater environment and its life forms. "We raise awareness on protecting the natural environment of the Maldives and also play an educational role where all the guests are informed on how to respect and protect the beauty of the Maldives and also on how to minimize their impact on the underwater world, to keep enjoying this fantastic heritage for many years" said Kai. According to Marta, in addition to helping out with preserving the environment, the dive industry also provides great employment opportunities for Maldivian locals. "Many years ago, fishing was the primary resource of the country. I remember when I first came here I visited several local islands and on those islands the people were fisherman. During those days, they never thought of going to a resort or working at a resort. Now this has changed and often the first things they want to be involved in at the resorts are diving and water sports", said Marta.