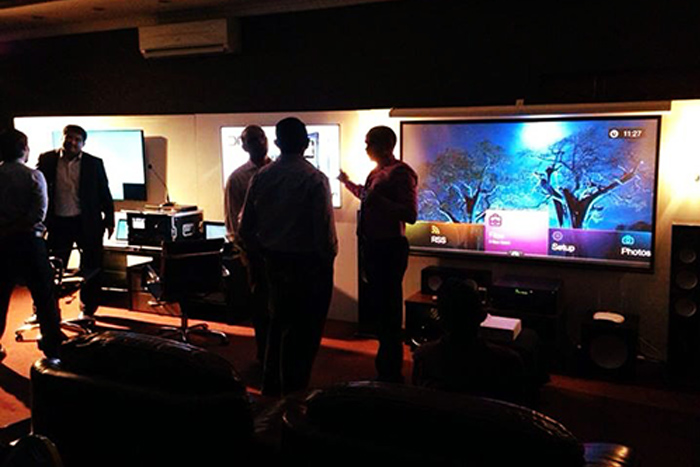 DOAV – Trailblazing Professional Audio-Visual Systems Integrator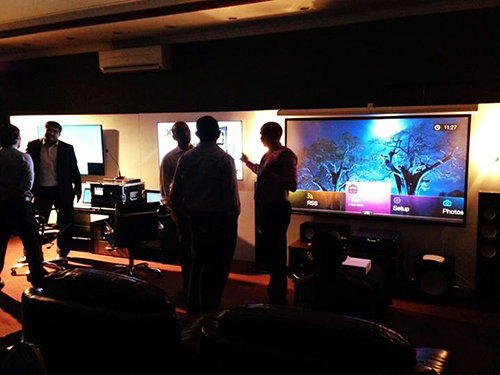 Division Of Audiovisuals (DOAV) enjoys the distinction of being the first certified Professional Audio-visuals (Pro-AV) sys­tems integrator in the Maldives.
Founded in 2010, DOAV introduced game-changing services to the Maldives, such as systems design, installation, and service contracts.
The trailblazing company also trained and developed multi-skilled individuals such as 3D mappers, interface design­ers, application designers, and systems integrators with the know-how in how in electrical, electronic, networking, audio/video equipment.
"We believe, we led the way to create a solution-oriented technology industry in the Maldives," says Shiraz, Managing Di­rector of DOAV.
"We were the first to bring together sep­arate systems and devices (audio, video, voice, data, lighting, security, digital sig­nage, building management systems, shades, and HVAC systems) on a single platform so they can communicate and work together intelligently," he explains.
"We provide the solution that enable cli­ents to monitor, manage and control ev­erything from one platform, anywhere, anytime, using touch screens, remotes and smart devices."
Shiraz notes that DOAV was the first com­pany to introduce enterprise-level video conferencing systems by building dedi­cated infrastructure to facilitate smooth, high-resolution video communication in high definition (HD).
"One other industry we revolutionised was the staging and rentals industry," Shi­raz adds.
"Particularly the video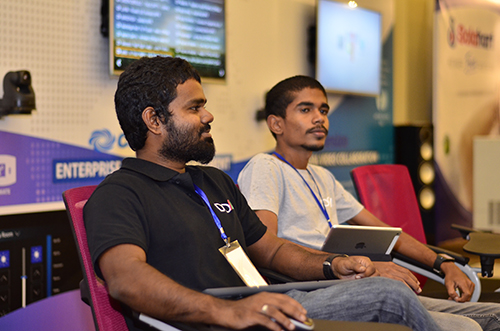 applications with the introduction of image wrapping, pan­oramic projections, 3D mapping and ma­trix switching. DOAV has even conducted international events such as the Maldives Investment Forum 2014 in Singapore."
Further, DOAV actively promotes knowl­edge sharing sessions with government bodies and private organizations, Shiraz notes.
"Annually, we conduct seminars intro­ducing the newest and most applicable technologies for the Maldivian market. These seminars are conducted by DOAV in association with Forbes-listed technol­ogy giants."
The company's flagship projects include the Vommuli Resort, which would be­come the first resort in the country where the whole property is controlled by a sin­gle interface.
The single interface allows for central management of the building manage­ment system, entertainment, and in-room technologies.
"With the lights coming from Italy, switch­es coming from Germany, curtains com­ing from India, and air-conditioning sys­tems from Singapore – DOAV sits at the heart facilitating and coordinating com­munication with all these parties from project start till end, ensuring that all indi­vidual equipment are guaranteed to work as a complete system." says Shiraz.
Other projects DOAV has undertaken include the installation of a centralised 'Interview Recording System' for the Mal­dives Police Service, which facilitates re­cording and sharing of video of over 100 different rooms in more than 100 islands across the Maldives.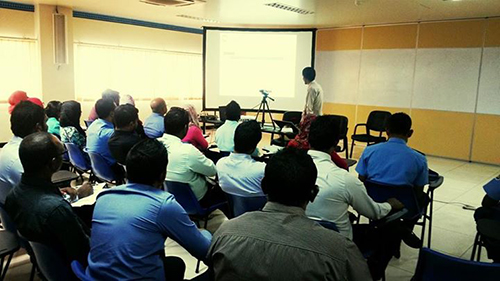 DOAV has also set up outdoor 3D cinemas in a number of resorts in the Maldives.
"These cinemas provide guests with over 20-feet large 3D screens and surround audio that brings movies to life, on the beach," observes Shiraz.
The company's other projects include the installation of a custom-built video recording system for the Anti-Corrup­tion Commission that is integrated with the commission's active directory, and the installation of a virtual classroom in Dhaal Kudahuvadhoo with 3D projection systems and video conferencing rooms to enable distant learning.
Shiraz says DOAV's biggest competitive advantage is its close partnership with leading companies and pioneers in the global technology industry, such as Life­size (first company to introduce HD video conferencing), IndigoVision (first compa­ny to introduce a Network Video Recorder for Surveillance Systems), Kramer Elec­tronics (leaders in Video Signal Manage­ment) and Crestron (leaders in Control Systems Automation).
"By closely working with these experts, we are always up-to-date on the latest technological advancements, we receive the best training/development from technology experts and we stay ahead of competition by providing enterprise-level technologies at very competitive pricing," explains Shiraz.
Of particular usefulness to the hospitality industry are integrated solutions that en­able state-of-the-art real estate solutions including centralised control of equip­ment.
The technology allows remote lighting and shade control, audio/video distribu­tion, room scheduling, and security on a single platform.
With our soluations, the management of an entire property is at the fingertips of the person in charge, who could eas­ily check everything from the number of vacant or occupied rooms to how many light are switched on.
The technology is also eco-friendly, deliv­ering break-through environmental con­trol and significant reduction of energy usage.
"Imagine a tourist, upon entering her villa, opens up the windows to enjoy the view. She doesn't think to turn off the AC, nor the lights. That would put a lot of pres­sure on the AC and ergo consume a lot of energy, which can be reduced," explains Shiraz.
"We can program the system so that if the doors and windows are open, the AC's don't turn on. If there is light pouring in through the open windows, the lights in­side will be only consuming 20% of ener­gy. These things can be controlled to pro­vide the best energy saving system."
The multinational companies and inter­national hotel chains that operate most of the high-end luxury resorts in the Mal­dives have their corporate headquarters all across the globe. Effective commu­nication between corporations and the resorts located in remote islands in the Maldives is therefore of paramount im­portance.
"But how do we do that?" asks Shiraz. "Sure, a phone call is really convenient way to talk to a person in another part of the world, but not when it comes to busi­ness. You can't share statistics, go over ideas or mull over your problems via a phone call. You need to be able to gauge their reaction to a bit of news and every­thing like that, which really isn't all that feasible through phone calls."
With Lifesize's video conferencing solu­tions, constant and costly travelling becomes unnecessary. Lifesize offers high-quality video conferencing for pre­sentations and "face-to-face" staff meet­ings across continents.
Video conferencing allows corporate businesses to meet new clients, interact with business associates, and maintain essential relationships over vast distanc­es.
DOAV is also the exclusive systems inte­grator for Indigovision in the Maldives. Indigovision is one of the world's leading solutions provider in security & surveil­lance.
Indigovision's technology eliminates the burden of storage for security foot­age. The security system programme is renowned for its exceptional resilience. With unique distribution architecture at its foundation, the system is fully scalable and comes with a lower cost of owner­ship.
In addition to distribution, Indigovision also manufactures both hardware and software.
Indigovision's "Activity Controlled Frame Rate" feature promises significant savings in terms of storage space, up to 272GB/month. The programme's board analytics drops the frame rate to 1fps (frame per second) when there is little or no motion, as opposed to the 25fps video capture rate when it detects motion.
The innovative feature reduces storage requirement from the normal 300GB a month to as low as 28GB/month.