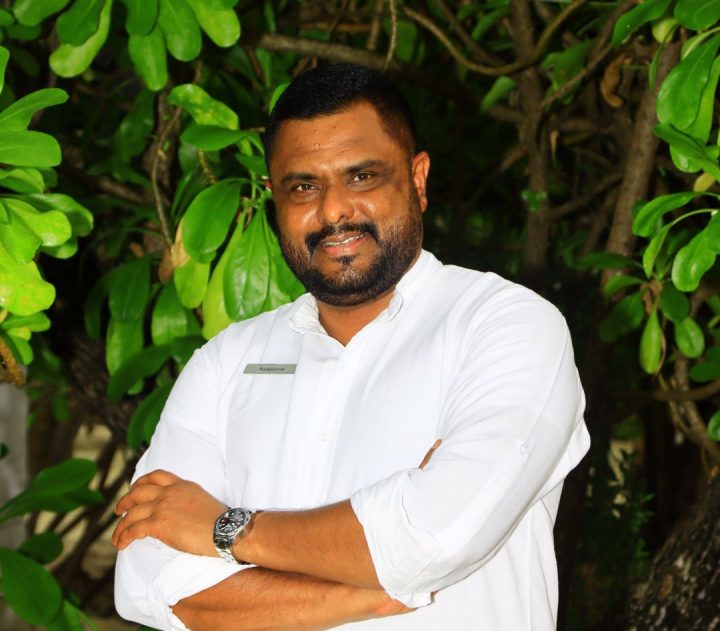 GM's View: Cinnamon Dhonveli Maldives' Sanjeeva Perera
For our GM's View segment, we sit down with Sanjeeva Perera, an experienced General Manager with an impressive track record in the leisure, travel, and tourism industry. Perera holds an MBA with a focus on Business Administration, Management, and Operations from the University of Wolverhampton. He has been recognized for his exceptional achievements in the field, including awards and leadership positions in various hospitality associations. With a career spanning over two decades, Sanjeeva's extensive experience has taken him to different roles and destinations. He is currently serving as the General Manager of Cinnamon Dhonveli Maldives, known as a fun, family oriented resort as well as a leading destination for surfers and exceptional guest experiences. In this interview, we delve into Sanjeeva's career journey and his role as the General Manager of Cinnamon Dhonveli Maldives.
Hotelier Maldives: Thank you for joining us today, Sanjeeva. Your career in the hospitality industry is truly remarkable. Could you start by telling us about your journey from your early days in hotel management to your current role as the General Manager of Cinnamon Dhonveli Maldives?
Sanjeeva Perera: Certainly, I appreciate the opportunity to share my journey. My career in the hospitality industry began with a solid foundation, graduating from the Ceylon Hotel School & School of Tourism. I then ventured into various roles within the industry, including acting as Front Office Manager and Assistant Manager at different hotels. I joined the John Keells Group of Hotels as a Management Trainee, which was a pivotal step in my career development.
My journey brought me to the Maldives in 1997, where I served as the Front Office Manager at Velidhu Island Resort. After returning to Sri Lanka and assuming key leadership roles in renowned hotels, I had the privilege of returning to the Maldives in 2017, this time as the General Manager of Cinnamon Hakuraa Huraa and later I moved to Cinnamon Dhonveli Maldives. Over the years, I've witnessed the incredible transformation of the Maldives into a world-leading destination, and it's been an exciting and fulfilling journey.
HM: Your career has certainly been marked by diverse experiences and notable achievements. As the General Manager of Cinnamon Dhonveli Maldives, what are the key responsibilities and challenges you face in managing a resort in the Maldives?
SP: Managing a resort in the Maldives is a unique and rewarding experience. At Cinnamon Dhonveli Maldives, my primary responsibilities revolve around ensuring the resort's overall success and smooth operation. This includes overseeing various departments like front office, housekeeping, food and beverage, and maintenance to ensure they operate efficiently. I work closely with the executive team to strategize for enhancing guest experiences, increasing revenue, and managing costs effectively.
Managing a resort in an island also comes with its challenges. We must be vigilant about environmental conservation to protect this fragile ecosystem. Logistically, sourcing supplies and talent can be challenging due to our remote location. Yet, the rewards are immense, from witnessing guests create unforgettable memories to working with a dedicated team who share a passion for this paradise.
HM: It's evident that your role encompasses a wide range of responsibilities. Can you share some recent initiatives or developments at Cinnamon Dhonveli Maldives that you are particularly excited about?
SP: Regarding sustainability, our commitment to reducing our environmental footprint is unwavering. We've taken significant steps towards this goal, achieving 95% of our target in eliminating single-use plastics from the island. We're proud to have initiated coral reef restoration efforts through partnerships with local organisations, working diligently to rejuvenate these vital ecosystems.
In our day-to-day operations, we prioritise sustainability. Our commitment extends to the use of recycled paper for printing and opting for sustainable materials in various aspects of our resort's functions.
Furthermore, we are actively engaged in a coral propagation program to support marine conservation efforts. In collaboration with the International Finance Corporation (IFC), we are funding a 2.5-year research program to study the marine environment, examining factors such as underwater energy levels, currents, temperature, and salinity.
As part of our broader community engagement, we are partnering with the National Drug Agency to establish an art gallery. This gallery will serve as a platform for individuals in recovery from addiction to showcase their incredible talents and sell their artwork, promoting both rehabilitation and artistic expression.
HM: Those initiatives certainly align with the evolving preferences of travellers and the importance of sustainability. Finally, Sanjeeva, could you share a piece of advice or a motto that has guided you throughout your illustrious career in the hospitality industry?
SP: One enduring motto that has always been close to my heart is "Service with a smile." In the hospitality industry, our guests' happiness takes precedence above all else. A warm and genuine smile can wield incredible power, transforming a guest's experience into something positive and unforgettable. Moreover, I firmly believe in the transformative potential of continuous improvement. It's essential never to cease learning and adapting to meet the ever-evolving needs and expectations of our valued guests. Our industry thrives on passion, dedication, and the art of crafting enduring memories, and I feel privileged to be a part of it.
At Cinnamon Hotels, we are committed to nurturing talent and fostering career growth. We have a structured career development program that empowers our associates, from junior team members to senior managers, to climb the ladder of success. Currently, our resort manager is engaged in the LEAP program, which stands for Leadership Enhancement Acceleration Program, and includes the pursuit of an MBA. Upon completion of this program, he will be well-prepared to ascend to the next echelon of his career as a General Manager.
HM: Thank you for sharing your remarkable journey and insights with us today. It's been a pleasure speaking with you, and we wish you continued success in your role at Cinnamon Dhonveli Maldives.
SP: Thank you for having me, and I look forward to welcoming more guests to our little piece of paradise in the Maldives.