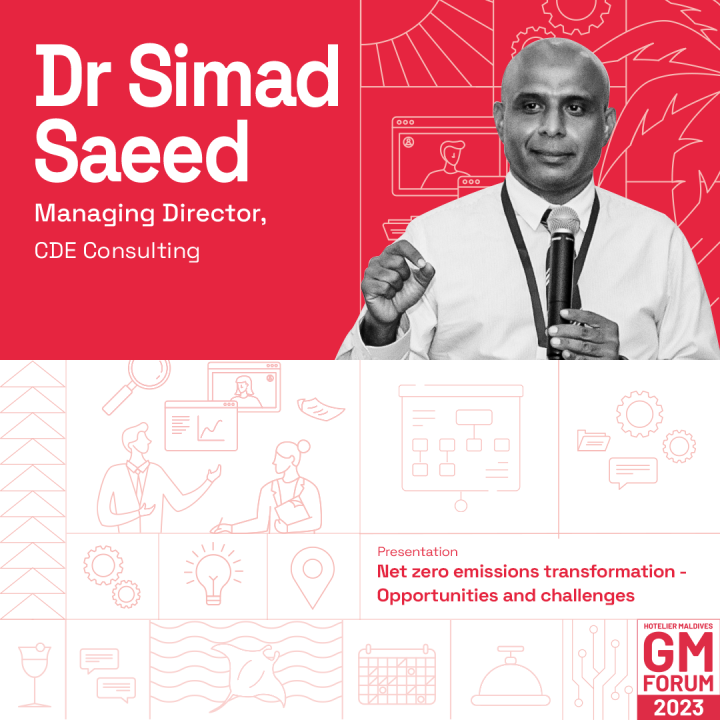 Dr Simad Saeed to highlight net zero transformation at Hotelier Maldives GM Forum 2023
Hotelier Maldives, the leading tourism and hospitality publication in Maldives, has announced that Dr Simad Saeed, the Managing Director of CDE Consulting, will deliver a presentation titled "Net Zero Emissions Transformation – Opportunities and Challenges" at the upcoming Hotelier Maldives General Managers (GM) Forum 2023. The event is scheduled to take place at Bandos Maldives on October 19, 2023.
With his extensive experience and expertise in tourism within the Maldives, Saeed is a leading researcher who specialises in strategy, sustainability, and social innovation within the industry. He will address the pivotal topic of transforming the Maldivian tourism sector towards net zero emissions, offering insights into both the opportunities and challenges this transformation entails.
"We are thrilled to have Dr Simad Saeed joining us at the Hotelier Maldives GM Forum 2023. His presentation promises to shed light on the crucial journey towards achieving net zero emissions in the Maldivian tourism sector, offering valuable perspectives on both the prospects and hurdles this transformation presents," Ali Naafiz, Editor of Hotelier Maldives, said.
The Hotelier Maldives GM Forum 2023, which is the most anticipated event for hoteliers in the Maldives, will be held at Bandos Maldives resort on October 19, 2023. The forum is expected to attract over 100 hoteliers from various resorts and hotels in the Maldives. This year's forum is sponsored by several leading companies in the hospitality sector, such as Ooredoo Maldives, Fuel Supplies Maldives, Far Horizon, Bestbuy Maldives, Manta Air, Coca-Cola Maldives, Alia Investments, Villa Hakatha, Swimsol, Souvenir Marine, and more.