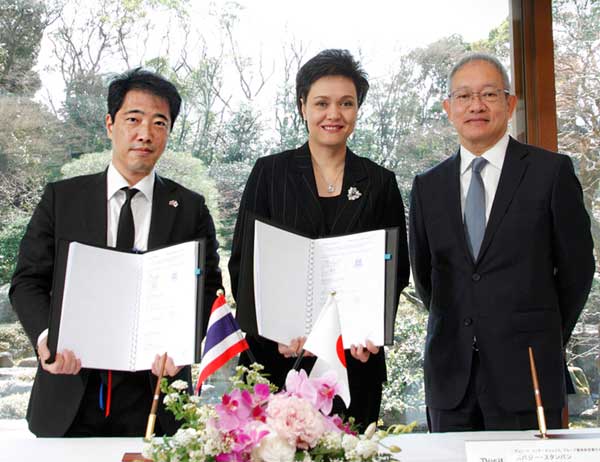 Dusit International joins hands with Japanese E-hotel chain
Thailand based Dusit International has partnered with Japanese E-hotel chain operator Colours International to create Dusit Colours Co. Ltd., hotelnewsresource.com reports.
This venture marks Dusit's debut in Japan. Dusit Colours will develop and operate Dusit-branded lodgings and hotel management related education.
The two companies are expected to develop a distinctive hotel franchise model incorporating the best of Thai and Japanese hospitality.
The majority shares of Dusit Colours are held by Colours International (51 per cent) while Dusit International holds 49 per cent. This joint venture company will explore opportunities in strategic locations in Japan, including major cities, for the five-star Dusit Thani brand. The company will also projects to be added to the other portfolios of the Dusit brand, such as DusitD2, DusitPrincess and Dusit Devarana.
Dusit intends to capitalise on Japan's popularity with travellers; it is among the top ten destinations in the world. The country saw an average growth of visitors by 33 per cent per annum from 2011 to 2015. In January, Japan's January visitors hit a record high of 2.3 million. The country is expected to maintain this upward trend, especially as it hosts the 2020 Olympics. This means good news for Dusit International, which will make the most of these opportunities.
"Two core areas for Dusit's profitable and sustainable growth include balance and expansion," said Suphajee Suthumpun, Group Chief Executive Officer of Dusit International and Director of Dusit Colours. "In the next three years we aim to broaden our portfolio to have more than 50 per cent of our operations outside of Thailand, and entering key markets such as Japan will be essential to reaching this goal. We are delighted to partner with Colours International for this joint venture. Their local expertise and knowledge will prove invaluable as we explore projects designed to delight visitors and residents alike in Kyoto."
Yoshihiro Matsumoto, President of Colours International, said, "Both Dusit International and Colours International are known for delivering distinctive hospitality inspired by the cultures of their native countries, so there's a real synergy between our operations. We look forward to making this joint venture a resounding success."