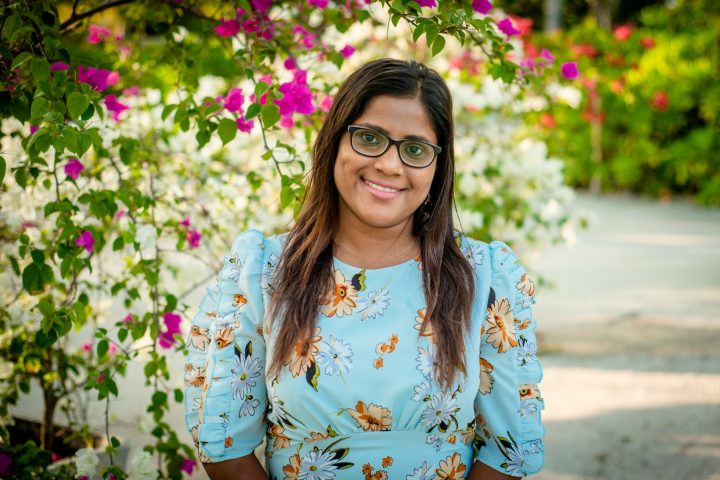 Shaima Ali Appointed Group and Marketing Manager at Four Seasons Resort Maldives
Shaima Ali has been promoted to the position of group and marketing manager at Four Seasons Resort Maldives at Kuda Huraa.
Shaima entered the hospitality industry at the age of seventeen when she graduated the Four Seasons Apprenticeship program with training in all areas of Rooms Division, where she specialized in Reservations for six months. To broaden her experience in the tourism industry she had also worked at Emirates Airlines as the reservations / ticketing agent and Travel Agency Intour Maldives at the reservations department.
Her Four Seasons career truly began in 2010 when she re-joined Four Seasons Landaa Giraavaru as a reservations agent.
In 2013, she was promoted as a reservations supervisor and subsequently worked her way up to become an assistant reservations manager looking after reservations department at the Four Seasons Maldives collection.
An opportunity opened up at sales and marketing at FS Kuda Huraa and she decide to make a move as a marketing executive in July 2018 to gain further knowledge in field. This January, she was promoted as group and marketing manager.
In her new role, Shaima is responsible for managing groups and events of both Four Seasons Resort Maldives at Kuda Huraa and Landaa Giraavaru. She is also in charge of Public Relations, Media, Press and Travel Agent visits related to Four Seasons Kuda Huraa. Shaima is also the Sales in charge for Maldivian DMC Accounts of the Four Seasons Maldives collection.
"I am very proud to reach the level of Department Head of an amazing company such as Four Seasons Hotels and Resorts – even more prouder to be Maldivian woman.
"I hope we have more girls joining this industry and working their way up the ladder," she says. "I aspire to be a leader with humility, compassion and one who motivate others to be better." Shaima's personal motto is "to be somebody who makes everybody feel like a somebody".