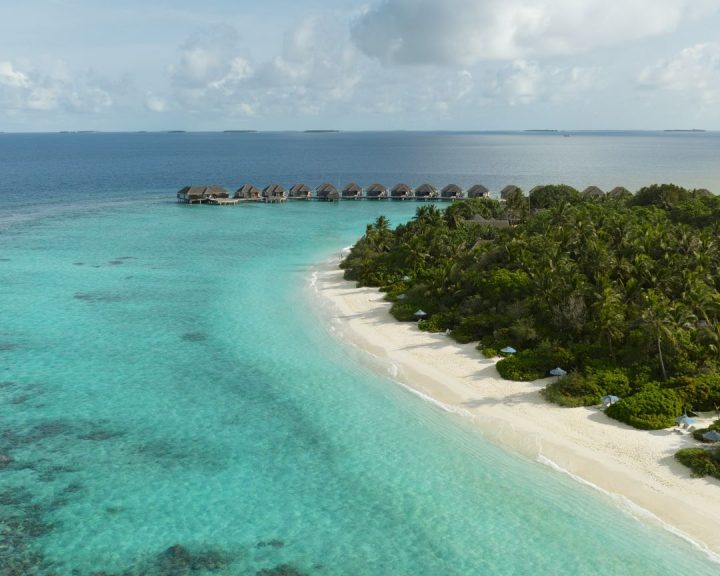 Dusit Thani Maldives awarded Google Eco-Certification for sustainable tourism initiatives
In a bold move towards bolstering its sustainable initiatives, Dusit International has unveiled its group-wide sustainability program, 'Tree of Life,' alongside the notable achievement of Dusit Thani Maldives receiving the distinguished Google Eco-Certification. The resort's unwavering dedication to sustainable tourism practices and environmental preservation has garnered recognition through this esteemed accolade.
The recently introduced 'Tree of Life' program encapsulates Dusit International's vision for sustainability, presenting actionable steps that its various business units can adopt to make meaningful contributions to the environment, their workforce, and the communities they engage with. The program, meticulously crafted by Dusit's Sustainability Committee, is anchored in 31 criteria that align with specific United Nations Global Sustainable Development Goals and industry-specific benchmarks. These criteria are organized across four levels of accomplishment and encompass elements related to Environment, Social Responsibility, and Governance (ESG), thereby ensuring the group's properties operate in the most sustainable manner possible.
Nestled amid the picturesque landscapes of the Maldives, Dusit Thani Maldives is celebrating its acquisition of the esteemed Google Eco-Certification. This recognition amplifies the resort's tireless endeavors to promote environmentally conscious hospitality practices and to curtail its carbon footprint, all the while elevating guest experiences to new heights. This accomplishment not only underscores the establishment's steadfast commitment to providing a harmonious blend of luxury, nature, and responsible tourism but also cements its position as a trailblazer in the field.
Expressing the resort's pride, Mr. Reinhold Johann, General Manager at Dusit Thani Maldives, stated, "The Google Eco-Certification is a testament to our profound dedication to environmental preservation and responsible travel. This acknowledgment inspires us to continue pioneering sustainable tourism, both in the Maldives and on a broader scale."
The resort has demonstrated its commitment through an array of impactful initiatives aimed at mitigating its environmental impact and fostering the well-being of the local ecosystem, including:
Energy Efficiency: Dusit Thani Maldives has strategically invested in energy-efficient systems, such as solar panels and LED lighting, significantly reducing its energy consumption.
Water Conservation: Employing advanced water management strategies, the resort has minimized water consumption by employing desalination processes and water-saving fixtures.
Marine Conservation: The resort is actively involved in coral propagation programs and regular reef clean-ups, contributing to the preservation of the Maldives' delicate marine ecosystem.
Community Engagement: Collaborating with local communities on education and sustainability projects, the resort actively cultivates a sense of environmental responsibility while supporting the livelihoods of nearby residents.
Waste Management: Prioritizing waste reduction, recycling, and responsible waste disposal, Dusit Thani Maldives seeks to prevent land and ocean pollution.
The Google Eco-Certification serves as an emblem of Dusit Thani Maldives' dedication to ecologically-friendly operations. By securing this prestigious certification, the resort aims to galvanize its peers in the hospitality industry to embrace sustainable practices and play their part in safeguarding the planet.
In an exceptional feat achieved in 2022, Dusit Hotels and Resorts emerged as the pioneer in Thailand's hospitality landscape to source 100% organic jasmine rice across all of its properties. The initiative not only endows guests, customers, and employees with nutritional benefits but also nurtures sustainable income for local communities through direct purchases from small-scale farms in northeastern Thailand. The company's endeavors also encompass procuring cage-free eggs for select hotels, with imminent plans to replicate such initiatives as part of its ongoing supply chain enhancement.