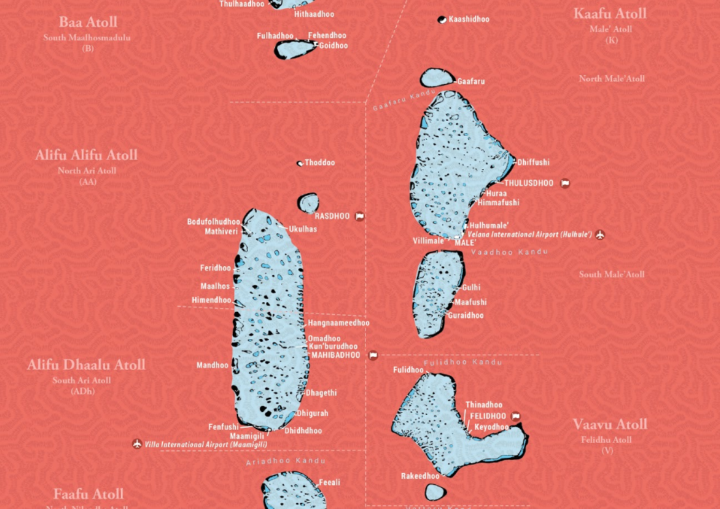 Eatoll's living coral map – an artistic message!
A group of creative and artistic youth came together inspired by Google Maps. When the map of Malé incorporated in the Google Maps was outdated and inaccurate, this clique brainstormed on creating a much updated and an accurate map of Malé. Hence, Eatolls was formed.
They began as an experimental online project, providing free geo-location-based data, and currently enables address searches of 16 islands across the Maldives. This unique creative brand has put its creativity into test by introducing several attractive informative products.
The background of this map is in PANTONE Living Coral. "It is of an animating and life-affirming coral hue with a golden undertone that energises and enlivens with a softer edge". The background is then fused with the pattern of Brain Coral, which act as bedrocks of reefs. Atolls of the Maldives are illustrated in the foreground in a pale turquoise hue representing the soothing surface of our crystal blue seas.
This meaningful product has immense significance with our environment.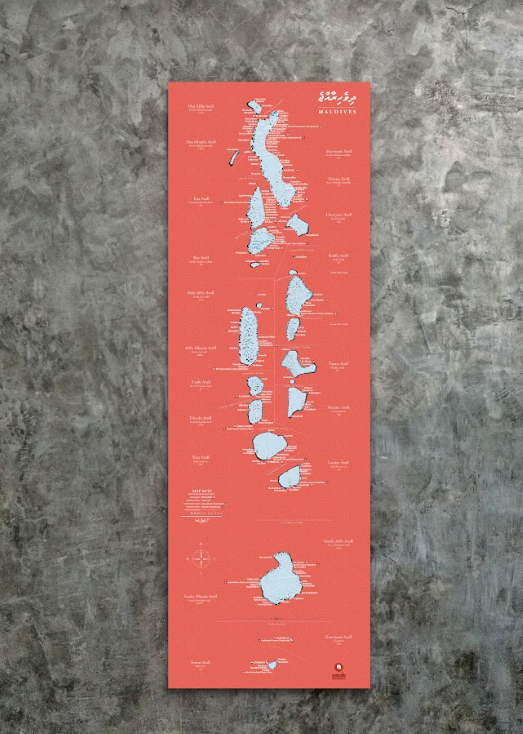 1. BACKGROUND THEME
1.1 COLOUR
The background colour represents PANTONE 16-1546 Living Coral. PANTONE describes this colour like a vibrant, yet mellow hue which embraces the warmth and nourishment to provide comfort and buoyancy in our continually shifting environment.
PANTONE has been influencing us with "Colour of the Year" for the past 20 years, influencing product development on various industries. PANTONE Living Coral reminiscent how the coral reefs are a safe home to the multicoloured, natural animation underneath the sea.
1.2 PATTERN
Brain Corals displays "Polyps" – the living tissues of the corals integrated with each other. These are long-living organisms in healthy environments. Scientifically, several advantages are proven to the high association of the coral polyps with one another. Such as easy communication with the colony via molecule transfer (nutrients, hormones and oxygen). Additionally, the risk of spread of pathogens within the colony is high when polyps are completely-integrated. This may lead to mass mortalities. Furthermore, pollution by mankind highly contributes to the death of coral reefs.
2. SIGNIFICANCE OF THE THEME
For an island nation like the Maldives, a theme representing the Living Corals have high impacts. We are responsible to make our community aware of the importance of healthy life underneath the water.
Eatoll's initiative to blend this theme into its Wall-Map has impressed us. The fear of diminishing reefs is a huge concern. If the reefs are not properly cared for, we may not exist in the years to come. With this limited edition of "Living Coral Map," we hope to raise awareness on the importance of healthy-living coral reefs.