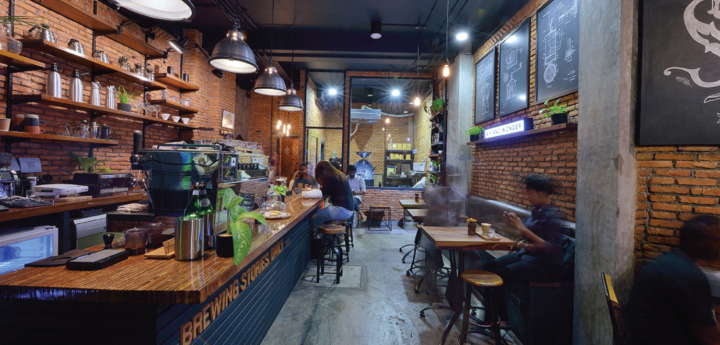 The story behind Meraki Coffee Roasters
Coffee is considered to be one of the most common beverages of the world. While some people need a cup of coffee to begin their day, most are usually unaware of the amount of work that goes into brewing that perfect cup.
'Meraki Coffee Roasters' located in Male' City is the first commercial coffee roaster in the Maldives. Meraki offers authentic, freshly roasted coffee from different parts of the world.
Hotelier Maldives had the privilege of meeting with the young and energetic team behind Meraki; a team that is enthusiastic about enlightening the community about the spectrum of nuances and flavours of coffee along with the amazing stories behind every cup they brew.
The young founder of Meraki, Mabrouq Azeez has always had a strong passion for gastronomy and coffee. His love for exploring and experimenting with coffee in search of the perfect cup, eventually led to the opening of Meraki, a full Maldivian brand, serving specialty coffee.
The Greek word "Meraki" means the embodiment of passion, soul, creativity and the essence of the art within a certain product or thing. From the modern rustic interior of inviting red bricks surrounded by hand made furniture, from the art of roasting and brewing of coffee to the final ambience, Mabrouq has carefully curated an experience that gives a very personal touch to Meraki, making it one of the most interesting places to enjoy coffee in Male'.
According to Mabrouq who is trained by the Specialty Coffee Association of America, the key to what Meraki does can be described as Specialty Coffee; an approach that focuses on working with coffee through a deeper and more scientific understanding of the coffee bean.
This sort of humility in approaching coffee is very important. Coffee in fact is one of the most complex drinks; it contains over 800 flavour changing components that bind together to create over 150 flavours and aromas. Meraki serves coffees from all over the world according to seasonality.
Usually they carry at least 9 different nationalities of coffee offering a wide variety of choices for their coffee clients. Their main coffee sourcing principle is to always focus on offering freshly harvested specialty grade coffee and a diverse selection of coffee beans and flavours that are farmed with careful ethical considerations with a high regard to traceability.
Meraki is also dedicated to carrying coffees that are Organic Certified. "When buying our coffee, we make sure that our coffees are fully traceable and everyone involved from farm to cup are well compensated," says Mabrooq. Meraki purchases most of its coffee from incredibly small farms, in Brazil, Columbia, Guatemala, El Salvador, Indonesia, Ethiopia and Kenya which are usually available throughout the year. They also have specialty coffee coming in from Panama, Rwanda, and Costa Rica along with many more.
"We recently bought coffee from a cooperative in Rwanda called Musasa Mbilima. In addition to the great work that the cooperative does with quality improvement and assurance, they also have various social programs that greatly contribute to the livelihoods of their members. School fees and medical insurance are provided along with training in quality and productivity in cultivation of coffee. We love buying coffee with stories like this," Mabrouq says.
Meraki is run by a young team of 7 members below the age of 30. Meraki's well-trained Baristas could easily be one of the most knowledgeable team of Baristas within the region. Meraki also boasts of having a 100% Maldivian team behind their operation. Their strong love for the art of coffee makes them dedicated in exploring further into the world of coffee.
Currently the Lead Roaster in Meraki is Mabrouq followed by his colleague Leevan. "Becoming a Professional Coffee Roaster & Barista is many years of coffee science. It takes 3-4 years to actually season as a roaster," Mabrouq explains.
Meraki has a hand built coffee roasting machine specifically designed for the style of roasting practiced by Meraki. They follow precision-based coffee roasting with the help of software, and thermoprobes designed for consistency in repetition.
The beauty of Meraki is that they appreciate the amount of work that goes into coffee. According to coffee professionals, around 2000 hours of work and labour goes into serving us a single cup of coffee. In order to celebrate the hard work of coffee farmers, every coffee in Meraki is served with a small card; one side shows the variety of coffee, origin and the altitude it was grown, on the other side is the story of the farmer who grew it, passing them the credit they deserve.
Maldives is well known for its collection of luxury resort brands from around the world, offering exclusive single origin wines, cheese and teas from the best regions, however the availability of speciality coffee in Maldives is fairly limited.
"In Maldivian tourism one of the cool things which I hear my friends talking about are the amazing wine houses, really cool tea houses, their incredible service and food. I think there is space somewhere out there also for incredible coffee and I am looking for those people to work with," Mabrouq says.
Meraki has successfully operated one year in Male' and are looking forward to find the right partners within the luxury travel industry to collaborate with. Their team offers Bean to Cup Solutions along with Training and Support to their affiliated clients.
Starting from January 2017, Meraki is ready to cater to large clients such as resorts who require locally roasted, speciality coffee. They offer One Stop Solutions via the Meraki team, from consultations on how to design a coffee bar to set-up, training and finally serving the cup of coffee. Their love for coffee, their strong passion for educating the community regarding the art of coffee, and the interesting stories behind every bean has definitely changed the perspective towards the coffee industry among their clients.