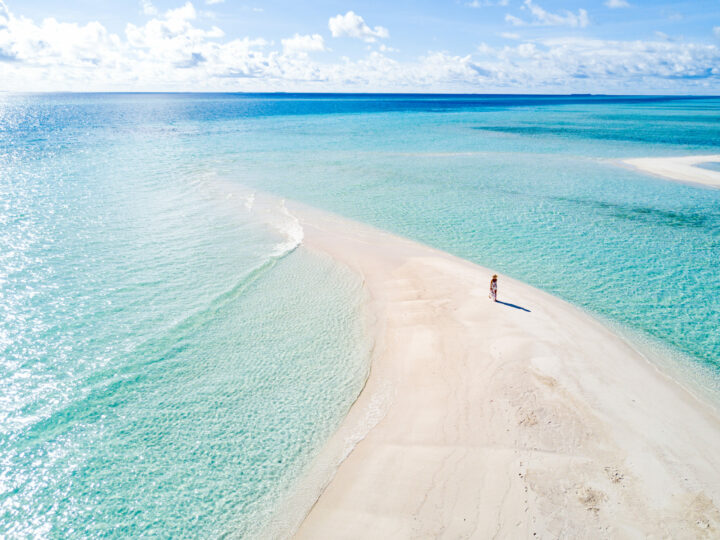 Emerging Destinations: Dhaalu Atoll
Dhaalu Atoll – Your next travel destination. Located in the central Maldives and relatively new to welcoming the hospitality industry; opening its first resort in the late 90's. Dhaalu is a quiet corner with excellent diving and snorkelling. With its population of about 5000 spread across seven inhabited islands.
How do we classify a destination as emerging?
When a destination claims to be 'the place to visit, we may call them 'emerging'. However, a place which is slightly off-the-grid from the usual travel destination could also be classified as emerging as it starts to gain significant recognition. Looking deeper into the phrase 'emerging destination', this could also include those places that are a must see; before it becomes overrun with the snap happy travellers excited to post every moment of their holiday on social media.
The Maldives is hailed as the ultimate paradise by many worldly travellers. With over four decades of successful tourism, the country now has more than 150 resorts in operation, spread out across the archipelago. This article highlights Dhaalu Atoll in particular as a key new emerging destination within the Maldives.
Dhaalu Atoll – corresponding geographic atoll 'Nilandhe Atholhu Dhekunuburi', located in the central Maldives welcomed the hospitality industry relatively recently; opening its first resort in the late 90's. Dhaalu is a quiet corner with excellent diving and snorkelling points. With its population of about 5000 spread across seven inhabited islands, its capital Kudahuvadhoo is the largest island – a busy fishing hub and home to the domestic and only airport of the Atoll.
The number of resorts opening within the Atoll is gradually increasing over the last few years. Adding to this is the development and operation of the domestic airport in the middle of the year 2017. As a result of the opening of the domestic airport in Dhaalu Kudahuvadhoo, there has been a notable influx of tourists flying into Dhaalu Atoll.
For a refreshing and unique experience, travellers can stay in one of the relatively untouched resorts in Dhaalu Atoll.
ANGSANA VELAVARU
Surrounded by crystalline Indian Ocean waters, Angsana Velavaru is located in the idyllic South Nilandhe Atoll – a short 40-minute seaplane flight from Male. An oasis of tranquility, this desert-island delight has recently undergone an extensive refurbishment, offering guests an enhanced level of luxury in authentic Maldivian surroundings.
Located in the centre of its own lagoon, the island boasts a stunning 1.2mile long stretch of silky powder white sand beach which gives way to magnificent turquoise waters and a house reef boasting 30 amazing dive spots. On the island itself, accommodation is offered in Beachfront Villas – many of which have been newly renovated, and some offering spacious new infinity pools overlooking the ocean.
A short boat ride away and located completely separate to the main island, guests can enjoy a true overwater experience in one of the gorgeous InOcean Villas; with a separate seating area, private sala, ocean-suspended hammock, rooftop terrace, outdoor infinity pool and pool deck with direct access to the coral reefs, these two-storey villas offer a truly romantic and luxurious escape from everyday life. Angsana Velavaru offers several dining options, including gourmet Italian cuisine at Azzurro restaurant, the freshest of seafood catches at Funa, European and Asian-inspired delights and themed buffets at Kaani restaurant and a new Maldivian al fresco dining concept at Magoo Garden.
For those guests looking to be a little more adventurous, why not escape for a night on the resort's own 'Castaway Island' – complete with your own personal chef and Robinson Crusoe-style bungalow. With "101 Activities" on offer ranging from Marine Lab conservation projects, a pampering treatment in the award winning Angsana Spa or simply relaxing on a sun lounger soaking up the island's beauty, Angsana Velavaru truly has something for everyone.
BAGLIONI RESORT MALDIVES
Baglioni Resort Maldives – offers a comprehensive and an unforgettable stay with a blend of sports, relaxation and prestigious gourmet dining to suit its exclusive international clientele. Opened on August 1st 2019, this five-star destination is a top luxury resort for a one-of-akind blend of easygoing beach vibes and luxury Italian style; operated by Baglioni Hotels and Resorts, Italy.
The elegantly furnished villas are surrounded by beautiful beaches, coconut palms, crystal clear waters and panoramic sunset views. This magnificent resort is overflowing with natural tropical beauty.
This property offers beautiful beachfront and overwater accommodations created with the renowned Italian attention to detail. A variety of food and drink is available to delight the most discerning guests, all in the signature Italian style. Guests can choose from a lively pool bar and three excellent restaurants which serve gourmet meals and also a vast kids menu which caters to younger guests. The dining experience is complete with luxurious aperitivi, wine tastings and personalised private dinners.
Relax and regenerate the body and soul by luxurious rituals in the Baglioni Spa. Guests can enjoy sharing beauty and wellness experiences with loved ones.
A forty-minute seaplane ride from Velana International Airport will transport guests straight to Baglioni Resort Maldives.
HOTEL RIU PALACE MALDIVES
Hotel Riu Palace Maldives – An all-inclusive five-star resort which opened in summer 2019 in the private island of Kedhigandu, Dhaalu Atoll. One of the highlights of this resort is the pool which is one of its most charming places, as it has stunning 360 degree views of the sea with a swim-up bar. For a fun and exciting experience Riu Palace Maldives guests have also access to next door Riu Atoll hotel (All- Inclusive four-star), offering a wide range of activities and venues for all ages such as Stand-up Paddle Yoga, Aeroyoga, TRX, games with the animation team, RiuLand Kids Club…and many more!
Each room at the resort offers sea views. Guests can enjoy access to a garden and a private beach area. Hotel Riu Palace Maldives, operated by RIU Hotels and Resorts, Spain, offers an exceptional range of cuisines that ensures to delight its well-travelled guests. The main restaurant serves buffet breakfasts, lunches and dinners with live cooking stations. Additionally the resort provides Japanese and fusion cooking restaurants where guests can enjoy delicious à la carte dishes during dinner time. Other dining outlets include the Italian restaurant and the steakhouse, as well as the Boats bar open 24h with all drinks and snacks included.
Hotel Riu Palace Maldives is accessible by a forty-five minutes flight from Velana International Airport, followed by a fifteen-minute motorboat transfer from Dhaalu Airport (Kudahuvadhoo Domestic Airport) to complete the journey. For guests willing to feel an extra experience during their vacation, the hotel also offers a direct seaplane flight connection from Malé to Riu.
This selection of resorts located in Dhaalu Atoll presents a fresh travel innovation to the pristine Atoll with its evolving tourist movement. Emerging markets are the future of the hospitality industry. Dhaalu Atoll as an emerging tourist destination will soon penetrate the booming Maldives hospitality industry, which is set to invite further property developments.
KANDIMA MALDIVES
Kandima Maldives – a modern, playful, fun and affordable concept resort for mid-income tourists has now taken shape in Dhaalu Atoll. This five-star resort's vibrant tropical vegetation and the natural beauty of its lagoon are fused with a contemporary design concept which has gained the resort popularity since its opening in early 2017.
This resort is much more than just a holiday. With ten incredible Food and Beverage outlets and plenty of on-site activities to choose from, this game-changing destination offers a very stylish island atmosphere. Guests can start the day at Aroma with fresh beverages and baked goods. Sea Dragon restaurant serves authentic Chinese cuisine while Forbidden Bar entertains with live music in the evening.
Situated on Dhaalu Atoll's largest island, Kandima Maldives has a long outdoor swimming pool, an array of water sports and a large beach club. For the fitness enthusiasts, Kandima Maldives' gym is the place to be, providing guests with personal trainers and conducting classes including anti-gravity yoga, Zumba, aquabike classes and POUND® fitness lessons.
Guests can indulge in massages, facials and a range of local signature treatments for total relaxation. With the increasing number of family travellers, parents can leave their kids under the careful supervision of talented and highly qualified multilingual child care professionals at Kandima Kids Club.
Guests can arrive at the resort after a thirty-minute flight from Velana International Airport followed by a twenty-minute boat ride. The resort offers studios and villas complete with an outdoor terrace, private pool and endless tropical views.
NIYAMA PRIVATE ISLANDS MALDIVES
Niyama Private Islands Maldives – an intimate, one-of-a-kind experience, in a very private setting. The destination offers the luxury of choice with twin islands – Play and Chill.
At Play: Frolic in the treetops. Rush into the infinite horizon. Kick things up a notch in villas set on white sands and tailored to adventurous honeymooners, active couples and families alike. Play was opened in early 2016.
At Chill: Revel in a peaceful moment within the cocoon of Drift Spa. Explore culinary haven offshore. Soothe your soul to the slow rhythms in the over water villas. Lounge against the flowing oceanscape in an underwater playground which was opened in 2012.
Niyama Private Islands Maldives is operated as a subsidiary of Minor International. The resort boasts a twenty-four hour spa on request and the world's first underwater nightclub. The resort offers a variety of cuisines with 6 restaurants and 4 bars for guests to choose from. This luxurious tropical paradise offers a quiet private beach and comprehensive Thakurus (butler service). The rooms at this five-star resort include luxurious beach pool villas, over water pool villas and suites.
Guests can experience Drift Spa which offers relaxing body massages and a range of beauty treatments. This property hosts a world-class Kids Club which is one of the largest and the only Kids Club that caters to children from twelve months to twelve years.
Niyama Private Islands Maldives is just forty-minutes away from Velana International Airport via seaplane, while Dhaalu Airport is now open for private jet transfers that can be arranged at an additional charge.
ST. REGIS MALDIVES VOMMULI RESORT
St. Regis Maldives Vommuli Resort – the first St. Regis resort located on a private island, set on nine hectares of lush tropical gardens, soft white sand and a sparkling turquoise lagoon. This five-star luxury property is operated by Marriott International.
All guests will enjoy a personalised and tailored St. Regis Butler Service. The spacious villas and suites at the property are complete with a private pool, the latest in-room technology controls and floorto- ceiling windows.
Delight in exquisite surroundings over Italian, Chinese, Japanese, Indian and other International cuisines. St. Regis Maldives offers six distinct dining locations including a pop-up café, an overwater tapas bar and excellent wine dinners in the Decanter cellar. In addition, a Middle Eastern menu and halal food is available to cater to the increase in Middle Eastern travellers. Suspended over-water, guests at Iridium Spa can relax and enjoy full body massages, Ayurveda therapies and hydrotherapy.
St. Regis Maldives Vommuli Resort is a forty-five minute scenic seaplane flight away from Velana International Airport.
SUN AQUA VILU REEF
Sun Aqua Vilu Reef – a five-star boutique resort with the ultimate luxury beach, operated by Sun Siyam Resorts opened in 1998 as Vilu Reef Beach & Spa Resort. The resort was fully refurbished and branded under Sun Aqua in late 2015. This resort aims to bring it's guests so much closer to the unparalleled natural beauty of the Maldives, with its lush green vegetation and cozy atmosphere.
The property offers spacious villas, an outdoor main pool and an on-site diving center. Guests can enjoy the gym to maintain their fitness during their holiday or spend time getting pampered in the tranquil setting at Sun Aqua Spa. Two restaurants are available for a scrumptious dining experience. The Aqua serves an international buffet, while Well Done offers an à la carte menu consisting of fresh seafood and local dishes. Drinks can be enjoyed at The Nautilus Bar and Positive Energy pool bar. For a much grander experience the resort offers Wine Cellar dining and also private beach setup with a personal chef.
Sun Aqua Vilu reef is accessible via a thirty five-minute seaplane transfer from Velana International Airport.