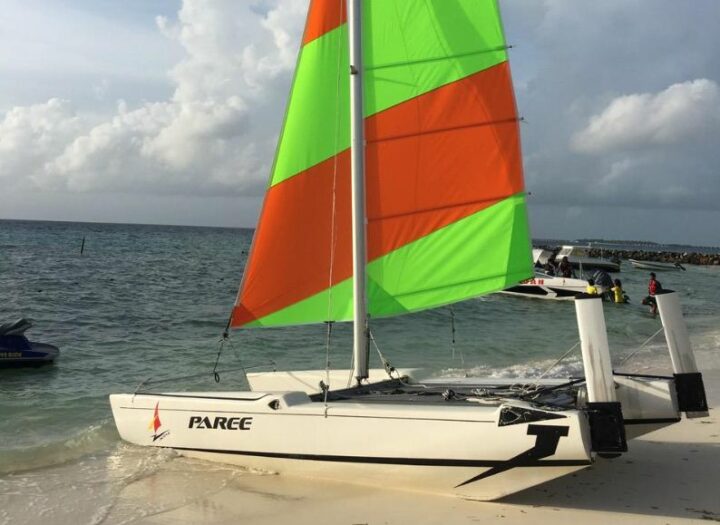 Equator Sail: Reviving the passion for sailing
Back in the 70's with the introduction of the first marine engines in the Maldives, the industry was taken over by this revolutionary technology, making way for a more efficient mode of transport. Within the past three decades, the traditional sail boats along with the art of sailing and sail making have almost become another lost chapter of our history.Equator Sail LLP is an authentic Maldivian company which has specialised in the production of world- class cruising and racing sails which are manufactured in the Maldives. Currently their main products are windsurfing and catamaran sails produced in a small studio based in Malé.Hotelier Maldives was invited to their studio to meet Ahmed Rasheed, commonly known as "Kokko Ahmed", the charismatic, talented sailor behind this artisan production. We had the privilege of meeting him and his elder son Kevin Adam who are hands on involved in the business.
Ahmed began his tourism industry career in 1986 with the completion of his Dive Master Program conducted by UNDP which was held at Velassaru Island. In 1987, he began working as a dive guide on-board Safaris operated by Phoenix Travels. "They used to organise trips from the north to the south of the Maldives. The voyages were three to four weeks, and my responsibility was to dive with the guests, keep them safe and show them the best spots," said Ahmed.While working on safaris, he met Michaela Feltham. In 1990, he started sailing and after getting married to Michaela, they had a vision of starting their own water sports company, which was the beginning of Blue Sea Water Sports.Blue Sea Water Sports opened first at Mahchafushi, followed by Holiday Island, Hilton Rangali, Angaga Island, Vilu Reef, Velaavaru and Veligandu Island."In the 90s we began making sails on request basis. We started repairing our own sails damaged from our water sports centres and slowly started to repair the sails of our friends. Then we began to make sails on request basis, which was the beginning of Equator Sail," said Ahmed.Their first sail making studio was based in Maamingili, Ari Atoll. Their biggest challenge in Maamingili was that it was too far from Malé and clients had the difficulty in bringing their sails for repair. Then they moved to Vilingili, Kaafu Atoll and finally now they are based in Malé to accommodate to their growing customers."Blue Sea Water Sports does not exist anymore, it is almost coming to an end. We have completely shifted our business more towards manufacturing of sailing equipment, as we saw that it was much needed since no one else is making sails in the Maldives." Said Kevin. He is an experienced windsurfer like his father and was responsible for operating the Holiday Island base on behalf of the company.
Equator Sail has their own design series of Windsurfing sails. "Mula 4.0" was named after the first Nakaiy of Iruvai (North-East Monsoon) and "Viludholhi 2.5" is a special series of Windsurfing Sail designed for children, which is smaller in size.Their designs consist of contemporary bright neon colours which are very attractive and visible from afar. Even though they have launched their own series, they are still very much dedicated to providing the service of repairing for their customers. They do repairing work on Kites, Catamaran Trampolines and any other kind of sails.According to Ahmed, most of the sails to the Maldives are imported from Germany, however, today they are proud to say that they are able to make high quality sails up to German standards at Equator Sail.
The raw material needed for their production are carefully selected from trusted sources and imported from the UK, USA, Germany and other parts of Western Europe.They are highly dedicated in using top quality materials trusted by industry experts for their production.Their sails are made out of Dacron, a synthetic material specially designed for sails. The sewing is done with Dacron threads. "These threads are very strong, there is no way that it can be pulled and damaged. It can withhold a lot of pressure. It is specially designed for salt water and sunlight exposure. It is a UV protected thread," Ahmed added.
Joints of the sails are carefully sealed with Draft Strip Tape and locking zig zag stiches are sewn on top of the draft strip tape further securing the joints.Monofilms are used for the transparent potions of the sail depending on the thickness required by the user. According to Ahmed, usually thicker Monofilms are used for beginners and thinner ones are used for more experienced windsurfers.Self-taught, Ahmed began his own stitching of sails with his own hands on experience with sailing and creativity. "In the early years, I began stitching by learning on my own, today the internet does play an important role in helping me improve my sails" Ahmed added.
"Currently I have a trained assistant who makes the sails for me."I always closely monitor his work and guide him to finish it up to our standards. He has to make sure there are no visible thread joints on the sails," said Ahmed. They give high priority for a strong, neat end-product.
Their process of production comes with their strong passion for sails along with their knowledge and vast experiences, as a result each sail is a very personalised product.Equator Sail believes that they have an added advantage in producing these sails in comparison to commercialised factory made sails. They can spot and identify any issues with it since they are experienced sailors involved in the process of making their sails. Their clientele includes a number of resorts in the Maldives. With the boom of guesthouses and water sports centres based in local Islands, they have special discounts and instalment schemes to support small businesses.
Equator Sail's newest venture is their boat yard in Thilafushi Island. This boat yard is specifically dedicated for building only sail boats and repairing of catamaran hulls and sail boats."I began this work to conserve our traditional sailing. Today the Maldivian Kuda Dhoni has disappeared. My vision is to get Maldivians interested in sailing once more," said Ahmed.
They have plans to build Maldivian Kuda Dhoni's which could be used by two to three people. The moulds are designed by Ahmed. They are expecting to begin production around July 2018.
Equator Sail can be contacted on +960 785 3706