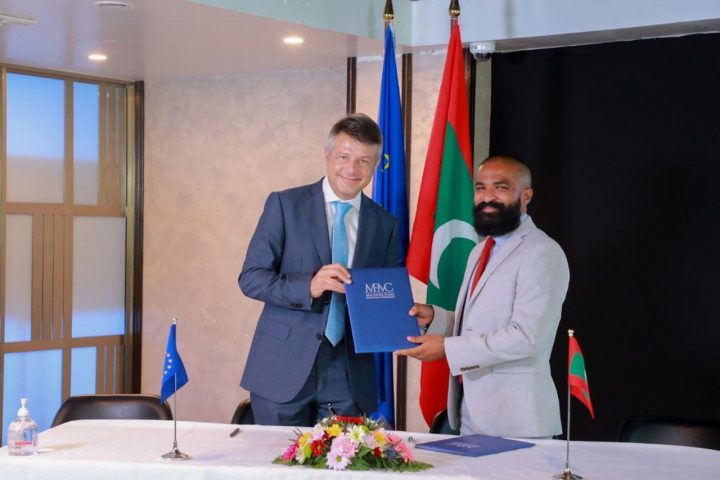 EU to Support SME Tourism Industry
European Union is providing EUR 2 million as grant aid for the project 'EU Support for a Resilient Recovery of SME Tourism Industry in the Maldives'. The project agreement was signed by Ambassador of the European Union to the Maldives HE Denis Chaibi, and Managing Director of Maldives Fund Management Corporation Mr. Hassan Manik during a project launch event held on 17th August 2021. The event was also attended by the Minister of Economic Development Fayyaz Ismail and Minister of Tourism Dr. Abdulla Mausoom.
The overall objective of the project is to enable the Maldives to create a more resilient and diversified economy by enabling tourism sector MSMES to recover from the COVID -19 crisis. In addition to a EUR 1,400,000 direct transfer component, the project will also provide EUR 600,000 towards technical assistance which will be directed to training programs for beneficiaries aimed at high impact areas such as improving business operations, financial management, sustainable waste management and creating access to international markets. Furthermore, the technical assistance component will also support set-up of an OTA system which will act as a strategically important tool that is expected to play a crucial role in retaining value created by the industry and promoting growth of tourism related MSMEs.
This support is part of wider assistance provided by the European Union to the Maldives in response to the COVTD-19 outbreak, which includes EUR 1 million to support the health sector and an EUR 20 million loan provided by the European Investment Bank for long-term economic recovery. The project launched today will also seek synergies with the other ongoing EU projects in the Maldives, including the SWITCH Asia programme – PROMISE (EUR 3 million) which aims to reduce marine litter among tourism clusters