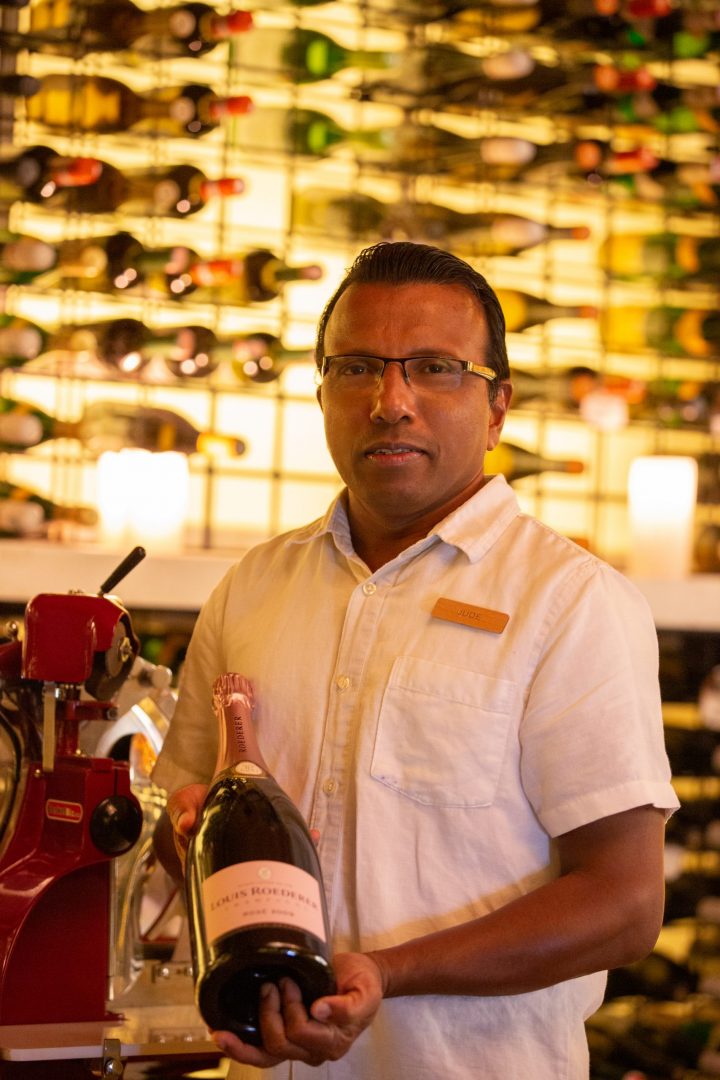 Exclusive: Jude Perera, Sommelier, Huvafen Fushi
Jude Perera, 48, is the sommelier at five-star luxury resort Huvafen Fushi Maldives in the North Male Atoll. Hailing from Sri Lanka, Perera is at the helm of Vinum underground wine cellar. He moved to the Maldives in 2013 to fulfil his dream of building a career in the luxury resort industry as a specialist in oenophilia. He speaks to Hotelier Maldives about his role.
What is it like to be a sommelier at Huvafen Fushi?
JP: This is an extremely exciting and varied role, providing me with the opportunity to share my passion and knowledge of wine with our valued guests. Working in a resort as a sommelier is very fulfilling as I can spend more quality time with guests compared to city hotels, allowing me to provide them with a more dedicated wine experience. Moreover, I have had the opportunity to work with some of the best visiting sommeliers from around the world and sample some of the finest wines in my role here, which has been an incredible and invaluable experience. My journey to this point stemmed from my natural passion and ongoing desire to become a qualified sommelier. My studies have so far earnt me the WSET qualification from Bordeaux wine campus in France, known as WISP along with the incentive wine programme at Le Cordon Bleu, Paris, France. This provided me with first-hand knowledge of the wine making process visiting vineyards and attending wine tasting in France to continually expand my professional knowledge with research and developing usable skills. Working in a luxury resort has afforded me the opportunity to mix with people from all walks of life which I enjoy immensely, particularly the ability to learn from one another's experiences and knowledge, generating new inspiration and ideas to further develop.
HM: Tell me a bit about yourself and your background, where are you from and where you have worked and how it has shaped you?
JP: I joined the hospitality industry in 1996 as a waiter. In 2013 I started my position as commis sommelier which was a significant milestone and cleared the path to become what I am today.
I have gained a lot of experience over the last seven years, and I am someone who always craves  more knowledge and a deeper understanding about wine. I can honestly say that I learn something new every day.  My visit to Champagne Louis Roederer, M Chapoutier Rhône Valley and René Muré Alsace, and the wine bars, O Chateau and Le Foodist in Paris, helped me on this journey and were incredible milestones for me.
HM: Why did you decide to become a sommelier and how did you come to be in the Maldives? 
JP: Since the day I joined the hospitality industry, I have always had a natural curiosity and desire to learn about wine, quickly developing into my fulltime passion and pastime. While working at Cheers Pub at Cinnamon Grand Colombo, Sri Lanka in 2011, I had the opportunity to meet executive chef Andrew from Per Aquum Niyama Maldives. Coincidently, and to my surprise and delight, we later met again during an interview at the Galle Face Hotel at Colombo and he recognized me. My hunger to learn paired with my immense passion for wine resulted in a successful interview outcome and opened the door to my career in the Maldives, a continuous and enjoyable learning curve for me from which I have never looked back.
HM: What do you love most about the resort you work at?
JP: Naturally, the one thing I love most at Huvafen Fushi has to be the underground wine cellar – Vinum. This is a unique space which has the capacity for up to 6,000 bottles and currently holds approximately 650 labels from all over the world, including rare vintages. This iconic cellar is the place where I conduct wine & cheese tasting events with our guests, as well as degustation dinners. Vinum has a special ambience unlike anywhere else I have experienced, and it is a privilege to manage this cellar.
HM: What does being a sommelier entail?
JP: My role as sommelier is diverse. This includes researching wines and producers from all over the world. This has taken me far and wide to visit vineyards and producers first-hand which is a huge and enjoyable perk of a job. I also use a lot of other resources to conduct my research, such as Decanter Magazine, and BBR merchant materials for the latest updates in the industry and current trends. From this research, it is my responsibility to identify the perfect wines for Vinum and our guest's preferences. After selecting the wine, I will order through reputable suppliers to add to our growing collection, being careful to select the best vintage. For this, I consider reviews by wine critics      such as Robert Parker and Jancis Robinson, whom I highly admire. From here I will list the wine on the menu and provide training to the F&B service staff to accurately recommend the right wine to the right guests, I will also offer wine pairing or more comprehensive experiences such as wine tasting or degustation dinners.  
HM: Can you tell me about your wine cellar and what you have on offer including vintages and champagnes. How big is the collection?
JP: Vinum is a fantastic wine cave found in the heart of the island – underground. It is accessible by a cool concrete staircase that descends approximately eight metres below ground, illuminated by candlelight. This spherical space can hold up to 6,000 bottles with approximately 650 labels on offer from all over the world, for example: the 2004 Château Angélus 1er Grand Cru Classé B Saint Émilion; 2008 Dal Forno Romano Vigneto Monte Lodoletta, Amarone della Valpolicella DOCG; 2008 Vina Almaviva Puente Alto; 2004 Château Cheval Blanc, 1er Grand Cru Classé A Saint-Émilion; and the 1998 Krug Clos d'Ambonnay Brut Reims.
HM: What is important to understand about wine and how do you select the perfect wine for your clients?
JP: The most important factors are the producer and the character of the wine, each having its own unique identity. For instance, the same grape grown in different countries and climates will ultimately produce a completely different taste and style of wine, so it is important to have a good understanding of this when selecting the right label. I also need to consider when serving wine in the Maldives, being a tropical climate, this means typically I would serve a more 'straightforward' wine during the day – meaning something light, fruity and fresh to compliment the hot climate. For example, a 2017 Cloudy Bay, Marlborough; or Egon Muller Scharzhofberger, Mosel; or the 2017 Château Minuty, Rosé Cuvée 281. Of course, there are many other factors involved in selecting the perfect wine for each guest such as the dish they are dining on, the type of characteristics they prefer, or perhaps it might be a special occasion and they would like to try something a little extra special. Having extensive wine knowledge is essential in getting it right for the guests.
HM: What is the most expensive wine on offer at the resort?
JP: The most expensive wine on offer is the 2002 vintage, Château Mouton Rothschild 1ER Grand Cru Classé, six litres, Bordeaux France. This bottle is sold at USD 46,000. A real gem! 
HM: How do you keep the wines at the right temperature?
JP: Being in the Maldives, ensuring wines are kept at the right temperature is extremely important during the entire process: from the shipping, transportation and storage of the bottles, to ensure that quality is not compromised. For example, I always ensure that the bottles are delivered to the island during the night so that they are not exposed to the hot daytime temperatures during transportation. Once the bottles arrive on the island, I will immediately collect and store these in the temperature-controlled cellar. In Vinum, as standard, I keep the temperature controlled at 16 degrees Celsius to provide the perfect environment for the wine to rest. A lot of care and understanding on the individual labels is required to get this exactly right.  Failure to do this properly can result in the wine becoming spoiled and undrinkable.
HM: Do you do wine tastings?
JP: Yes, I offer a choice of private or group wine tastings, both are conducted in the cool depths of the wine cellar which has a real sense of grandeur during the experience. During the tastings I will offer a selection of sparkling, white, red, and sweet wines, and pair this with a complimentary selection of cheese for each wine. First, I will explain the basics about how to explore the wine with the senses, teaching about the first and second nose, the long vs short finish, the intensity of the flavours, and how to appreciate the wine. Taste is very subjective to the individual, there is no right or wrong when it comes to one's own palate, so the entire experience is about teaching the different elements within the wine to make one's own conclusion. I will explain about the producer, the vintage, region, terroir, climate and the production process, for instance if it is produced in a wooden barrel or stainless steel, all of these factors make a difference to the final product. Usually this experience will last for one hour, and is a wonderful opportunity to interact with the guests, and share knowledge.
HM: What changes have you seen in the industry during the time you have worked at the resort?
JP: Working in the hospitality industry is a fantastic eye-opener into emerging trends and palate preferences. There are many variables which can cause this, and in my case the different nationalities that I serve at the resort. For instance, Asian guests would tend to choose off-dry wines or demi-sec champagnes, whereas European guests would tend to select more rich and bold character wines. As for changes in the industry as a whole, it has been interesting to see the effects of global warming in recent years having an impact on the wine industry, as well as natural disasters such as the 2020 Australian bushfires and the California wildfires resulting in crops being completely devastated and having a subsequent knock-on effect on production.
HM: What hobbies do you enjoy when you are not at work?
JP: Aside from wine, I am passionate about music of all genres such as Eric Clapton, Dire Straits, Robbie Williams, Michael Jackson and Caro Emerald jazz music. I also enjoy listening to BBC Radio4 podcasts, particularly the Men's Hour session, and The Archers, as well as cooking shows such as BBC Saturday Kitchen with James Martin. Reading is a pastime of mine, needless to say the hot topic always being about wine and its evolution through history to where it is today.
HM: What steps did you take to become a sommelier and why did you choose the Maldives to work?
JP: Food & Beverage has always been my passion since my early beginnings in the hospitality industry having started as a waiter, then bartender, progressing to commis sommelier and then to sommelier – which I am proud to be today. My goal is to continue learning, enabling me to progress to head sommelier, which I am confident I can achieve with continued hard work. The Maldives has always been a dream of mine, and fortunately, being located so close to my homeland Sri Lanka, I was able to turn this into a reality through a lot of hard work and dedication to achieve this goal.
HM: What has been your biggest challenge along the way?
JP: Being a sommelier is a constant learning discovery, but one thing we could never have predicted was the sudden pandemic that had devastating effects the world over. This has taught me great resilience, both professionally and personally, and how to navigate through challenges that one would never have dreamed they would have to encounter in life. It was incredibly sad to be disconnected from guests so suddenly during the subsequent closure in the Maldives, so I was naturally overjoyed to be able to sink my teeth back into sharing my passion with them again following the reopening.
HM: What advice would you give to people entering the industry?
One must have genuine passion for the industry, particularly if aiming for such a specialist area such as wine. With passion, learning is enjoyable and addictive. My advice is to study hard, use all of the resources available to aid you, keep exploring, network with others in the industry and share knowledge. Try and visit vineyards first-hand and don't let the desire to learn ever stop.
HM: How do you import wines in a pandemic?
Being in the Maldives already poses logistical challenges being an isolated island nation, and hence it is not an easy task even under normal circumstances. The pandemic resulted in challenges that I had not faced before, such as inconsistencies with wine supply due to fluctuations in demand and limited access to supply. This resulted in our cellar being less stocked than usual, so we are now rebuilding this over time. This means that we have to be very innovative to offer the best wine available to guests from a reduced collection.
HM: What is the most popular wine?
2014 Louis Jadot Fourchaume Chablis, Burgundy. This is a great everyday wine and a firm favourite from our wine list. Its character has a hint of lime with subtle mineral hum, and floral notes.
HM: Red, white or Rose what is your favourite and why?
My personal favourite is the 2018 Les Alsaciens, Pinot Gris Alsace, France (white). I love the straight-forward fresh and fruity character of this wine.