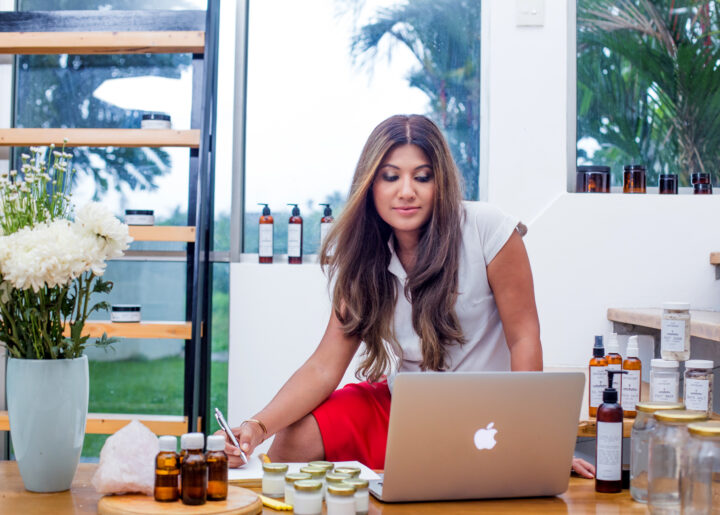 Exclusive: Shafa's journey to Island Apothecary
The distinct waft of coconut is your first hint of its island origin. Mingled with bergamot and mint, the smell emanating from the small brown bottle evokes memories of the beach. Other bottles offer other aromas. Cinnamon and ginger, rose and ylang-ylang, bath salts and oils rich in citrus and peppermint. They all feel good on your skin. More importantly, you know that it is all natural.
You'd be forgiven for mistaking these elegant skincare products with international brands that line the shelves of local shops. But it is made in the Maldives, a labour of love by a gifted Maldivian entrepreneur. Aminath 'Shafa' Shafana, the creator of Island Apothecary, traces her love of natural skincare to childhood. At a young age, she developed a passion for holistic and organic lifestyle choices and started experimenting with natural skincare formulas for her personal use."Our planet provides such an elegant bounty of delicious botanicals, clays, salts and spices that it is hard for me to fathom how we have strayed so far from that to the current trend of hocus-pocus performed in laboratories, mass-produced plastic bottles filled with damaging synthetic chemicals and cheap fillers," says Shafa.Determined to buck the trend, she spent years perfecting her craft in her kitchen before she shared her creations with close friends and family. "When I got requests for more and saw how much everyone enjoyed using them, it gave me the confidence to create products on request for existing skincare brands and professional spas," she recalls.
Shafa went to work as an independent product designer for local skincare brands and start-ups. She opened a spa consultancy firm called Hotel & Spa Solutions (HSS) focusing on design and formulation of indigenous treatment protocols and custom product lines for resort spas. She considers her work with Vindhu Spa at AaaVeee Nature's Paradise as one of her most memorable and rewarding projects.When her lightbulb moment of inspiration came, Shafa was contemplating how to combine her passion and apothecary skills to move forward. The rest is history, as they say, and followed effortlessly.
An artisan apothecary, a communications designer and a holistic research and development specialist make up the team of young artists behind Island Apothecary."Each of us tells the story of Island Apothecary in our own artistic expression. All of these perspectives combined creates Island Apothecary – a truly natural artisan skincare brand born out of the Maldives, raised by nature and spiritually rooted in Mother Earth," says Shafa.
"I like to think of Island Apothecary as a bit of alchemy, a bit of herbalism and a whole lot of modern artisan apothecary." Shafa describes her all-natural skincare line as food for the body. It informs her basic approach to the whole product line.
"Our formulations are hundred percent natural, Earth-friendly and cruelty-free," she stresses. "All ingredients are consciously sourced from those who uphold our values regarding purity as well as social and environmental standards." The main ingredients are USDA-certified Organic and Forest Garden certified. The rest are all plant-based.
The formulations are made by hand in small batches. They go through several phases of testing on different skin types before the final product comes out.
Since its inception in November 2016, Island Apothecary has launched 57 products spread over six collections.The range now includes a Bath & Body collection with bath salts and scrubs, an Island collection with tanning oils and after-sun care, and oil therapy for hair and body.
The foot care collection features scrubs, soaks and masks. Its Facial Alchemy covers everything from cleansers, sprays and creams infused with the healing powers of lavender, Indian barberry, turmeric, hibiscus and matcha.
"Almost every product was inspired and guided by our island home. Some of the other products were my own spin on very basic recipes I already knew how to make and a couple were variations on very traditional recipes," explains Shafa.
"The idea is that everything should have evidence for its efficacy: either through traditional use and/or backed by contemporary science. The essential oils are chosen for their efficacy but are blended for sense appeal. The guiding idea is that everything has to be genuinely beneficial and pleasurable to use."
The essential oils and hydrosols are all steam-distilled and therapeutic-grade. "I love working with cold pressed oils, natural clay minerals, salts, spices and botanical extracts. One of my all-time favourites would be hibiscus powder," says Shafa."One of nature's most potent youth enhancing ingredients, hibiscus helps firm skin while increasing cell turnover which leads to glowing skin. It also enhances the skins ability to retain moisture keeping skin hydrated and supple."
Island Apothecary places a high premium on traceable ingredients. The origin of core ingredients, how they are grown, harvested and processed, is key to the effectiveness and longevity of natural skin care formulations. "To know your ingredients from seed to harvest, from extraction to infusion, from an idea to a natural skin care product is a truly gratifying spiritual experience not only for the creator but the user too," Shafa says.From modest beginnings, Island Apothecary has now expanded from social media platforms and boutiques in Malé to luxury resorts. There is always a constant flow of new product development taking place. At present, the team is working on some unique ideas, the results of which will be revealed over the coming months."We are in the process of launching our online shop next month which would enable our clients across the globe to purchase our products," Shafa says. Shafa plans to make the products available at more local outlets. Island Apothecary will also be launching a pop-up shop at Covent Garden, London, over the summer with hopes of expanding their distribution networks in the UK and Europe.
"We create an experience out of the purity of the ingredients and the love with which we make our products," says Shafa. For Shafa, Island Apothecary is the epitome of doing what you love and loving what you do.