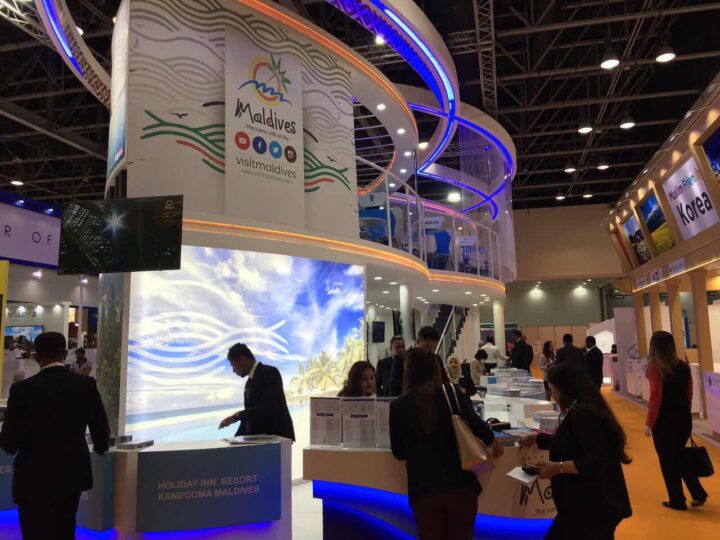 "Sunny Side of Life" on show at Arabian Travel Market 2017
The Maldives is being showcased as the "Sunny Side of Life" at the 24th Annual Arabian Travel Market. The event is being held in Dubai, United Arab Emirates, from April 24 to 27.
Maldives is represented at the fair by Maldives Marketing and Public Relations Corporation (MMPRC) and industry stakeholders. A total of 59 companies and over 125 participants have travelled to Dubai to attend ATM 2017 to showcase their products.
The "Sunny Side of Life" brand is showcased at a 200 square meter stand with a new design concept showing the natural beauty of the destination through colourful images, said MMPRC. According to the marketing agency, special activities are being carried out at the Maldives' stand to attract visitors, including a social media campaign which aims to increase the online presence of the destination.
Visitors are also offered a glimpse of the underwater beauty of the Maldives through VR technology. The main focus for this year will be meeting with airlines to identify joint marketing avenues which is mutual beneficial for the Airlines and for the Destination, said MMPRC.Arabian Travel Market held it first exhibition back in 1994. The fair has now grown over the years and is now recognized as the largest Travel and Trade Show in the Middle East region. Arabian Travel Market and ATM now attracts over 30,000 trade visitor to the show. Major industry stakeholders from the region and from all over world conduct business during the four-day exhibition.
Apart from usual business meetings, special events have been organized during ATM this year by the organisers which includes Speed Networking, Bloggers Speed Networking and ATM Roundtable for the participants to make the most of the event, according to MMPRC.
The Middle East region, especially the United Arab Emirates and Saudi Arabia markets hold much potential. In the 2016 a total of the 51,330 tourists from the region visited Maldives. This was a growth of 22.3% compared to arrivals in 2015. By February 2017 a total of 7,350 tourists from the region spent their holiday in Maldives which is a growth 3.9% compared to the same period of 2016.
Middle East is already the most well connected region to the Maldives. Daily flights from the major regional carriers direct to the destination. Hence, with the efforts in ATM the Middle East Market is expected to perform well in 2017, added MMPRC.