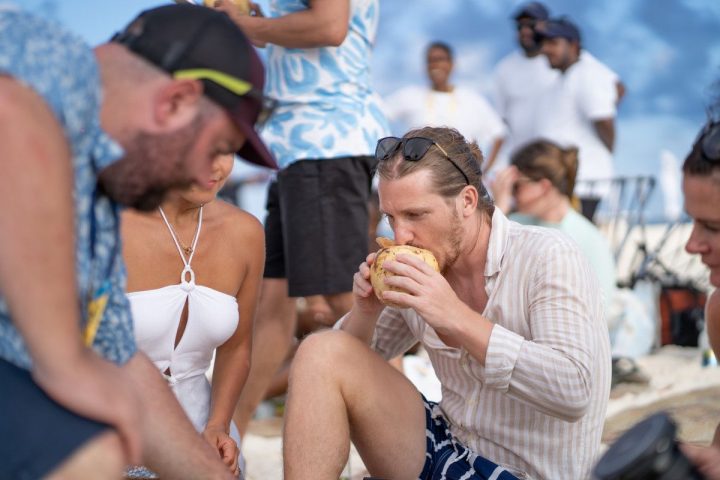 Exploring Maldivian cuisine and sustainable fishing at Visit Maldives Storytellers' Conference
The recent Visit Maldives Storytellers' Conference 2023, organised by the Maldives Marketing & PR Corporation (MMPRC/ Visit Maldives), provided attendees with a captivating breakout session, titled 'From the Sea to the Skillet.'
This session, led by MMPRC, delved into the rich history of Maldivian cuisine and fisheries. As one of the highlights of the conference, the session, hosted by the Maldives Industrial Fisheries Company (MIFCO), allowed participants to delve into sustainable fishing methods and the significance of tuna in Maldivian culinary traditions.
Stepping onto the Atoll Villa sandbank, participants were greeted by the enchanting melodies of boduberu music. The rhythmic beats and the idyllic oasis surrounded by sparkling waters created an atmosphere of excitement and engagement. MIFCO guided participants on a gastronomic journey, providing an in-depth explanation of the Maldives' fishing heritage, with an emphasis on the importance of tuna. Attendees discovered the pole and line fishing technique, a sustainable method that has been practiced in the Maldives for generations and could serve as an exemplary model worldwide. Traditional fish-filleting skills were also showcased, showcasing the local techniques that have been passed down through time.
No culinary journey would be complete without indulging in the unique flavours of the "Sunny Side of Life." Participants savoured authentic fresh local short eats, expertly paired with falho kandhi (a local beverage) and refreshing watermelon juice. A highlight of this breakout session was a hands-on cooking class, where participants learned to create some of the most cherished Maldivian dishes, including mashuni and mas fen. Led by a skilled chef, participants were introduced to the distinctive ingredients and techniques that contribute to the freshness and uniqueness of Maldivian cuisine.
As a memento of this extraordinary experience, participants received a special culinary-themed gift basket to take home. The session concluded with a serene and rejuvenating time spent in the turquoise waters surrounding the golden, powdery sandbank.
The "From the Sea to the Skillet" breakout session offered a remarkable opportunity to explore sustainable fishing practices and local culinary traditions that make Maldivian cuisine truly exceptional. Embracing MMPRC's visionary "Redefining MICE" concept, this session showcased the unparalleled beauty and tranquillity of the Maldives as the perfect backdrop for an engaging and enlightening breakout session.