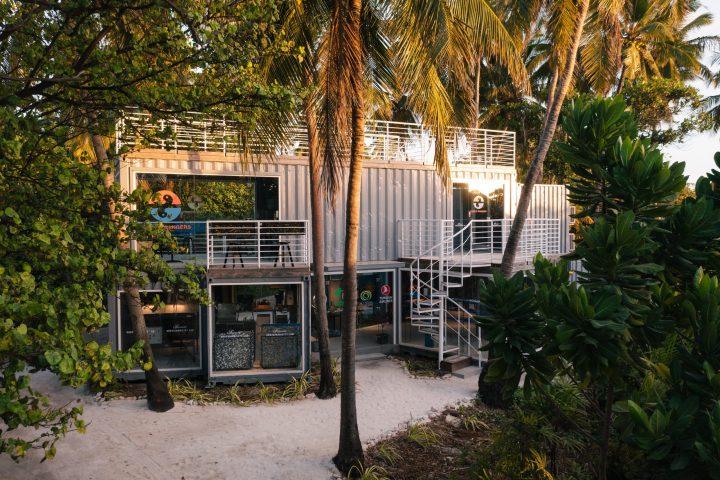 Fairmont Maldives Launches State-of-the-art Sustainability Lab
Fairmont Maldives Sirru Fen Fushi has unveiled the latest in a series of pioneering environmental projects – the Sustainability Lab. This new project will turn plastic waste into bespoke souvenirs and unique products, educate guests and empower local communities.
The ribbon-cutting ceremony was held on 3rd February 2022 at the resort. The event was attended by Minister of Environment Aminath Shauna, Minister of Defence Mariya Ahmed Didi and Ms. Sabra Ibrahim Noordeen, Maldives' Special Envoy for Climate Change.
The Sustainability Lab features specialised machinery that will transform and repurpose plastic waste into beautiful bespoke souvenirs, including luggage tags in the shape of turtles, mantas and sharks. The resort has already processed over 725 kg of plastic in the lab to date, turning the waste into exquisite and unique furniture, useful stationary for local schools including rulers, clipboards, and carabiner hooks, as well as turtle-shaped luggage tags for guests.
The resort aims to develop the Lab into a recycling centre in the Shaviyani atoll and beyond, creating a culture of sustainability and accountability in local communities. Surrounding islands will be encouraged to collect, sort, and recycle their plastic waste by sending it to Fairmont Maldives rather than leaving it to landfill or to be disposed of in the ocean.
Furthermore, the resort has partnered with seven local schools in Shaviyani Atoll for the Fairmont Award Scheme, whereby the sustainability team will visit the schools to teach classes and host workshops on recycling, marine biodiversity, climate change and ocean conservation. Local children are also invited to visit the resort to witness the Sustainability Lab in action in addition to the island's other conservation projects; encouraging the next generation to care passionately about protecting their natural ecosystem.
The Sustainability Lab will become the centre of Fairmont Maldives' wider sustainability initiatives, offering a variety of educational programmes and activities to provide guests with first-hand experience in conservation research. Guests can join the sustainability team to collect plastic waste before learning how to use the machines and make their own products, learning the importance of segregating and recycling plastic and how it can be commoditised to make beautiful bespoke gifts and souvenirs.
This is one of the three key projects of Fairmont Maldives' Save the Ocean programme, which focuses on different aspects of a sustainable way of saving the ocean and protecting marine biodiversity in the Maldives. Ahead of this, the resort launched the Turtle Ranger Program and in future will conduct an educational awareness campaign to resort guests and the local community. ­­