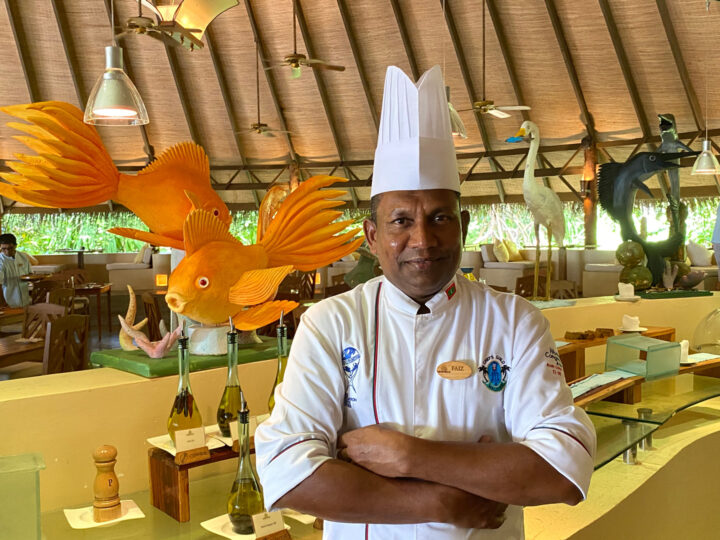 Faiz Idrees, Executive Chef of Coco Palm Dhuni Kolhu
Faiz Idrees is a charming, fun loving man full of positive energy. He is the
incredible talent behind the delightful food served at Coco Palm Dhuni Kolhu by Coco Collection. Before joining as the Executive Chef at Coco Palm Dhuni Kolhu by Coco Collection, Faiz worked for Club Med for 26 years.
Within his long committed career with Club Med, Faiz worked in ten of the companies properties around the globe. He had the opportunity to experience different contrasting cultures while working in Japan, Thailand, New Caledonia Mauritius, Australia and various areas of Indonesia in addition to the Maldives. The opportunity to professionally train in France in the field of culinary arts, then later several short courses in Malaysia, further enhanced his career. During his adventures and working abroad, Faiz has picked up lots of amazing tips, tricks and techniques from different cultures and cuisines.
Faiz was born in Eydhafushi, the island capital of Baa Atoll. Growing up in the seventies in an island community was challenging, especially in terms of education. So like many children from that generation, Faiz was forced to move to Male' city to pursue his studies. His culinary odyssey began with a mere job as a dishwasher at a young age. He joined Club Med right after completing his secondary school studies. At the young age of sixteen, he was introduced to resort life at Club Med Farukolhufushi. "Back then I wasn't much interested in it. I wasn't sure what I wanted and had no particular interests," says Faiz. "But it was a different environment, quite fun and I soon began to enjoy it."
Working as a dishwasher, things slowly turned around for him due to his ability to communicate proficiently in English, in comparison to his colleagues as well as some of his superiors. Soon he became an important part of the team. "The chef began to brief me everyday and I would translate his instructions for my superiors in the kitchen." With this strength and his ability to grasp instructions, combined with his keenness and friendly personality, soon opened several doors within the company and he gradually began ascending the posts of the kitchen brigade all the way to the top, serving as Chef de Cuisine since the year 2000.
Coming from a large family with 8 siblings, Faiz grew up in a busy household playing outdoors frequently and getting into mischief with his siblings. After working abroad in different countries one would often wonder why such an adventurous man returned back home. "I think I did enough exploring for a lifetime. What brought me back to Maldives is when I got married in 2003 and had my beautiful daughters. At this time my priorities greatly changed. The culture here is when girls grow-up, their father's are very distant. I didn't want to grow apart from my girls and miss out on the opportunity to be with them during this important stage in their lives. So, when I finally got a chance to work closer to home at Coco Palm Dhuni Kolhu, I took the opportunity without hesitation. I am a very family person. I spend a lot of time gathering my family, my siblings along with their children as well" Today Faiz is the proud father of three daughters and his family lives in Eydhafushi.
At Coco Palm Dhuni Kolhu, Faiz leads a team of fifty plus staff. He has always wanted to serve a Maldivian company and offer the best of his experiences. At Dhuni Kolhu, he and his team caters to over 200 guests and their biggest task is to keep up with the current food trends and to always offer something exciting for their guests.
Chef Faiz believes a good chef must always try to use the best, most freshly available local ingredients and create local experiences for the guests, as they travel to exotic destinations to explore something out of the ordinary. He enjoys experimenting with seafood and Maldiavian fishes, creating unique localized memories for the guests.
"With my experience, most of the new creations that I have implemented here are centered around fish and seafood as these are local products which we can use. I could bring expensive ingredients from abroad, but we can only offer a unique experience by using local ingredients." adds Faiz. At Dhuni Kolhu they often work closely with local fishermen from nearby islands and sometimes they even get fresh Maldivian lobsters.
Today the biggest challenge faced by Faiz is not being able to retain local Maldivians working in the kitchen and the lack of interest for culinary arts by young Maldivians. The culinary industry of Maldives is still dominated by foreigners and it is his dream to see more young people learn this art as a passion rather than just a job.
"I am an active member of the Chef Guilds Association of Maldives. I was recently at the Job Fair, at the coco palm stand plus CGA stand. We are doing our best to create awareness among our youth to see what a beneficial career path this could be." says Faiz. In 2018, Chef Faiz represented Maldives at the Culinary Congress held in Kuala Lumpur and Heritage Cuisine in Punjab along with his association member Chef Ishaaq.
Currently serving a long career of over 30 years in the culinary field, Faiz does have a dream of going into an early retirement at his mid 50's, maybe in a couple of years from now. But he challenges himself with retirement to pursue something completely different from cooking and culinary arts but to find something else he is passionate about. Lets see what surprises he holds for the future.