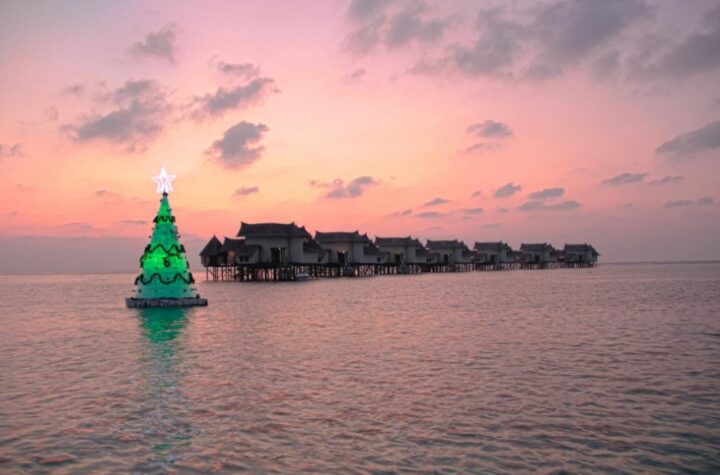 "Carnival around the world" Festive Season at Jumeirah Vittaveli
Jumeirah Vittaveli is inviting guests to whisk their families away to a tropical wonderland and celebrate the colourful festive season. The resort welcomes guests with live entertainment, lavish gala dinners and exhilarating activities inspired by events around the world including the Grand Venetian and Rio de Janeiro carnivals, according to a statement by the resort.
The fun starts in December and runs until the first week of January when a glittering Russian Christmas event closes the festivities. The carnival theme will be embraced by the Kuda Koli Kids Club, the Talise Spa, the Dive Center and the restaurants & bars, so guests can enjoy the festive spirit across the island.
Families and couples can admire performances by the Favera dance troupe, watch in awe as the resort's fire dancers showcase the Art of Poi, party on the beach to the resident DJ, or enjoy a live concert by Simon & Eva, says the resort.
"Over at our French fine dining restaurant Fenesse, we are introducing three new venues, the Cyan over-water lounge, Cuvée, the wine library, and Fumée, a cigar, shisha and vaping lounge," says Amit Majumder, General Manager, Jumeirah Vittaveli, commenting on plans for the festive season.
"Our main bar has been remodelled and offers an extended entertainment and lounge area. The festive spirit has always been strong at Jumeirah Vittaveli and our team takes pleasure in surprising guests with special décor in their villa."
The traditional Christmas tree lighting ceremony will unveil the resort's floating Christmas tree. Last year's glowing-from-within tree was wrapped in foil (collected from the kitchens throughout the year) which was then recycled after the festive season, says the resort.
The Kuda Koli Kids Club will amaze little ones with stained glass painting, gingerbread house making, snowman building and Christmas tree decorating. Santa will make a show-stopping entrance on 25 December, delivering goodies and meet and greet the children and the young at heart, according to Jumeirah Vittaveli.
Samsara Beach will offer festive gala dinners on Christmas Eve and New Year's Eve. Executive Chef Francis Cornelious will serve delicacies including Vindaloo (made with his mother's secret recipe), roasted Butterball turkey, Christmas stolen and a special Christmas cake, made from the fruit, nuts, and spirits mix that was prepared in a fun ceremony with guests in October this year.
On New Year's Eve, a carnival party at Samsara Beach will offer a gala menu, live music acts, stunning fireworks display over the lagoon and a Glow-in-the-Dark DJ beach party. For the resort's Orthodox guests, a lively celebration will take place on 6 January. A saxophone performance will enchant guests, followed by LED, fire dance shows and DJ Eva will play into the night. Ded Moroz, the Russian Father Christmas, and his assistant Snegurochka will also visit on December 31.