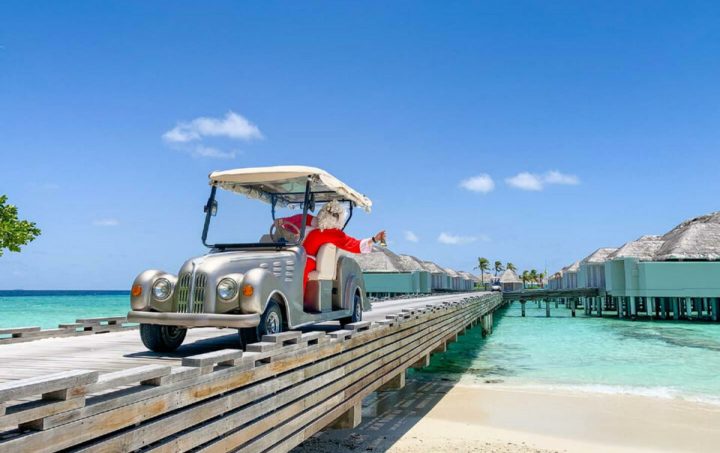 Festive Season with a Twist on Luxury at Finolhu Baa Atoll
With a full programme of activities and feasts to enjoy, Finolhu Baa Atoll invites guests to celebrate a "cabin by the sea-turned-carnival" this festive season.
The Festivities Begin
At Finolhu the festive season gets underway with a Celebration Cocktail and Festive Tree Lighting party on 21 December.   On Christmas Eve, a Festive Cocktail Party and Kids & Teens Fashion Show take place, followed by a Festive Gala Dinner featuring a special selection of traditional favourites, local specialities and festive treats. On Christmas Day starting at 5:00 pm, the Santa Arrival Parade features music, food and Santa's entrance along with his helpers, as they hand out gifts to all the children on the island.  The day ends with the Edible Cinema, where guests are invited to participate in a unique movie experience that includes aroma, texture and taste.
A Festive Feast of Culinary Treats
Each Tuesday, guests are invited to explore the flavours of the Middle East and North Africa on Arabian Night.  Caviar and Oyster Nights features air-flown caviar paired with champagne, for the adults selected by the resort's Sommelier. The young ones can learn how to make everything from holiday-themed pancakes, muffins and cookies to Italian pizza and even a traditional Maldivian dish.
Big Fun for the Little Ones
For its young guests, Finolhu has arranged a Under the fantaSEA theme Kid's Mermaid Experience, a Treasure Hunt, Night Camping with Bonfire allowing them to experience stargazing, participate in games and enjoy delicious snacks under the stars.
The Family That Plays Together
The resort lives up to its famous island playground reputation offering Family Fun Challenges, Fun Pool Games and regular Family Beach Volley Competitions.
Friendly Competitions on the Island Playground
A Festive Triathlon and a High Intensity Workout is scheduled for the more athletic guests. Activities include Fun Olympic Games, Aqua Aerobics, Stand Up Paddling Races, Balance Board Challenges, Kayak Competitions, Mini Golf Contests and even Kite Flying.
A Wellness Retreat for Body, Mind and Soul
Guests can join the regular Sun Salutations to awaken body, mind and soul, or learn how to cool the body and calm the mind during the Moon Salutations.  The Pranayama and Cleansing Meditation sessions offer the chance to release muscle tension, reconnect body and mind, and find inner peace by combining physical poses, controlled breathing and meditation.
The Carnival Countdown to New Year
The Countdown to the New Year begins with a Bubble Pool Party for the young ones, followed by a New Year's Eve Cocktail Party for guests of all ages.  The New Year's Eve Gala Dinner and Countdown to 2023 combine great food world class performers to provide the entertainment.  On New Year's Day, guests are invited to enjoy a Recovery Brunch before joining the New Year Scavenger Hunt.