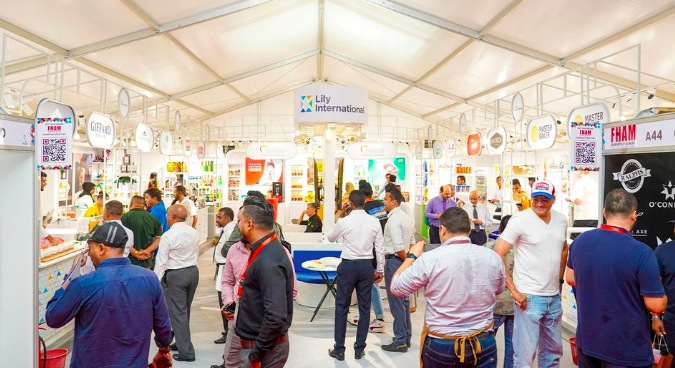 FHAM Exhibition and Global Culinary Challenge 2023 Kicks off Today
Food and Hospitality Asia Maldives (FHAM) Global Culinary Challenge and Exhibition 2023 officially opens today. The event will take place from May 8-10, 2023 at Hulhumale Central Park. FHAM is organized by Dhivehi Expo Services in conjunction with CDC Events and Travel of Sri Lanka. Lily International is the principal sponsor.
Esteemed guests including Dr Ahmed Salih the Minister of State for Tourism, and High Commissioners from India, Sri Lanka, Pakistan, Indonesia, Saudi Arabia, and Japan were present at the opening ceremony. Managing Director of Lily International Amir Mansoor, senior officials from Dhivehi Expo and CDC events also attended the opening ceremony.
Speaking after the opening, State Minister for Tourism Dr Ahmed Salih highlighted the importance of events such as FHAM. He praised the organizers for their efforts in bringing together top local and regional names for the event under one roof and providing a platform to network and showcase products and services.
Amir Mansoor, the Managing Director of Lily International, the principal sponsor of the event, expressed his pleasure in sponsoring the event since its inception. He stated that this event is the premier platform for F&B and tourism professionals in the Maldives. In this regard, he mentioned that Lily International is showcasing major brands at their stand in the event, demonstrating their commitment to the industry.
Event Director of Dhivehi Expo, Mohamed Bassam Adam states that this year there was an overwhelming support by exhibitors. He expressed hope for a lucrative gathering and successful event for all participants and cited aspirations for even a bigger event with more participants for both the exhibition and culinary challenge next year.
This year's exhibition has over 110 stalls representing more than 50 companies from the local, regional, and international markets. The exhibition showcases a wide range of products and services relevant to the tourism industry of the Maldives.
The highlight of FHAM is the International Culinary Challenge. The event attracts hundreds chefs from many of the resorts and hotels in the Maldives. The challenge is endorsed and certified by Worldchefs and is organized in partnership with Chefs Guild of Maldives and Chefs Guild of Lanka. This year's competition features hundreds of participants, 11 national teams, and over 100 resorts competing in 21 categories. The FHAM International Culinary Challenge provides an excellent opportunity for chefs to showcase their skills and creativity while competing for prestigious awards. The competition is judged by a panel of renowned chefs from around the world.
This year, FHAM has seen overwhelming support from exhibitors and attendees. It is an event that brings together the very best of the Maldives' hospitality industry in the Maldives.
Featured Image: FHAM via Instagram