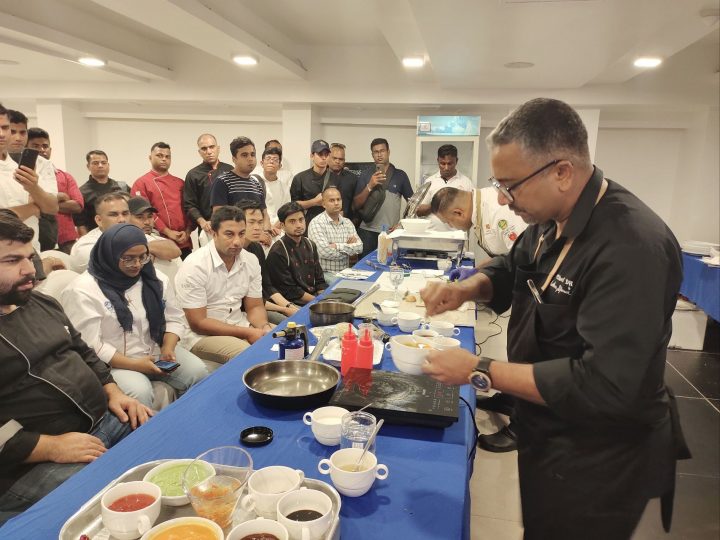 FHAM Hosted Global Culinary Challenge Workshop
Food and Hospitality Asia Maldives (FHAM) held its Global Culinary Challenge Workshop on March 20, 2023 at Champa Central Hotel. The workshop was an opportunity to provide information for chefs interested in the Global Culinary Challenge. FHAM is the premier international hospitality trade fair in the Maldives. The exhibition and Global Culinary Challenge will be held on May 8-10, 2023 at Hulhumalé Central Park.
The workshop commenced with a welcome address and an address from Nestlé, the Platinum Sponsor of the Culinary Competition. FHAM's principal sponsor, Lily International, was also in attendance.
The workshop introduced the Culinary Challenge, and the competition's judging criteria. The workshop's participants attended four live demonstrations on ASPIC techniques for competitions, modern garde manger presentation, petit fours and cake dressing presentation techniques and an explanation of live cooking at competitions. After the demonstrations, participants were invited to ask questions at a Q&A session and network with the event sponsors.
"The Culinary Challenge is an excellent opportunity for Maldivian Chefs to participate in an international competition. Competitions are a way to distinguish oneself in the industry and further a career. Registration is still open and we would love to see strong Maldivian participation," commented Ishag Solih, Culinary Director of FHAM and Committee Member of Chefs Guild of Maldives.
FHAM is the only officially internationally recognized platform for chefs in Maldives. The culinary challenge is supported and endorsed by the World Association of Chefs Societies (WACS). It is the only event endorsed by two Chefs Guilds; Maldives and Sri Lanka.
Lily International, FHAM's principal sponsor, looks forward to empowering chefs to display their unique talents at the Global Culinary Challenge. Faizel Ali, Assistant Director at Lily International, commented, "Lily International is delighted to be a part of FHAM Global Culinary Challenge, one of the largest events of its kind in the Maldives. As a F&B distribution company, we recognize the importance of supporting local and international events that bring together culinary talents from around the world. We look forward to witnessing the creativity and skill of the participants as they showcase their culinary prowess. Lily International remains committed to fostering a culture of innovation and excellence in the culinary industry, and we are honored to be part of this prestigious event."