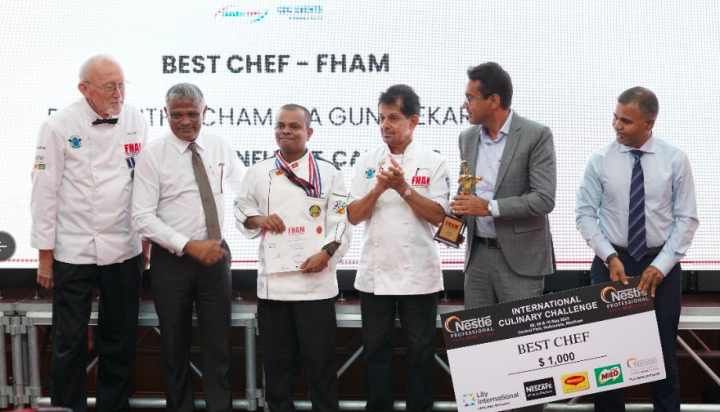 FHAM Hosts Awards Ceremony to Conclude the Global Culinary Challenge
On May 11, 2023 Food and Hospitality Asia Maldives (FHAM) hosted an awards ceremony to conclude the Global Culinary Challenge at Maldives National University. The awards ceremony was attended by distinguished guests, esteemed judges, the event organizers, sponsors, and the competing chefs and national teams.
This year, FHAM was held on May 8-10, 2023 at Hulhumalé Central Park. The exhibition is organized by Dhivehi Expo Services in conjunction with CDC Events and Travel of Sri Lanka with Lily International as the principal sponsor.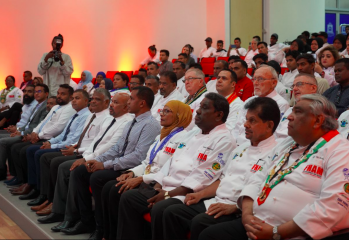 Featured Image: Distinguished guests and judges at FHAM 2023 Awards Ceremony 
The awards ceremony began with a speech from Ishag Solih, Culinary Director of FHAM and Committee Member of Chefs Guild of Maldives thanking the judges, competing chefs, and government for their support. Ishag also thanked the eleven national teams for participating in the challenge as it pushed the caliber of FHAM Global Culinary Challenge to new heights.
The Chef Guild of Maldives, President Mariyam Noordeen, also delivered a speech thanking all the judges and chefs for their participation and flexibility in overcoming the logistical challenges that arise with hosting a culinary competition in a park. She stressed the need for a proper exhibition facility to elevate events in Maldives to the next level.
Gerard Mendis, the Chairman of the Chefs Guild of Lanka, spoke of the importance of developing local chefs to elevate the tourism industry. He noted the high participation of Maldivian chefs, especially women in the culinary challenge.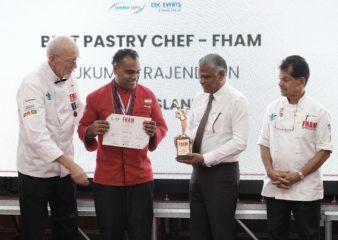 Featured Image: Rijukumar Rajendran Of Royal Island receiving award for Best Pastry Chef
The main award recipients from FHAM 2023 were:
Most Outstanding Artist: R.A. Sisira Kumara Of Reethi Beach Maldives
Best Pastry Chef: Rijukumar Rajendran Of Royal Island
Best Maldivian Chef: Ajwad Abdul Wahaab Of Joali Maldives
Best Chef: Ushantha Chamara Gunasekara Of Maldives Inflight Catering
Most Outstanding Culinary Organization: Cinnamon Velifushi
Most Outstanding National Team: The Emirates Culinary Guild
Awards were also given to chefs in 21 different categories, recognizing a winner and a 1st and 2nd runner-up. The winners of the category awards were:
Petits Four or Pralines: H.M.Nuwan Kumarasinghe Of Team Sri Lanka
Creative Bread Display: Ramesh Viraj Of Cinnamon Dhonveli Maldives
Artistic Pastry Showpiece: H.A. Dilini Shalika Perera Of Team Sri Lanka
Wedding Cake Structure: J.A. Mahesha Muthumali Abeywickrama Of Team Sri Lanka
Plated Appetizers: W.N.H. De Soyza Of Cinnamon Velifushi
Plated Three Course Meal: D.M. Chandana Kumara Of Varu By Atmosphere
Dress The Cake: Manoj Ruwan Of Cinnamon Dhonveli Maldives
Fruit & Vegetable Carving: R.A. Sisira Kumara Of Reethi Beach Maldives
Appetizer- Hot Or Cold: Rukshan Dilanka Perera Of Ellaidhoo Maldives By Cinnamon
Lamb Hot Cooking: Dushantha Chamara Gunasekara Of Maldives Inflight Catering
Seafood Hot Cooking: Mayanga De Silva Of Emirates Culinary Guild
Poultry Hot Cooking: Dushantha Chamara Gunasekara Of Maldives Inflight Catering
Beef Hot Cooking: Nishan Nayana Kantha Of Emirates Culinary Guild
Creative Fusion Rice Dish: Akhilnath Parshapu Of Hurawalhi Resort
Maggie Asian Wok: Rasitha Maduranga Of Cinnamon Velifushi
Traditional And Modern Maldivian Meal: Mohomed Faneez Of Summer Island Maldives
The Young Chef: Aishath Jumana Jaleel Of Sun Siyam Olhuveli
Nescafe Creative Coffee: Putu Aditya Pratama Putra Of Bandos Maldives
Vegetarian Main Course: Siti Noor Molina Anggriani Of Ozen Life Maadhoo
Traditional Italian Main Dishes: Tharindu Silva Of Cinnamon Velifushi
Team Event Hot Cooking: Ajaya Paudel And Suraj Poudel Of Dhigali Maldives
Featured Images via Twitter