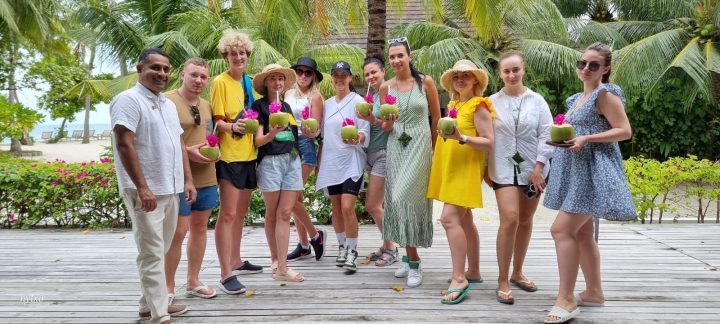 Fiyavalhu Resort Maldives Concludes Marketing Campaign with Join Up
Fiyavalhu Resort Maldives has concluded a joint marketing campaign with one of the leading tour operators offering a wide range of tours to over 40 countries worldwide. Join Up kick started the marketing campaign "Exotic Mood" during December 2022, which concluded at the end of February 2023. The key target markets of this campaign were Ukraine, Moldova, and Kazakhstan. Destinations such as UAE, Tanzania, Dominican Republic, Thailand, Sri Lanka, Seychelles and Indonesia also participated along with the Maldives, in this marketing initiative.
The main objective of taking part in this campaign was to promote the brand and the key selling points of the integrated island resort to the Russian travelers. During the campaign, Fiyavalhu Resort Maldives hosted three Facebook live streaming sessions from 10th January to 23rd January brought in their local language. The lives enabled viewers to explore this natural paradise amongst lush green vegetation on the inhabited peaceful island of Mandhoo in South Ari Atoll. The resort design takes into consideration the sublime surroundings of the beautiful environment of the island and the simple Maldivian lifestyle.
As part of the marketing efforts to strengthen the brand presence in the Russian market, Fiyavalhu Resort Maldives hosted a group FAM trip for the Join Up team as well. The two night stay for the group allowed the team to experience the warm hospitality that Fiyavalhu is famous among travelers for. Speaking about the stay at the resort, The Maldives Contracting / Commercial Manager at Join Up, Mr. El Shazly highlighted on the fantastic quality of services and facilities provided to the agents starting from the meeting point at the Fiyavalhu Reception till the departure. He also highlighted on the astonishing content the team was able to capture during their stay at the resort. The campaign concluded with a raffle giveaway for a lucky winner with a complimentary stay.